Many separating military members and veterans dream of owning their own business.
Maybe it's something about taking orders for years on end that makes them want to be their own boss. Maybe it's because they have the right temperament to own and operate their own business.
Either way, more than 2.4 million U.S. businesses are owned by veterans, about 9% of all American firms, according to the U.S. Small Business Administration. They employ 5.8 million employees and pay those workers $210 billion every year. Some 78 percent of those companies make more than $100,000 in annual revenues, with 38 percent raking in $500,000 or more.
For many, getting started is the hardest part, even if they have a great idea or product. Getting the money to start a business can seem like an impossible task.
There are many ways to get access to the capital you need. Charlynda Scales, founder and CEO of Mutt's Sauce, was awarded a grant from Bob Evans Farms' Heroes to CEOs "Our Farm Salutes" competition in 2017.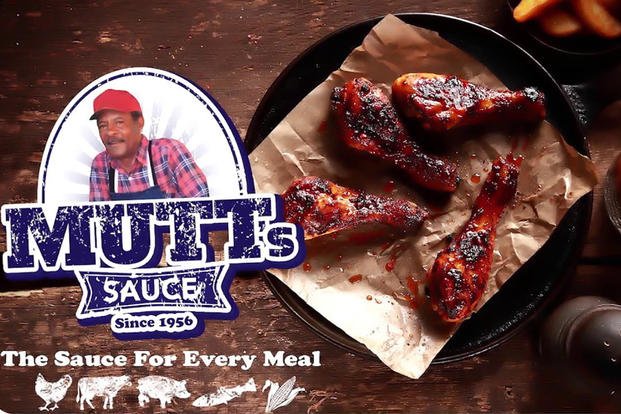 "Do your research," Scales says. Like the Bob Evans opportunity, there are people and companies who understand that offering you a loan or taking equity is not "help." They understand your situation, she adds.
Scales was awarded a $30,000 grant to take Mutt's Sauce to the next level. She also received mentoring from businessman Daymond John, founder of the FUBU clothing brand and one of the "Sharks" on the ABC television show "Shark Tank."
Scales says this was necessary to overcome two of the biggest hurdles for aspiring entrepreneurs.
"Access to capital and relevant mentorship and networking opportunities pose as barriers to success," she told Military.com. "To start the journey, veterans have to overcome physical, emotional and psychological barriers that may exist due to our time in service."
Scales believes starting a business is a lot like a decision to continue service out of uniform. She personally gets inspiration from her family, she says. Being raised by a single mother and by her grandparents made her more resilient when times got tough, especially as a business owner, she says, a characteristic she refers to as "grit."
"I'm a fourth-generation military veteran," she says. "My grandfather, Charlie 'Mutt' Ferrell Jr. was a Korea and Vietnam War Air Force veteran. He invented the recipe for a sauce, which I inherited and named after him. It's had its challenges, but I've constantly referred to 'harder times' in my life as a comparison to convince myself I'll persevere."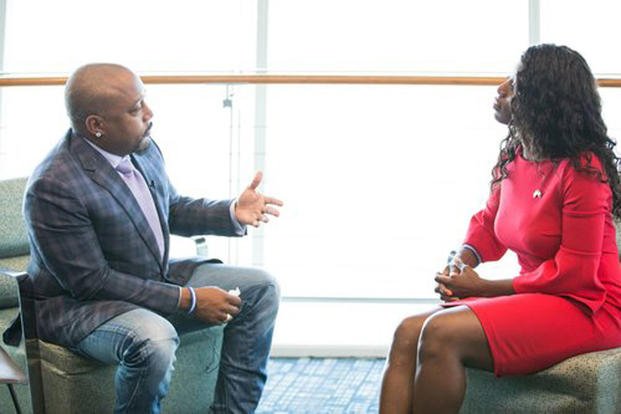 That doesn't mean Scales has no regrets. A piece of advice she offers anyone still serving who has the itch to be their own boss is to get started as soon as possible, no matter how much time in service they have left.
"Don't wait until you're transitioning out of the military to prepare for business ownership," she says. "It's more expensive than you think; build the foundation while you have a steady paycheck."
John told Scales that she and any veteran entrepreneur should "harness the power of broke" to advance their business and their own goals.
"As an entrepreneur coming from a humble beginning," said John, "you have to use the assets you have to accomplish the job. Veterans can relate to that because they've been in more dire situations where they've had to make due with what they have."
But Scales' successes don't stop her from seeking further counsel. While John's advice has led her to think more strategically as an entrepreneur, she believes that she still needs help scaling her brand through both in-store grocery sales and ecommerce.
"In five years," Scales says, "I've overcome severe lack of capital, sleeping in my car to save on hotel costs, health challenges and a whole host of experiences that would make someone want to give up. Ultimately, I have accepted that this journey is bigger than me. The 'why' behind my determination is to build a legacy for my family. I will never stop until that happens."
To overcome the physical and mental challenges and discomforts she describes, Scales offers two more pieces of advice: "Stay humble and don't ever give up," she says.
Military members and veterans interested in the Bob Evans Farms' Heroes to CEOs program and competition can learn more about it on the "Our Farm Salutes" website. Applications will be accepted through March 20, 2020.
-- Blake Stilwell can be reached at blake.stilwell@military.com.
Want to Know More About Post-Military Careers?
Be sure to get the latest news about post-military careers as well as critical info about veteran jobs and all the benefits of service. Subscribe to Military.com and receive customized updates delivered straight to your inbox.