You've served your country proudly and now it's time to move on professionally. More than anything, you want your transition from boots to suits to be a smooth one. You want to land a good job that pays well. The only thing standing in your way? Your so-called resume.
Explaining to would-be employers what you did in the military in a way that makes sense to them can be difficult. Often, skills, experiences and accomplishments get lost in translation or in the lack thereof. This is where the Military Skills Translator comes in, and you must decide what needs to be translated and what doesn't.
Related: Search for Veteran Jobs
To Translate or Not to Translate?
That is the question to answer before you start drafting your resume. Will you be sending it to someone within the defense industry? Or will you be targeting employers outside of it?
If the answer is yes to the former, then you may not need to spend a great deal of time translating your job titles, descriptions, awards and training into English.
Those within the defense industry usually understand what you are communicating, but not always. Keep in mind that there are a lot of people who work in the industry who have never worn a uniform and may not fully understand what you've accomplished.
If you are targeting a job outside of the defense world, then you most certainly need to translate your skills, experiences and accomplishments into the English Language.
It can be challenging, but not impossible.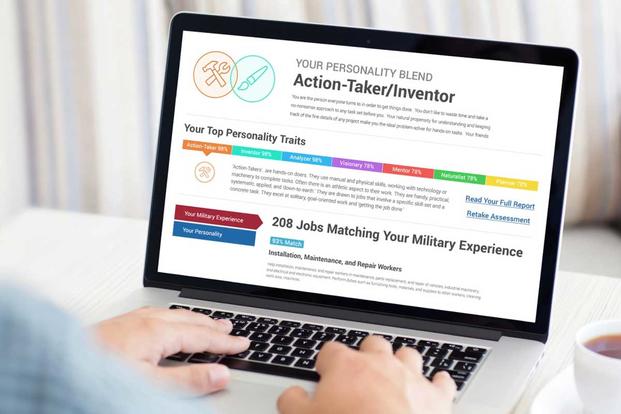 From a Tank to a Cubicle
"You have to be patient because there is no such thing as a perfect resume," said Philip Lapple, a former M1 Main Battletank Crewmember (19K-Armour Crewman) in the U.S. Army.
Lapple wants to switch career gears completely and get a job in business. To reach that goal, he is currently attending the University of Maryland, University College and working on a degree in Management Studies.
"I really don't think I will get a good job until I finish my degree but I'm trying," said Lapple.
In the meantime, he is working on creating a basic master resume that he can tailor to individual job opportunities as they arise.
"On my resume, I try to show that I am a well-rounded package of education and expertise," said Lapple adding that it continues to be a work in progress.
"You're not going to get it right the first time or the second time you write it," said Lapple who finds himself revising his resume each time someone else critiques it for him.
Lapple understands that he needs to translate specific words in order to make his resume work. Rather than say he was a tank crewmember, he says that he was a heavy equipment operator.
To highlight his skills without over emphasizing equipment operation, he puts strong emphasis on leadership.
"My latest version shows words like mentoring, efficiency, and work load planning. I also use the word "team" instead of platoon or squad," said Lapple.
"I am also physically counting and adding up the dollar value of items that I was in charge of in the military and noting the number of people or employees I supervised," said Lapple.
"Right now, school is my priority. In my case, I feel like my resume has to show not only practical experience but a degree as well," said Lapple.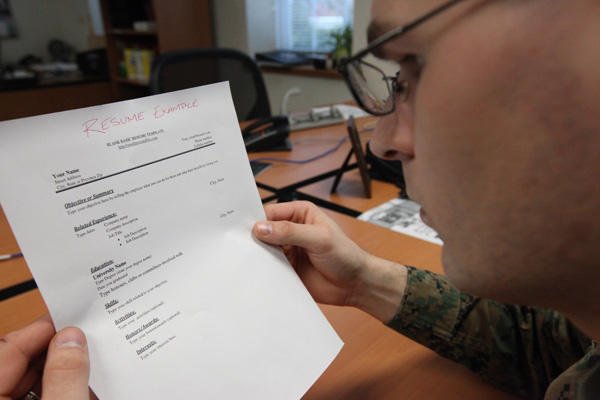 Staying in the Same Career Field
"I have a resume but it's horrible. I want to make it better in order to be competitive," said Gary Heinstrom, a U.S. Army Specialist who currently serves as a medic with the 554th Military Police Company based in Germany.
Heinstrom is knee deep in the process of transitioning out of the military. He is considering staying in his career field, but he wouldn't rule out getting his foot in the door to federal employment in any field either.
"I just started the process of getting out and there is so much information coming at me at one time. It's overwhelming but it seems necessary at the same time," said Heinstrom.
If Heinstrom does indeed try to stay in the medical field, he may find that the level of translation needed for his resume differs from those needed by Lapple.
In some military career fields, such as those in the medical field, there may not be as strong a need to translate some of the skills, abilities and experiences for the civilian counterpart. In or out of uniform, patient care, record-keeping and specific medical procedures and protocol are universally understood with the career field.
"Instead of saying that I was a medic, I am writing that I was a health care specialist. I am also a certified Emergency Medical Technician (EMT), and that is the same in or out of the military," said Heinstrom.
Heinstrom says that he is also making it a point to quantify his accomplishments and avoid the use of personal pronouns.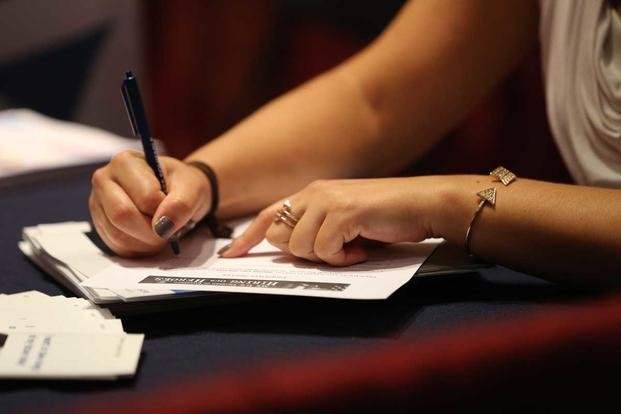 For More Assistance
Translating the military words on your resume into civilian ones can be challenging. You don't have to do it alone, though.
Visit your transition assistance office or the family services and support center's employment readiness program. On either doorstep, you'll find expert one-on-one counseling assistance or available classes, free of charge.
For your own research the following websites offer excellent military-to-civilian translation tools:
You can also get ideas on how to effectively translate your military experiences by looking at the civilian job descriptions or vacancy announcements for the jobs that interest you.
Here are some word for word common translation examples:
Job Titles
Commander = Director or Senior Manager
Executive Officer  = Deputy Director
Field Grade Officer = Executive or Manager
Company Grade Officer = Operations Manager or Section Manager
Warrant Officer =Technical Specialist or Department Manager
Senior NCOs = First-Line Supervisor
Infantry = Security Force
First Sergeant = Personnel Manager
Squad Leader = Team Leader or Team Chief
Supply Sergeant = Supply Manager or Logistics Manager
Operations NCO= Operations Supervisor
General Terms
AI= additionally skilled in
combat = hazardous conditions
company = company, department or section
medal = award
military personnel office = human resources
mission = task/function/objective
military occupation specialty/classification = career specialty
squad/platoon = team or section
reconnaissance = data collection and analysis
regulations= policy or guidelines
security clearance= security clearance
service members = employees
subordinates = employees
TAD/TDY = business trip
Related Articles:
For the latest veteran jobs postings around the country, visit the Military.com Job Search section.
The Next Step: Find the Right Veteran Job
Ready to polish your resume, and connect with employers looking to hire veterans? Military.com can help. Sign up for a free Military.com membership to have job postings, career fair listings, guides and advice, and more delivered directly to your inbox.
GET YOUR RESUME OUT THERE
Get your resume critiqued by experts, and seen by companies that are seeking veterans like you. Post your resume with Monster.com.