Before military transition, all men need to know about what to wear is covered by the uniform of the day. You wear it easily, like a second skin. Until you transition.
Suddenly your interview clothes are being scrutinized in a way you have not been subjected to since boot camp or Officer Candidate School -- only this time no one is commenting in your face. Instead, they are just being judgy behind your well-suited back, especially if you are looking for a job in the six-figure range.
Can you ever look as perfect in your interview suit as you do right now in your uniform?  Or are you destined for embarrassing wardrobe fails that hiring managers will remember forever? 
From uniform to interview suit
I'm voting for you looking perfect at the interview. So I reached out to find an expert on men's clothing who also understands military culture the way you do. I found a winner. Antonio Centeno is the author of Dress Like a Man: A Style Guide for Practical Men Wanting to Improve Their Professional Personal Appearance and the founder of my favorite men's fashion resource, Real Men Real Style. He credits the Marine Corps for first teaching him the power of a uniform.
"One of the things I stress with men who are transitioning out of the military services is that you've got to get used to a new uniform," Centeno told me in a recent interview.  "Most companies say they don't have a dress code. That's not true. There is always a dress code. Maybe it is unspoken, but there is always a dress code."
You can figure out what the unspoken dress code is by doing a little recon at the place you will be interviewing. Identify what your peers are wearing and then dress one step up from that.
"This is where most guys get nervous," Centeno said. "They have a general idea [of what to wear, but they have not practiced or executed on it."
Practice really is the key to knowing what to wear for the interview, so that you feel comfortable enough to show the hiring manager what you can do for them. The reason you look so good in your uniform is that you have had 10,000 hours of practice during your military career. Since men's shopping and tailoring take time, you need to figure out what to wear long before you schedule the first interview.
Top Ten Mistakes Military Make with the Interview Suit
Here are the top 10 mistakes military men are most likely to make when it comes to wardrobe. (Interested in the rules for military female attire in an interview?  Message me at jacey.eckhart@monster.com.)
1.  The "too old" suit
How old is a suit before it is too old? If the suit is cut along classic lines, a suit that is a few years old isn't a problem as long as the materials are very good and the cut is classic. "A fashion suit gets dated," Centeno said. Ask for a classic navy or charcoal suit in 100% worsted wool with a flat front trouser. The width of the lapel should be the same as the tie, and the suit coat should cover the bottom curve of the buttocks. Avoid the black suit because it can look too formal. And practice the rules of buttoning your suit so you look like a natural.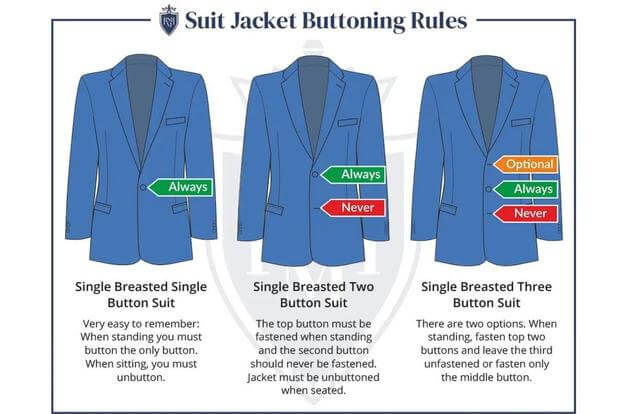 2.  The "too cheap" suit
Forgive me for talking about money, but I had to ask Centeno how much to spend for an interview suit. Is $200 enough?  What about a $2,000 suit?
"You can find an amazing deal at a thrift store or get a suit from a friend [and] get it tailored for $100," Centeno said. He says you also can go to big box stores (like Suit Supply or Men's Wearhouse) or the nice department store in your area with a good men's department. Expect to spend $500 to $800.  
Since money is a concern for everyone who is getting out, look to get the suit for less by starting early so you can watch for sales. Ask for the military discount. Apply and get the store's credit card to get its initial 20% discount. There are also veterans programs that offer free suits, although availability may be affected by the COVID-19 crisis.
3. The untailored suit
No matter how new the suit is, it won't look right unless it is tailored. For so many military men with an athletic build (wider chest and shoulders, narrower hips) tailoring at the shoulder is key.  For those of us who don't recognize a well-tailored suit right off, I like this infographic to show what to look for.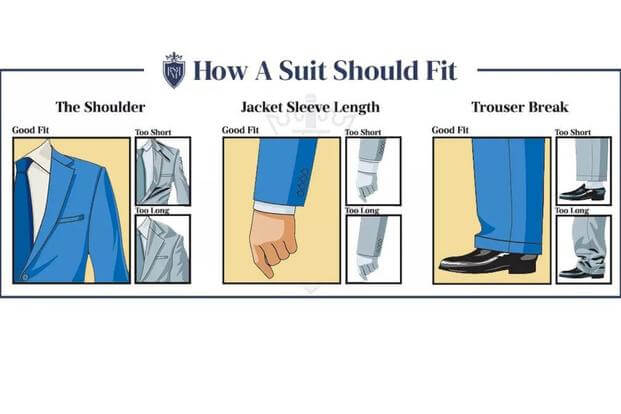 4. Visible cuff label and vent tacks
When you buy a new suit, the designer often has a tag tacked on the outside of the suit sleeve to make the jacket easier to identify. It seems like it belongs there, like the label on a pair of jeans. But when it comes to a suit, you are meant to take a small pair of scissors, cut the threads and throw the label away.
While you are at it, take your scissors and clip the big stitches that are holding the vent of the jacket together. Those tacks are meant to stop the hem of the jacket getting wrinkled when it is being shipped. Don't rip them out, or the threads still could be hanging there months later. 
5. Wearing a suit to a non-suit interview
What do you wear for a meeting with Mark Zuckerberg? Good question. Even Zuckerberg (notorious for his uniform of grey tee and jeans) wore a suit and a blue tie when he testified before Congress.
Many tech firms are noted for hosting interviews where wearing a suit is not expected.  Many other companies are places where no one ever wears a suit. So what do you wear for the interview? Centeno says that if you do your recon and everyone is wearing a T-shirt, jeans and running shoes, you aim to wear something like that but a little more professional. Wear a shirt with a collar or a long sleeve shirt. If some people are wearing a sports jacket, you can wear that. "The goal for the interview is that you look so natural, someone mistakes you for a person who already works for the company," said Centeno.
6. The "too interesting" tie
I had a chief show up to Interview Day wearing one of those ties shaped like a fish.  "I want them to remember me," the chief said. "See, this demonstrates my hobbies."  I could see where he was coming from, but is your tie the right place to branch out?
"You don't want to be remembered as the Tie Guy or the Suit Guy," said Centeno.
Interview clothes are meant to let who you are shine through, not distract the hiring manager from what you are saying. Go with a tie that is muted, like light blue, silver or wheat. Expect to spend $30 to $70 on a tie with a small repeating pattern. Also, avoid the shirt and tie that are bought as a set. Usually both the shirt and the tie are made of cheap materials that don't fit you well. Buy separately -- a white or pale blue dress shirt and a nice tie with a small pattern that makes your skin tone look good.
7. The ill-fitting shirt
A shirt that is too small makes you look apoplectic. A shirt that is too big makes you look like you have been on the Atkins diet for too long. A shirt has seven different ways it needs to fit you from collar to shoulder to hem. Measure your neck and sleeve length before you go shopping. Make a page in your phone to list all your current sizes. Again, interview colors for shirts are pale blue or white.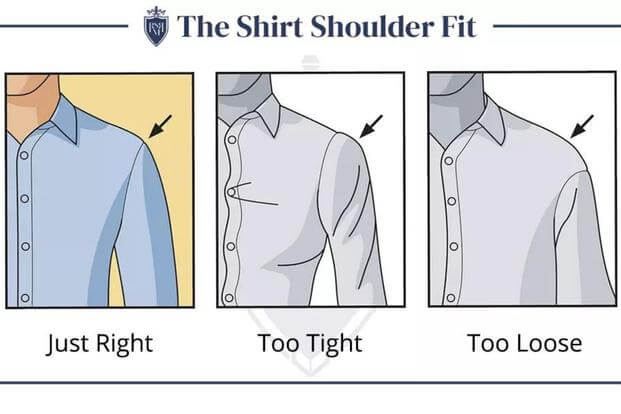 9. Distracting hair
Among transitioning senior military, I often see that letting your hair grow is one of the last changes to be made, yet an ultra-short haircut can be a sign to employers that you have not let go of your military life. "Let it grow," Centeno said. "Have fun with your hair. Experiment. Instead of going to a barber, go to a salon and see what they can do."
On the opposite end of that spectrum, though, is the freedom beard. According to the Urban Dictionary, upon completion of your military service, it is your duty to abandon all shaving regulations and grow a full-out freedom beard. I like a freedom beard myself, but it is a definite statement during interview season. I think the decision goes back to the culture of the company you want to hire you. The more conservative they are, the more likely you will have to wait on that beard a little longer.
10.  Bad dress shoes
You know better than to wear Corfams. And you probably know you should buy a new pair of shoes that make you feel great for the interview. But what do those good shoes look like exactly, and what should you expect to spend at the executive level?
 At Real Men Real Style, they have thought a lot about high-end dress shoes. While "good" dress shoes can cost upward of $300, you can get a nice pair for $100 if you pay attention to their rules. Also, avoid squared toed shoes, dress shoes with a collapsed toe and sandals. Always avoid sandals.
Remember, the key to getting all this right is to practice. "In order to be as close to perfect as possible, you need to practice," Centeno said. "If you choose to start dressing better, you can't expect to nail it overnight.You need to practice putting on your clothes, wearing it the way that it is meant to be worn and looking at yourself in the mirror to see what you can improve on."
It took you a little while to learn how to wear your uniform so well. Pay the interview process the respect it deserves by figuring out what you are going to wear early so that you are ready to go on the big day.
To get more tips on how to make a successful military transition, sign up for one of our FREE Military Transition Master Classes today. You can view previous classes in our video library. Questions for Jacey? Visit our Facebook page.
-- Jacey Eckhart is Military.com's Transition Master Coach. She is a Certified Professional Career Coach and military sociologist who helps military members get their first civilian job by offering career-level Master Classes through our Veteran Employment Project and on her website SeniorMilitaryTransition.com. Reach her at Jacey.Eckhart@Monster.com.