Sean Kelley, Navy veteran and Talent Acquisition Director at Amazon, spent a good deal of time learning the importance of team building with the Trident submarine fleet where he was responsible for high-level logistics and support.
He transitioned out in 1995, long before there were any substantial transition programs, and bootstrapped his way to his current position at Amazon where he earned the Hiring Our Heroes' 2018 Colonel Michael Endres Leadership Award for Individual Excellence in Veteran Employment.
Related: To create a personalized transition plan for yourself, and for transition guides and checklists, visit the Military.com Transition Center.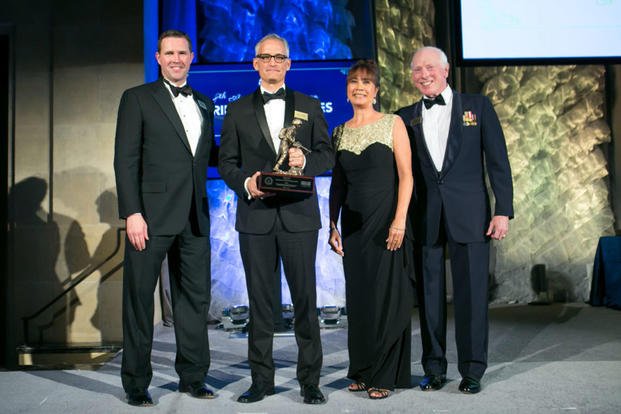 A staunch advocate for veterans, Kelley says that he always "answered the call" whenever veterans reached out for transition advice.
"I owed it to folks I served with to give back and I've done this by always being there to help lift up other veterans," Kelley says. "Whether over the phone, or meeting over a cup of coffee, I'm there for them. I've always felt a responsibility to other veterans, and I've been doing it for two decades."
According to Hiring Our Heroes' website, the Colonel Michael Endres Leadership Award for Individual Excellence in Veteran Employment is "presented to an individual who has gone above and beyond to make a difference in employment opportunities for veterans, transitioning service members, and spouses."
Military Trains Leaders
Kelley says that he was "born to be a recruiting leader" and that he loves the opportunity to build teams in a big-scale leadership role and when the opportunity at Amazon came along, he saw it as a way to make a bigger difference on behalf of veterans.
Kelley leads recruiting for operations in North America and Europe and that includes field facilities, delivery centers, Amazon Air, and corporate functions.
"We have a lot of places where veterans can come in and contribute in operations," Kelley says. "from highly technical corporate roles to leadership roles at all levels."
Veterans are highly skilled and trained to be leaders from day one. Kelley says Amazon created the Military Leaders program. The program is designed to identify veterans for mid-level managerial roles that will allow them to scale quickly and provide a pathway to the executive level in the course of four to five years.
Expanding Employment Opportunities for Veterans and Spouses
Kelley says that Amazon, in partnership with Hire our Heroes, is leading the way to help vets and spouses realize an entrepreneur career path.
"We're at stage one and we're meeting with military families to learn from them on how we can create mobile entrepreneurial opportunities," Kelley says. "We've realized that we need to be more holistic and look at opportunities not just for veterans but for the whole family."
Amazon has strengthened its commitment to veterans and their families and is committed to hiring 25,000 military veterans and spouses according to its website. Additionally, they also provide Amazon Web Services training to 10,000 active duty service members, military veterans and spouses through our AWS Educate program, offering them a path to AWS certification.
Related: Search for computer & technology jobs.
Successful Companies Focus on the Team
Creating and retaining teams that have synergy not only makes economic sense raises the companies overall morale and bolsters company culture. Kelley says that he and his team talk a lot about grit and resilience which is why military veterans make a perfect fit--they are mission-minded and know what it takes to complete a mission successfully.
In addition to career support services, Amazon also supports several veteran organizations to give back including, Team Red White and Blue, Mission Continues, Team Rubicon.
"I always ask, how can we do more, we want to help surround our veterans with community and support issues that are important to them," Kelley says.
If you're a veteran and are looking for career opportunities, check out the many opportunities that Amazon has to offer on their website.
Related: For the latest veteran jobs postings around the country, visit the Military.com Job Search section.
The Next Step: Transition Well
Looking for more transition tips? Military.com has you covered. Sign-up for a free Military.com membership to have military news, updates and job resources delivered directly to your inbox.
-- Sean Mclain Brown can be reached at sean.brown@military.com. Follow him on Twitter at @seanmclainbrown.