Editor's Note: Larry Brown is the author's father.
Marine Corps veteran Larry Brown has held many careers in his life: paper delivery boy; F-4 Phantom combat pilot in Vietnam; chemical engineer; experimental aircraft builder; entrepreneur. And now he has a new title: city engineer for his home city of Vero Beach, Florida.
"If you're standing still, you might as well dig your own grave," Brown said. "I picked up this job, because I like working with people and solving problems that no one else wants to tackle."
Brown works for a local engineering company, where he does building and code inspections and reviews engineering plans for new building permits. In addition to his work with the city, he says he also picks up the occasional engineering gig, where he consults with food companies on designing new processing equipment.
Brown was born in Grandville, Michigan, where he excelled in "getting in trouble," he said. He preferred the "practical application of science," vs. time in the classroom, and that sometimes led to mischief -- like the time when he concocted a chemical mixture that would explode upon impact, and tested it by throwing it out his friend's car window onto an unsuspecting neighbor's yard. "The police were sure I did it, but no one talked. I'm pretty sure I'm beyond the statute of limitations now," he said with a grin.
After high school, he went to college at Michigan Tech, then graduated and joined the Marine Corps, where he flew the F-4 Phantom during the Vietnam War.
"Those days were crazy, Wild West days," Brown said. "But I'm proud of my service to this country; I'm still serving ... once a Marine, always a Marine."
Brown says he's got so many projects going on that he can't keep track of them all.
It's true. In his towering workshop that's more warehouse than shop, he's got at least four aircraft in various stages of assembly or disrepair. The one he's been working on for some time, and the source of some of his greatest frustrations, is a three-fourths scale replica of a P-51 Mustang.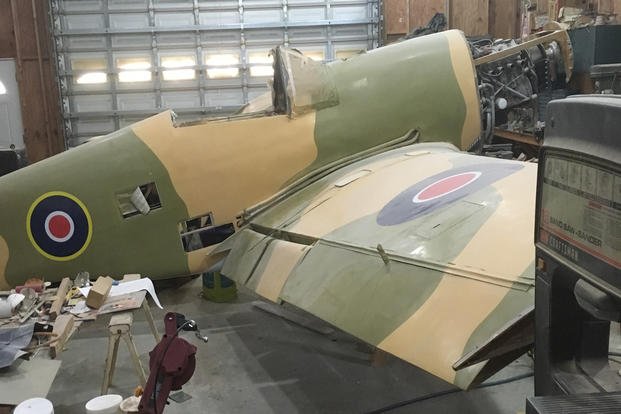 "I bought this P-51 kit that only had half the parts," Brown said. "I had to fabricate everything else since the company went out of business, and you can't find the parts anywhere."
When asked whether he would retire, Brown shook his head. "Why would I want to do that? I'm having too much fun," he said. 
The secret to a long, happy life, Brown said, is not a secret at all. He says he turned his hobbies into profitable businesses. He left the corporate world a long time ago to be his own boss, and while the road wasn't always smooth, he says the rewards were worth the difficulties.
His first business was an auto repair shop he ran out of his garage, then he bought a Maaco auto-body and painting franchise. He ran that while working his day job as a chemical engineer, then left that job and opened an engineering consulting firm.
"You have to hustle when you're in business for yourself," Brown said. "But that hustle should be driven by your passion so it's not so much work, but something that at the end of the day, you can look on and be satisfied with what you built."
It's clear that Brown won't be stopping anytime soon. When asked what he would do next, he said, "I don't know. But whatever it is, it will be doing what I love."
The Next Step: Find the Right Veteran Job
Whether you want to polish up your resume, find veteran job fairs in your area, or connect with employers looking to hire veterans, Military.com can help. Sign up for a free Military.com membership to have job postings, guides and advice, and more delivered directly to your inbox.