We're all familiar with the term, "If you want something done right, do it yourself."
It's a common cliche quote variously attributed to author Miles Coverdale, playwright Charles-Guillaume Étienne, and dictator Zorg in the movie The Fifth Element—but doing everything yourself is not always feasible for growing a business.
Enter Eric Mitchell, Marine veteran and CEO of LifeFlip Media. He built his PR and media company by focusing on helping veterans grow their business.
After working for several successful Silicon Valley startups, Eric and his wife Lucie launched LifeFlip Media. Using experience gained working with high growth organizations, Eric had one goal in mind—help veteran-owned businesses with their media and PR needs.
Says Mitchell, "We understand that everything is mission critical for our clients and we treat their business exactly as that—a mission."
A Mission of Helping the Warrior Class
Mitchell says that while there are many accelerators and incubators that help veterans start a business, there is very little marketing strategy and communication support.
"The Warrior Class are patriots that are the backbone of this country and the very ones who make this country as great as it is," says Eric, "and we want to help them scale their company by providing expert marketing guidance."
Veterans have often been misrepresented and stereotyped within the media, leaving many outside of the community with false pretenses of aggression, mental instability, and lack of education. LifeFlip Media is changing that narrative.
"Being a veteran can be great for PR but it also comes with a lot of misunderstanding and challenges," says Eli Crane, Navy SEAL veteran and CEO of Bottle Breacher (a LifeFlip client). "Having a team that understands these challenges because they come from the same community, and also has experience in the PR world, gives them the ability to successfully pitch my business and other veterans. This helps our team secure the vital exposure that allows us to not only survive, but to also grow."
Matt Hannaford, President of LifeFlip and one of the few "civilians" on the team, agrees.
"I look for us to continue to be loud as the voice of the Warrior Class. We've created a great team and it's time for us to build upon it. We want to take the image of the American soldier and make it great again."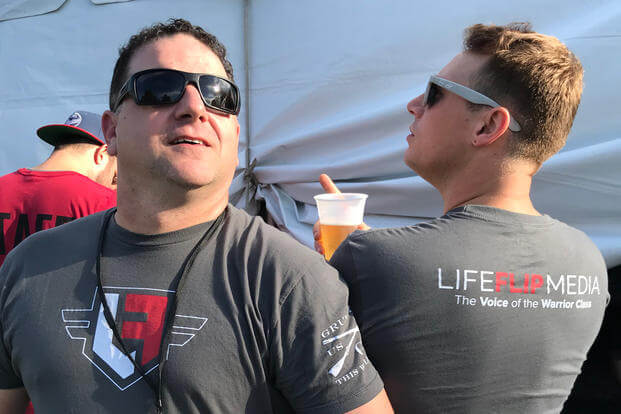 "Over the past year, I have witnessed LifeFlip Media breach the national media market for veterans," says Samantha Brown former COO of Irreverent Warriors.
"Eric and his team have managed to get more air-time for veteran-owned companies than I have seen in my professional career. It is about time that the warrior class has a voice in mainstream media."
Eric has worked to align LifeFlip with trusted brands such as Battle Grounds Coffee, Patriot Boot Camp, Combat Flip Flops and Vetted. Lots of companies claim to help veterans, but LifeFlip has established a reputation for making good on promises.
Leanness and Efficiency
"We have a smaller team, but we care more," says Mitchell. In only a few short years, LifeFlip Media has been able to belly up to the table and feast on their market share with the big names in the PR space using a small but mighty team with a diverse skill set.
As a Marine veteran, LFM's Director of Digital Media, Aaron Childress, understands the power of a small cohesive unit: "We have hit on a set of skills that no other firm can touch. From top to bottom, we offer every digital media line item needed for a brand to succeed and we do all of this with a smaller team, lower overhead, and quicker turnaround than anyone can offer. It's a lighting strike of favor and good fortune and the top leadership at LifeFlip Media has capitalized on it at the correct time."
5 Tips for Veterans Looking to Start a Business
1. A New Business Is Like a New Baby
If you're a parent, you know how your baby changed your life in ways you never anticipated. You may have envisioned parenthood one way, only to learn how different reality can be. The same principles apply to your startup. Your new "baby" needs constant attention and will keep you up at night. But with your commitment, time, and energy, it will grow and make you proud.
2. Entrepreneurial Interests Don't Equal Success
You may be passionate about your professional interest, but if the rest of the world yawns at your proposition, your business should probably remain a hobby—and not an income source.
Do people want your service or product? Do you have the interest and ability to constantly market it to new consumers? Your passion and skill form the foundation of your startup, and your business skills must carry it to success.
3. Not Everyone Is an Entrepreneur
Can you live with uncertainty? Can you delay gratification? Are you persistent? Can you bounce back after disappointment? Can you find creative solutions to problems? Are you in good health? Starting your own business is, quite literally, not for the weak of heart.
Entrepreneurs need stamina to persevere in the face of the setbacks and failures they will inevitably face. Be honest about your desire to live the life of a not-yet-successful businessperson. 4. Even the Boss Takes Out the Trash but Learning to Delegate is Key to Growth
Working for yourself can be liberating -- no boss to answer to or office gossip to listen to. But there's also no receptionist to screen your calls, no cleaning service to tidy up your office and no technical support staff to solve your computer glitches.
New entrepreneurs often neglect to prepare mentally for the unwanted roles they must take on to keep their businesses up and running. If your ego can't handle the small stuff, you may have problems adjusting to this new identity.
5. It's Going to Cost You
Starting a business can be a huge financial drain until you become profitable. Think seriously about whether you have enough money saved to survive without an income for one or two years. If you have a spouse or partner, discuss how you will handle this financial change.
LifeFlip Media is the voice of the Warrior Class. Founded by Eric L. Mitchell, a Marine Corps veteran, LifeFlip Media is a full-service PR agency and brand consultancy that creates opportunities for its clients to tell their stories in a way that engages customers and helps civilians relate to them and their brands.
-- Sean Mclain Brown can be reached at sean.brown@military.com. Follow him on Twitter at @seanmclainbrown.