Marine Corps veteran Drew Carey, the comic and host of "The Price Is Right" who gained fame as the star of "The Drew Carey Show," began performing stand-up comedy during his military service in the 1980s.
Born May 23, 1958, in Cleveland, Carey is the youngest of three brothers. He was 8 when his father died, and his single mother worked at a series of clerical jobs to support her sons. In high school, Carey was part of the marching band. He later attended Kent State University, where he was a member of the Delta Tau Delta fraternity.
His academics failing, Carey eventually dropped out of college and, at one point, moved to Las Vegas "with $500 in my pocket," he said. He was so broke that he sold his blood plasma for $40 so he could buy food.
Drew Carey's Military Service
Saying he'd run out of other options because he had no degree or job skills, Carey signed up in his early 20s for the Marine Corps Reserve.
He served from 1980 to 1986 and reached the rank of sergeant.
Carey speaks highly of his time in the service, where he adopted his trademark crew cut and horn-rimmed glasses.
"'I went from not being able to afford to eat or clothe myself to getting three meals a day," he says. "I had an instant family. I had something to be proud of every day."
His primary role was as a field radio operator in the 3rd Battalion, 25th Marine Regiment, in Ohio, according to Together We Served.
He did not face combat. "I was never in danger," Carey said.
As a way to make more money during his service, he came up with jokes to use in stand-up comedy. He was paid about $10 per joke.
He took out books from the local library about comedy writing to hone his skills, according to Together We Served.
Carey later downplayed his service, saying he was "just" in the reserves, yet he says he values his time in the Marine Corps, which taught him responsibility and pride in himself.
In the service, he said, he found a "brotherhood of people that have done important things and stood for something."
In 2021, Carey received a Lone Sailor Award from the U.S. Navy, which is given "to honor Sea Service veterans who have excelled with distinction in their respective careers during or after their service."
Carey left the military when he made a breakthrough in his comedy career.
"I think if I did not have such a great break, I would still be in the military," he said. "I still wear my hair short and have the glasses. Also, I enjoyed the regimen and camaraderie. I knew that once I left the reserves, I would give back to the military, so I teamed up with the USO."
Drew Carey Movies and TV Shows
That "great break" came in 1986, when Carey won his first open-mic contest and became the emcee for the Cleveland Comedy Club.
In the late 1980s, he continued performing at comedy clubs just about anywhere he could get a gig, moved to Los Angeles and eventually began winning spots on television, including on shows such as "Star Search" and "Comic Strip Live."
These stints led to supporting roles in sitcoms in the early 1990s, when Carey was in his 30s.
A successful appearance on "The Tonight Show Starring Johnny Carson" in 1991 also helped vault Carey into the public spotlight. He later said that was the day his life changed.
He became even more of a household name with the 1995 debut of "The Drew Carey Show," a sitcom about a fictionalized version of Carey, an "everyman" who works as a manager of a department store. The show ran for nine seasons.
In 1998, Carey's income of more than $45 million landed him on Forbes' list of highest-paid entertainers for that year. Carey's current net worth is $165 million, according to CelebrityNetWorth.com.
He has also had roles in a few feature films, including the voice of Crank in "Robots," as well as playing himself in films like "The Aristocrats" and "Jack and Jill."
Popular TV Shows
Some of the most popular and well-known Drew Carey shows include:
"The Drew Carey Show" (1995-2004)
"Whose Line Is It Anyway?" (U.S. version, 1998-2007)
"Drew Carey's Green Screen Show" (2004-05), a spinoff of "Whose Line Is It Anyway?"
"Drew Carey's Improv-A-Ganza" (2011)
"Power of 10" game show-host (2007-08)
​​"The Price Is Right" game-show host (2007-present)
Where Is Drew Carey Now?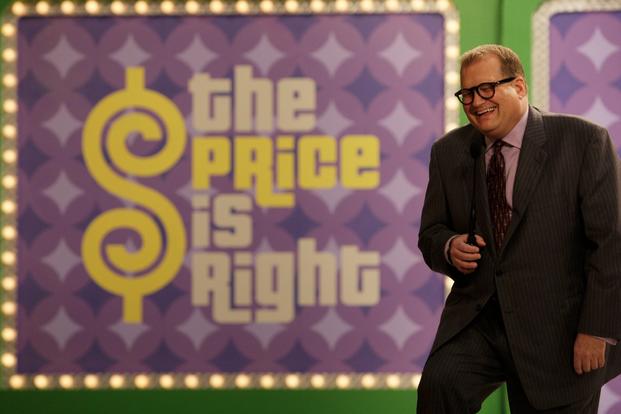 Carey, who reportedly lives in Hollywood Hills, is a Buddhist who describes himself as "a real peacenik. I'm half hippie," according to U.S. Veterans magazine.
In addition to comedy and game-show hosting, he also enjoys his "passion project": playing rock 'n' roll on the "Friday Night Freakout" show on Sirius.
On the personal side, he continues to struggle with grief after the 2020 murder of his former fiancée, Amie Harwick. The two had ended their engagement but had remained friends.
"The Price Is Right"
Carey became host of "The Price Is Right," TV's longest-running game show, in 2007.
"It's such a good fit for me," he told "Today With Hoda & Jenna" in September 2022, the month that marked 15 years since he took over hosting the show. "It's like everything I've ever done in my entire life prepared me to be the host of 'The Price Is Right.'"
In 2022, CBS held 50th-anniversary celebrations for the show, counting the 1972 revamped version of the show as its beginning.
"I might do 'The Price Is Right' until I croak," Carey told Cleveland Magazine.
Read More: To create a personalized transition plan, and for transition guides and checklists, visit the Military.com Transition Center.
Want to Learn About More Famous Veterans?
Whether you want to learn more about other famous veterans, polish up your resume, find veteran job fairs in your area, or connect with employers looking to hire veterans, Military.com can help. Sign up for a free Military.com membership to have job postings, guides and advice, and more delivered directly to your inbox.