This article by Nina Semczuk originally appeared on Task & Purpose, a digital news and culture publication dedicated to military and veterans issues.
Eight months after leaving active duty, I still hadn't started a salaried job. I was working two internships and a number of side jobs, but after sending out dozens of resumes, I hadn't yet found an honest-to-goodness, full-time position.
I had left the Army as a captain, making very decent money once you factored in BAH (Basic Allowance for Housing). That was in Texas, where not only is the cost of living extremely low, there's no state income tax.
Now, living in New York City, where rent, food, transportation and taxes are near the highest in the U.S., I was making minimum wage. The internships were always meant to be steppingstones -- a brief interlude in my career transition -- to a decent-paying job in my chosen industry.
But it was taking longer than I had expected. I had placed an arbitrary stop of six months for getting a "real job," but I had been applying to positions from before I even started my internships. While I read career advice daily (literally, that was my job as an editorial fellow at The Muse, where I wrote, copy-edited and uploaded career advice stories all day long) that said to be patient in the job hunt, I started to feel more and more panicked, and my confidence tanked with every unanswered job application.
The only way for me to get out of the negative downward spiral of, "Oh my god, what's going to happen? I'm going to run out of money and this is pathetic; my peers are making close to six figures; I should have never left the Army, at least there was free health care," was a tactic I read about in "The 4-Hour Workweek," a book I picked up during my nonfiction kick during my last year in the Army.
Fear setting, as explained by author Tim Ferriss, is when you define all the absolute worst-case scenarios on paper instead of ruminating in your head of everything that could go wrong. It can help manage anxiety and stems from the Stoic philosophy notion of spending time each month or so eating the barest of rations and sleeping on the floor to remind yourself you can survive most situations.
For example, for me, if I never got a single callback for a job, the worst-case scenario was running out of money, being forced to move in with a relative or a friend, subsisting off of ramen, bouillon cubes and canned food, and taking a minimum wage job probably in my hometown.
Eventually, I'd enroll in community college classes until I learned a skill that would help me get a job. And if that failed, I could live in a tent on someone's property and do yard maintenance and live off of oatmeal. After thinking that through, I felt much calmer. Truly.
Fear setting forced me to realize it wouldn't be the absolute end of the world if I didn't succeed in my career change on my timeline. And guess what? A few weeks after the height of my panic, I received three job offers on the same Friday. Even if I hadn't, I had found more than a handful of friends and family who were more than willing to host me on a couch if it came to that.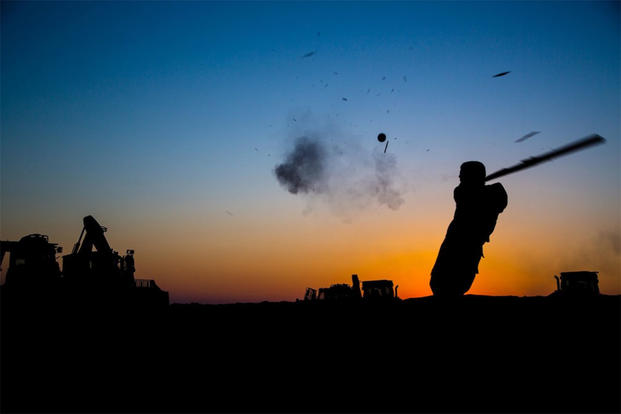 So the next time you start panicking, give yourself a dose of honest reality for your fears. If nothing else, it can help you realize that there's a next step, or another option if things don't go quite as planned.
Nina Semczuk served as an Army officer from 2011-2016. She earned a B.S. from Boston University prior to military service and now lives in New York and works as a writer and editor. Find her work on SmartAsset, The Muse, The War Horse, Fast Company, and at ninasemczuk.com.
More articles from Task & Purpose:
All-mom flight of Air Force F-15 fighter pilots takes to the skies
The Air Force's admin software is so bad that the top enlisted airman is trolling it
The US military is still struggling to figure out social media
Want to Know More About the Military?
Be sure to get the latest news about the U.S. military, as well as critical info about how to join and all the benefits of service. Subscribe to Military.com and receive customized updates delivered straight to your inbox.