Whether a former ground-pounding grunt or a pilot on an Osprey, veterans possess a high degree of grit and know how to complete a mission with few resources and a lot of sweat.
That's why many tech employers are actively recruiting military veterans. They recognize that vets know how to get the job done with a high degree of precision and professionalism.
Related: Six Must-Have IT Skills for Techies
Even Amazon founder Jeff Bezos knows it. He tweeted about the progress his company has made toward its promise of hiring 25,000 veterans and military spouses.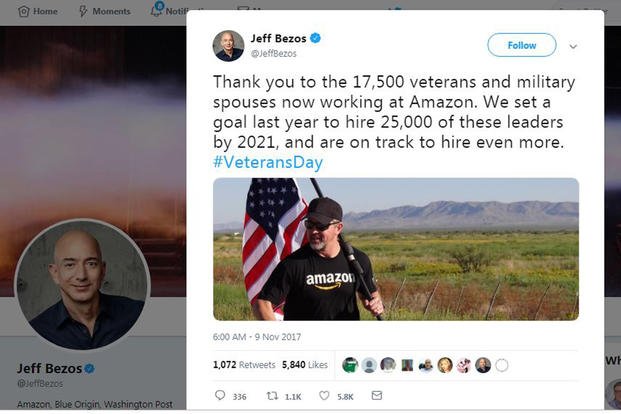 So which tech companies are looking to hire vets now? Here are just a few of the giants that are actively recruiting military veterans. Some of them even have training programs designed to help vets gain a foothold in the tech industry.
1. Amazon.com
On the Amazon Web Services (AWS) website, the tech giant pledged to hire 25,000 military veterans and spouses by 2021. And for veterans with little to no experience in tech, Amazon has offered to provide training and certification to 10,000 active-duty service members, veterans and spouses through its AWS Educate program. According to its website, AWS Educate provides access to "credits, training, and the option to choose their desired cloud career."
While many veterans possess a high degree of technical skills, AWS doesn't require you to have any previous knowledge or education in cloud services. It promises to provide a personalized pathway to a rewarding career. AWS Educate is available to veterans, transitioning military personnel and their spouses residing in the United States.
"At Amazon, we're constantly looking for leaders who can understand that it takes grit and determination to complete a mission," said Sean Kelley, a Navy veteran and talent acquisition director at Amazon.
Watch the video to learn how AWS Educate works.
For more information on its career services, visit Amazon's military recruiting website.
Related: Navy Vet's Mission to Help Military Families Get Jobs at Amazon
2. Google
Google went big with its commitment to helping veterans find careers with its Super Bowl LIII ad, which announced new programs and services that promise to help military veterans and their families find a home at the tech giant.
It kick-started a "Help a Hero Get Hired" program, which, according to its website, is "a nationwide annual event and connects military veterans in transition with Google mentors in partnership with Student Veterans of America and Iraq and Afghanistan Veterans of America."
Veterans are more than their military occupational specialty, and apparently Google knows it. The program pairs veterans with mentors and workshops both in-person and virtually over Google Hangouts. In addition, the mentor helps guide the veteran through resume creation, how to ace an interview and guidance in finding the right career path.
For more information, visit Google for Veterans.
3. Microsoft
Microsoft was one of the first companies to offer free training services for military veterans and their families.
According to its website, the Microsoft Software & Systems Academy (MSSA) "provides the veteran community with critical career skills required for today's growing technology industry." In addition to MSSA, Microsoft also provides training to military spouses through its Military Spouse Technology Academy.
To find out more, visit Microsoft's Military Affairs website.
Related: Vets in Tech: Chris Cortez & Microsoft's MSSA
4. Cisco
Cisco's military training program launched in 1997 and continues to assist hard-charging military veterans with training and career resources. According to its website, the Cisco Networking Academy has helped more than 87,000 military personnel on 31 installations advance their tech skills and help them find rewarding careers.
Most recently, Cisco created the Cisco Talent Bridge, which connects qualified veterans with Cisco channel partners worldwide.
If you're a veteran with little to no technical training or education, start with Cisco's Networking Academy.
Cisco's Talent Bridge for Veterans is open to transitioning service members (within 180 days of end of active service), post-DD214 veterans, National Guard, reservists or military spouses who meet at least one of the following criteria:
Bachelor's degree (or higher) majoring in a technology field of study (e.g. engineering, computer science)
Associate's degree with at least two years related IT/networking industry experience
Cisco Certified Network Associate (CCNA) certification (or higher).
5. GoDaddy
Founded by Marine Corps Vietnam veteran Bob Parsons, GoDaddy is another company with a solid reputation for hiring military veterans and has landed on several notable best places to work lists in recent years.
According to its website, in addition to military veteran hiring preferences and resources, GoDaddy has donated more than $1.4 million to the Semper Fi Fund over the years. That organization helps injured servicemen and women and their families from all branches of service.
Veterans know that a community of like-minded vets is important. Veterans will also enjoy continued support through GoDaddy's veteran employee organization "GDVets," which offers a variety of support resources, guest speakers and other events.
To find a career at GoDaddy that's right for you, visit GoDaddy's career employment website.
Related: For the latest veteran jobs postings around the country, visit the Military.com Job Search section.
Want to Know More About Veteran Jobs?
Be sure to get the latest news about post-military careers as well as critical info about veteran jobs and all the benefits of service. Subscribe to Military.com and receive customized updates delivered straight to your inbox.