In 2019, the U.S. Department of Labor issued a challenge to American companies: Build an application to match military members' skills to open jobs in the civilian world. Fifty companies answered the challenge. One stood out among the rest, and it wasn't LinkedIn.
Eightfold.ai is a Silicon Valley startup that threw its deep learning artificial intelligence into the fray. The platform has the potential to help transitioning service members and veterans find the career they want and plot a course on how to qualify for it.
But there was more at stake than just a $1 million prize and the hope of government contracts; this is a company that cares about veteran employment.
"Veterans are a big talent pool," says Eightfold.ai President Kamal Ahluwalia, who hires veterans as part of his team. "And at the end of the day, simply saying 'thank you for your service' is good, but actually doing something that helps maybe one, maybe 10, maybe a few thousand veterans is a lot more meaningful."
The threshold for moving ahead in the competition was an 80% success rate. Eightfold's platform achieved a 96% rate.
It got that high rating by using its trademarked Talent Intelligence Platform to analyze 1.5 billion anonymous resumes and job profiles (including those of 700,000 transitioned service members) and match military members and spouses to a job that fit them.
It wasn't based solely on their current skills. The program also matched them based on their potential.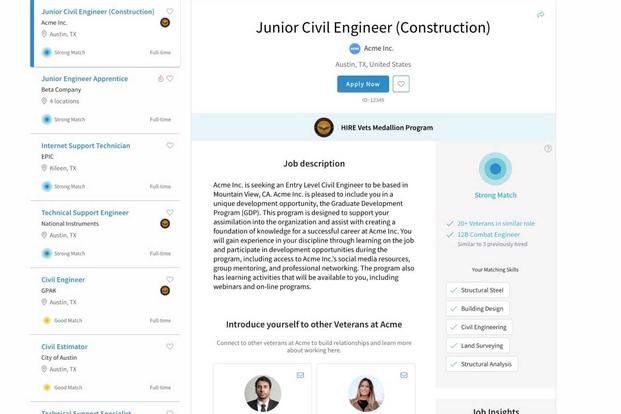 Eightfold's mission is to provide the right career for everyone, according to Ahluwalia. To accomplish this, the company uses a global data set to chart the right career course for people. In the case of military personnel, it's helpful to look at resumes and military occupation codes, but it doesn't fully reflect what they're capable of doing.
It also doesn't take into account the aspirations they have for their career or for their personal lives.
"We [Americans] don't give them any guidance," Ahluwalia said. "We actually make it hard to look for opportunities to find alignment between what a company is trying to do and what an employee is trying to do. If we give them more opportunities to acquire new skills, they will be empowered to pursue a career of their choice."
Eightfold uses the Talent Intelligence Platform to understand the capabilities that military personnel have acquired and takes into account the geographic preferences for separating military personnel to map job opportunities in those areas.
Users can build a profile, add their skills and education, and see right away not only what jobs are available, but what jobs could be available. If the user is missing any skills, the platform can inform them of what they will need to learn to qualify for the job they want in the area they want to live. The platform will also inform the user of why they're a good match for a job.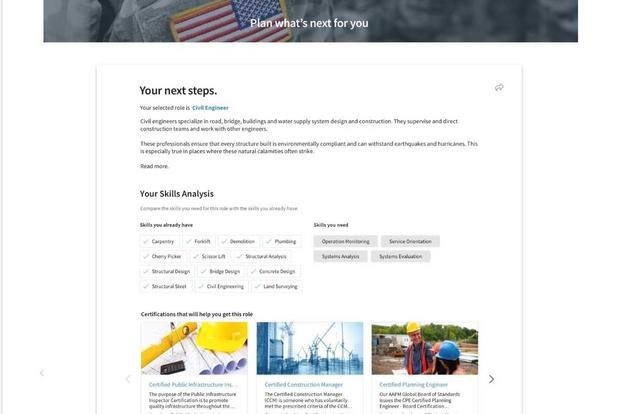 For service members going through transition assistance, this means they will have the opportunity to continue acquiring skills they need for those jobs while they're still in the military. Most importantly, there are employers linked to the program that are looking to hire veterans with those necessary skills.
"The other side is bringing employers to the veteran talent network," Ahluwalia said. "We can't solve the employment issue without bringing the two together. We already have major employers like Prudential nationwide. We will make it even easier for them to hire more veterans."
Ahluwalia described Eightfold's progress over the past couple years as "dramatic." The company is on four continents, serving customers -- employers -- in 26 countries in 16 languages. It has users -- job seekers -- in 110 countries. American military veterans are a huge talent pool, he said, representing 5%-6% of the total workforce.
"They are amongst the best trained people," Ahluwalia said. "At the same time, their actual skills are in a different domain. There is tremendous opportunity because they have leadership skills. They have their ability to work in ambiguous environments, where the training is all you have."
In the near future, the Talent Intelligence Platform could be used to help even the newest military member chart their own career course from day one, to choose a career in a place where they want to live and set out to gain the knowledge and experience to get that job by the time they leave the military.
Eightfold has also caught the eyes of the Department of Veterans Affairs and U.S. Air Force recruiting. With veteran unemployment sitting at 8% nationally and 200,000 military personnel separating every year, Ahluwalia wants to turn transition from an anxiety-prone experience to one veterans can actually look forward to.
-- Blake Stilwell can be reached at blake.stilwell@military.com. He can also be found on Twitter @blakestilwell or on Facebook.
Want to Know More About Veteran Jobs?
Be sure to get the latest news about post-military careers, as well as critical info about veteran jobs and all the benefits of service. Subscribe to Military.com and receive customized updates delivered straight to your inbox.