Joshua Carroll wasn't a bad student. By the time he reached high school, he wasn't a great student, either. It was in high school that he watched the events of Sept. 11, 2001, unfold on television.
He left school and got a GED certificate, then joined the U.S. Army. By the time he decided on a future in math, he had a 10th-grader's understanding of the subject. An Army work ethic and a dedication to his new mission changed all that.
In 2007, Carroll was a part of the Global War on Terror, fighting in Iraq as part of what became known as "the Surge," a deployment of 20,000 additional troops to help quell violence and increase security in the war-torn country. The Blacksburg, Virginia, native deployed to Iraq three times between 2007 and 2011.
He described himself as "missionless" after his return to Virginia. Struggling with depression and post-traumatic stress disorder, he was once again in high school, this time as a janitor. It was while cleaning in the course of his normal duties that he discovered Stephen Hawking's book, "A Brief History of Time."
"He was translating the mathematics," Carroll says in a YouTube video about his transformation. "And that hooked me. That was when I realized I want to study the stars; I want to be a physicist."
So he went to work. Carroll, using the Post-9/11 GI Bill, condensed a four-year physics education down to two. Failure, in any class, was not an option. He would run out of GI Bill funding for his new plan if he failed even once.
To garner an advanced understanding of concepts, he found YouTube videos that explained them. Where some of us go down a rabbit hole of YouTube videos about cats, Carroll went down rabbit holes of videos on calculus.
"If I got to a part of the problem that I didn't understand," he said, "I would pause the video and go find other videos explaining that ... until I figured out what it was I was missing."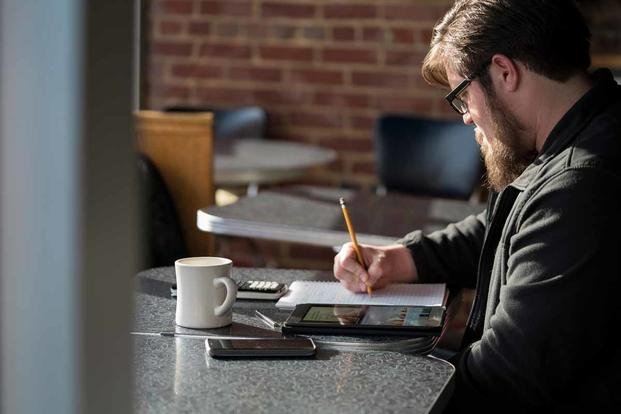 When he went to transfer schools, his target university told him he'd taken the wrong precalculus course in his studies. He'd missed trigonometry entirely; he didn't even know it existed. It seemed as though his entire plan was falling apart after coming so far.
He asked the department head at Radford University to let him skip trigonometry. Carroll promised the professor he would learn the entire subject in three weeks. Again, the veteran went to work -- with pencil, paper and YouTube.
"There is definitely no way around trigonometry if you're going to do physics," said Rhett Herman, physics professor at Radford University. "It would be very intense to teach yourself trigonometry in three weeks."
Herman gave Carroll a skip in the subject. The only test of the veteran's trig skills would be his understanding of calculus when the time came to start class. Carroll got an A in calculus. And then just kept acing his math classes.
He was almost top of his class. He'd come a long way from watching YouTube videos about basic geometry in his car while working as a security guard. He's now working as a scientist, researching fluid dynamics.
"It's about trying to reach for the unobtainable," he said. "Figuring out that you can actually grab it."
-- Blake Stilwell can be reached at blake.stilwell@military.com. He can also be found on Twitter @blakestilwell or on Facebook.
Want to Know More About Veteran Jobs?
Be sure to get the latest news about post-military careers as well as critical info about veteran jobs and all the benefits of service. Subscribe to Military.com and receive customized updates delivered straight to your inbox.