There are one million military spouses keeping the home fires burning for American service members, as of 2020. While each has their own stories and struggles, many of them will experience similar hardships. Frequent relocations and deployments not only mean time away from their loved one, but also limit the spouse's employment opportunities.
With the military member unable to take care of their children full-time and the cost of child care going up around the country, military spouses -- when they find stable employment -- are often left to choose between the job and their kids.
This was the choice left to Kayla Corbitt, an Army spouse who has followed her husband from Maryland to Italy and beyond. When she realized just how dire the situation was for spouses with children, she did something about it.
Corbitt started Operation Child Care, a referral agency that helps families connect to child-care services while advocating for more official support and providing free informational sessions.
"Child care is so much more than a women's issue," she says in an interview with Military.com. "It is a social justice issue, but it's also an employment issue. It's a financial stress issue. It's been directly tied to food insecurity in the active-duty and veteran community. It's tied into PCS-related debt, to veteran homelessness. It is tied into everything, but it's not being addressed."
For a flat fee of $29, Operation Child Care will lay out a personalized child-care plan for military families based on the needs of the child. This means reconnoitering schools, adding names to child-care center wait lists and, if necessary, connecting families to a vetted nanny to negotiate a child-care agreement.
In her time as a military spouse and mother, Corbitt has noted the effects that a lack of care and resources can have on military families and the military itself. It affects military readiness, effectiveness and, above all, retention.
She started an informational brief for military families that she soon turned into a full-on service to help find child-care for military families. Now Corbitt is poised to tackle the biggest child-care deserts in the Defense Department.
Corbitt's husband is a U.S. Army physical therapist. They met while she was in graduate school, studying to become a forensic psychologist. The couple married, and shortly after, he received orders to go to Italy. Corbitt's career was put on hold as she quickly learned what milspouse life was like.
The United States' status of forces agreement (SOFA) with the Italian government that allows military members and their families into the country prevents American family members from employment in Italy. It also restricts teleworking and operating businesses on or off base.
"You can't do anything as a spouse in Italy," Corbitt says. "You can drink wine, you can travel, but they have the strictest SOFA in Europe and no support."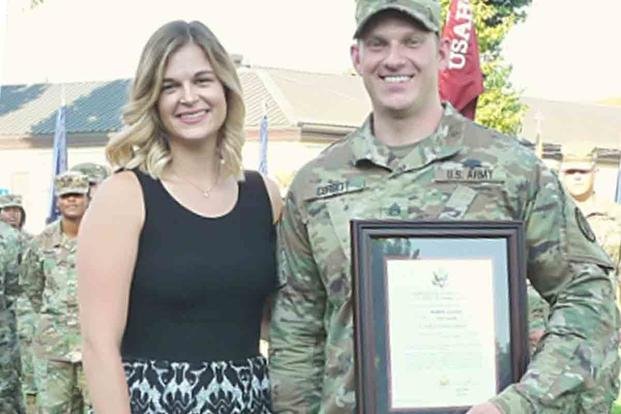 The lack of support from the DoD was the first step toward Corbitt launching Operation Child Care.
"If spouses were able to find a job, it was rare, but they couldn't take it because they didn't have child care," she says. "Having a child is the ultimate career killer in Italy. You have no options at that point. The military relies really heavily on spouses taking care of everything: volunteering, running programs and helping each other for free."
When the Corbitts did have a child, Kayla's views were confirmed. The lack of child care left few options, if any, for employment.
"It was frustrating and demoralizing," she says.
When the Corbitts were sent to Fort Meade, Maryland, in 2020, Corbitt found work with the Navy's Fleet and Family Support Center. She quickly discovered the problem was much more widespread than she thought. The Navy had fewer options for subsidized care than the Army.
"When the pandemic hit, day-care centers closed; no one had child care," she recalls. "So all of the phone calls that I was getting were, 'I don't know what to do.' 'I'm gonna lose my job.' 'We're the only ones who can do this.' 'What do I do? No one's open and the ones that are open. I can't afford them.' 'How do I get on this wait list?'"
In response, she started a program called Navigating Childcare. It was a simple format. In one session, she laid out a streamlined set of information for service members' families, based on their rank, the needs of their child and what options were available to them.
Today, the Corbitts are in San Antonio. Rather than wrangle various military commands and rotating leadership at her husband's new duty station, she launched Operation Child Care. Since starting in 2021, she has spent her time building trust within the area's military community. The company offers free information sessions and has launched a pilot program for its vetted nanny-referral agency.
With a contract in place, the nanny handles the family's child-care needs until the spot opens up at their new facility. Operation Child Care's operating costs for the referral services are covered by a further 15% fee on the agreed-upon contract.
"The response has been amazing," Corbitt says of Operation Child Care's San Antonio pilot program. "I've spoken to so many veterans who said, 'Me and my spouse were dual military ... One of us had to quit because we had no child-care options. If we had had this service, we could have stayed in."
San Antonio is one of the Department of Defense's top five "child-care deserts" for military families, where the significant amount of demand for care isn't being met. The others are Hawaii; the National Capital Region; Norfolk, Virginia; and San Diego. If successful, Corbitt plans to extend Operation Child Care into two of these areas in the coming years.
"I feel like more people should know that child-care access is the core issue for most, if not all, problems that military and veteran families face," Corbitt says. "There's almost nothing that a study hasn't tied back directly to child care. They don't say it's child care. They say it's high military spouse unemployment rates. But when you ask why, it all leads back to child care."
To learn more about Operation Child Care, to apply to become a caregiver or enlist the various information and services available, visit the Operation Child Care website.
-- Blake Stilwell can be reached at blake.stilwell@military.com. He can also be found on Twitter @blakestilwell or on Facebook.
Want to Know More About Veteran Jobs?
Be sure to get the latest news about post-military careers as well as critical info about veteran jobs and all the benefits of service. Subscribe to Military.com and receive customized updates delivered straight to your inbox.