There's a military axiom that non-commissioned officers are the backbone of the U.S. military, but there's nothing that says they can't be the backbone of any civilian organization. That's what Thomas H. Douglas became for a mid-size business during one of its most turbulent times.
He just released a book about the experience for entrepreneurs, from all backgrounds, a little insight about how they can make their businesses grow and thrive.
Douglas is a U.S. Navy veteran who left the military in 1997. He credits his time in the Navy for putting him on a path to his future career, one that included emerging technology, financial planning and, above all, leadership.
After transitioning from the military to civilian life, he began working at JMARK Business Solutions, an information technology services company that operates in Missouri, Oklahoma and Arkansas as an engineer. By 2001, he was able to buy the struggling company and reshape it into one of Inc. Magazine's 5,000 Fastest Growing Companies.
Douglas has written about the lesson he learned from leading that transformation in a new book, "Adapt or Die: How to Create Innovation, Solve People Puzzles, and Win In Business." The focus, he believes, is on the people both inside and outside your business.
"You must put a real system in place to maximize the outcomes for everyone involved," Douglas tells Military.com. "When alignment occurs between the customers of a business, the team within the business and the business leaders or owners, awesome things occur."
Some of the decisions Douglas was forced to make after purchasing JMARK were difficult, especially for a people-oriented leader like himself. He started by downsizing the company to just six employees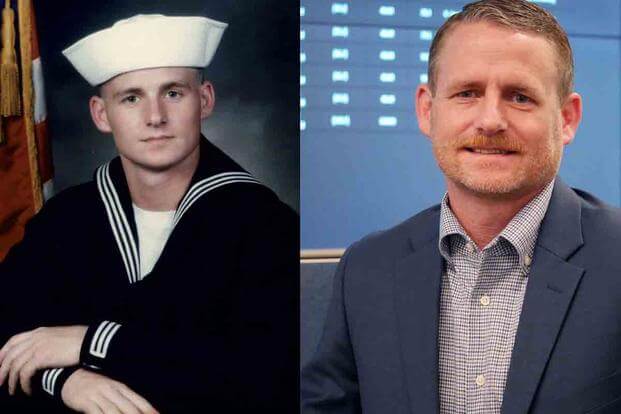 "Adapt or Die" outlines a set of principles that Douglas says put those people at the center of a business. He calls it "The Algorithm of Success," because an algorithm is literally a set of instructions designed to perform a specific task and facilitate a specific outcome. Like many veterans, Douglas' principles for success begin with leadership.
"In the Navy, I met exceptional people and was able to learn the impact of good [and bad] leadership," Douglas says. "I was able to see transformation, suppression, anger, joy and people rising to new levels and capabilities."
Throughout the book, Douglas notes his principles of leadership and then adds lessons in product, strategy, growth, financial modeling, people, operations and processes. He then applies those principles to a fictional information technology firm, along with a cast of fictional characters in some real-world business situations to apply his insights from rebuilding JMARK to the company it is today.
"So many books and courses share great ideas and concepts that are often hard to implement for the small business," says Douglas. "My hope is that the practical approach and stories make it easy to put the principles into immediate action. It took us years to figure out some of these traits, but there is no reason that it has to be so long for others."
His people-centric approach allowed Douglas and JMARK to survive the downsizing and regrow into the same company with a new set of guiding principles. Today, it's a thriving, regional company with more than 100 employees. It has also been one of the region's "Best Places to Work."
True to the theme of the book, Douglas notes that his success isn't because he's some kind of "super CEO." He credits his success to input from knowledge experts, his employees, his wife, and members of the JMARK board of directors. He says he is a passionate student of all of them, and wants others to learn from them, too.
"Sharing is a gift," he says. "The hope is that the challenges that we have worked through over the last several years can make a very positive impact on others. We've already heard positive feedback that people are making adjustments as a result of the contents. I could not be more thrilled and grateful to be able to help pay it forward."
-- Blake Stilwell can be reached at blake.stilwell@military.com. He can also be found on Twitter @blakestilwell or on Facebook.
Want to Know More About Veteran Jobs?
Be sure to get the latest news about post-military careers as well as critical info about veteran jobs and all the benefits of service. Subscribe to Military.com and receive customized updates delivered straight to your inbox.