The global COVID-19 pandemic has upended jobs, careers and the way the world goes to work -- maybe forever. The long-term fallout is still yet to be fully realized.
For the 200,000 (or more) veterans expected to leave the military every year, the path forward is just as uncertain. Veterans are looking for long-term, sustainable careers that allow them to pursue other goals while maintaining a healthy work-life balance.
While that effort may take some work, having a strategy is the first step toward success. Here are a few key tips that could make finding that post-COVID job more doable.
1. Choose a Flexible Career.
The pandemic hit some sectors much harder than others. The jobs most affected by the initial layoffs and downsizing were service industry workers, arts and entertainment freelancers, clerical workers, freelancers, and careers with constant interactions with the general public.
Unemployed and underemployed workers began to shift to what are now called "pandemic-proof" or "pandemic-resistant" jobs. These are careers that are still needed in a pandemic economy (such as health care), jobs that support those who still have their jobs (such as dependent child care) and technology jobs that can be worked from home (like coding and other tech jobs).
Targeting a career that is always in demand is the first step to stable, sustainable employment, no matter what the future holds.
2. Start Looking for That Job.
Many veterans struggle with where to look for these kinds of jobs, but the good news is that they can be found on almost any platform, including Military.com's parent company, Monster. Online job boards like Monster are some of the first places companies post open positions, but applying to an online job posting requires its own set of skills.
Foremost in those skills is resume writing. For veterans, translating military skills to civilian terminology is key to helping employers understand military-earned qualifications. Applying to jobs posted on job boards requires applicants to go a step further, integrating the keywords in the job requirements into their resumes so automated systems can push their submission onto the next step: getting it into the hands of a human.
Read: Top 20 Keywords for Your Job Search
3. Learn to Network, Even in a COVID Economy.
Most people find stable jobs (and thus, careers) through networking with others in their selected industries. While the COVID-19 pandemic has wrecked traditional, in-person networking, virtual job fairs and Zoom-based networking have filled in that gap wherever possible. Engage in these events, get to know people and establish relationships that frame you as a knowledgeable, capable mind in your field.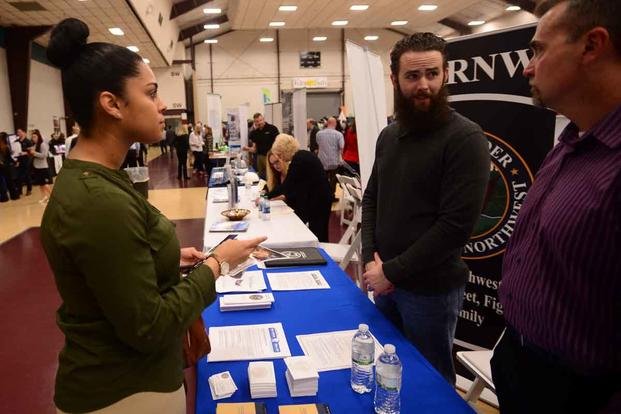 ​One day, in-person networking will resume unabated, so it's important to develop those networking skills as much as possible in the meantime. Position yourself accordingly. Join professional organizations relevant to your desired field, have discussions with important people in that field and, if possible, become one of them.
If you have the spare time, offering your expertise as a free service (read: favor) can end up being a trial run for a job later on. Businesses are having just as much trouble as individuals, so your help in a tough situation is unlikely to be forgotten.
4. Emphasize Everything You Bring to a Job.
Many veterans leave the service after just one enlistment of four to six years, putting their age and skill levels on par with many recent college graduates. Some of these veterans will not have the same education, but bring many other skills to the job.
Even in industries that don't require technical certifications or state licensing, veteran job applicants bring years of on-the-job experience and customer service expertise, along with the ability to work as part of a team or even lead teams when necessary. These skills and others like them are known as "soft skills" and aren't taught in classrooms. This is one area where vets have an edge.
5. You Don't Have to Rely on a College Degree.
Long before the pandemic made remote work a viable option for many companies, employers were already beginning to see the value of the "hard skills" potential employees carried with them. Having a four-year degree will always be valuable, but these days, not having one is becoming less of a hindrance to finding work.
The alternative for many employers is known as "upskilling," and the concept is simple. Upskilling takes people with experience in their field (or sometimes no experience at all) and teaches them to fill functions vital to the company's future plans in a short period of time without all the college coursework. Employees gain a valuable skill, and the company gets its critical infrastructure. Everybody wins.
Companies with upskilling programs for veterans include the Microsoft Software and Systems Academy (MSSA), which trains veterans and military personnel for future careers in the tech sector -- and then gets them an interview with an employer. Microsoft even announced that the company will pay for the training, which will now be 100% remote.
6. Prepare for That Job Interview.
Interviewing for a remote position isn't like interviewing for an in-person job. Not only does a candidate need to prepare as one normally does for a job interview (learning about the role, the company and even your interviewer, for starters), they also need to answer questions about the pandemic.
What you have been doing with the time at home, your willingness to be in the office if necessary, and your ability to be productive at home will all be topics of interest.
7. Follow Up on the Interview.
Some things will never go out of style, and that includes a thoughtful, handwritten thank-you note to the company considering you for employment. Sending that note is a personal way to follow up on the interview, shows your attention to detail and displays an interest in the job and the company that goes well beyond sending out resumes to a hundred job postings.
-- Blake Stilwell can be reached at blake.stilwell@military.com. He can also be found on Twitter @blakestilwell or on Facebook.
Want to Know More About Veteran Jobs?
Be sure to get the latest news about post-military careers, as well as critical info about veteran jobs and all the benefits of service. Subscribe to Military.com and receive customized updates delivered straight to your inbox.