The fifth-richest person in America worked hard from an early age to earn money. Sure, his father was a congressman, but young Warren Buffett still developed an entrepreneurial spirit that led him to sell bubble gum, golf balls and magazines to anyone who would buy them. This is the guy who filed his first tax return -- with deductions -- at age 14, after all.
He studied math in high school to become a stockbroker and went on to study business in college and graduate school. Buffett later worked for his investing idol, Benjamin Graham -- and he worked hard, learning the ins and outs of value investing.
But before he got to work at his dream job, hardworking Warren Buffett also joined the Nebraska National Guard in 1951. At age 21, he enlisted as a pay specialist, the soldiers who handed out cash on paydays, tracking who got paid and how much. He learned a lot from his time in the service as well.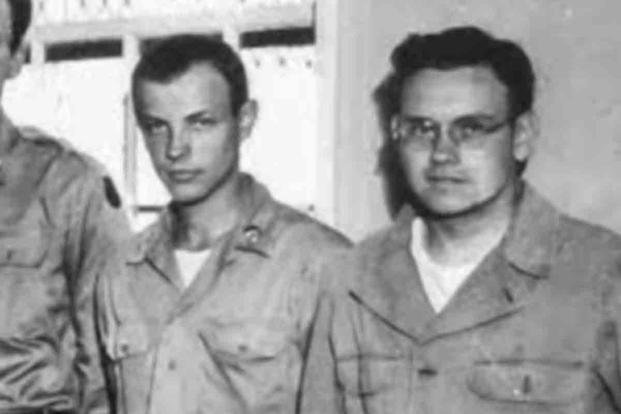 1. Taking Orders
"Well, I learned to take orders, which is not a bad trait to acquire," he told the Nebraska National Guard in an August 2020 interview.
Buffett was willing to follow orders to their fullest, even if it meant cutting his own wedding short. In 1952, then-Cpl. Buffett was set to get married to his wife, Susan, as the nearby Missouri River was flooding, "roaring drunk on a snow-melt cocktail which could have been mixed by Paul Bunyan," according to a 1954 history of the state.
Buffett got a call from his unit commander who gave him two hours to enjoy his wedding, but ordered him to report to the armory afterward. He was all set to wed and then deploy when he got a call 30 minutes later. This time, it was the installation commander, a Gen. Wood, who told Buffett he was countermanding the order for his activation and told him to have a good time at his wedding.
2. Having Fun
Buffett is a relatively modest man, for someone who has amassed such a substantial fortune. He's led a very simple life, especially compared to some of the eccentric billionaires who top the list of wealthiest Americans alongside him. By the time he joined the National Guard, Buffett already had invested heavily in companies like GEICO (which he owns today), and he didn't do it by throwing barracks parties.
Still, the "Oracle of Omaha" had a good time while serving in the Army.
"Any time you make good, long friendships, that's important in life," he said. "There was something about the spirit of a company. I mean, people that you did things with, slept in the same barracks and everything. That actually has a really good effect on you."
3. Learning from Others' Experiences
The Army was not Buffett's only experience outside of Nebraska by the time he joined. He already had taken trips to Washington and New York, and attended the Wharton School at the University of Pennsylvania for two years.
During his time in the military, Buffett was working as an investment salesman and later at Graham's investment partnership. He was already worth the equivalent of more than $1.5 million in today's dollars.
But when he came to serve in the Army, he was an enlisted corporal, not one of the officers separated from the rest of the unit. It was the prolonged camaraderie of the men in his unit that he saw as profound, where people from all backgrounds served alongside him.
"You learn about people in all different kinds of walks of life," Buffett said.
4. Good Life Experience
Buffett served in the Army National Guard in Nebraska and New York until November 1956. He had a growing personal business in Buffett Partnership, Ltd., and by the next year, he would operate two more. Buffett then merged the three into one and took a controlling interest in a textile manufacturer, Berkshire Hathaway. Within six years of leaving the military, he was a millionaire -- in 1962 dollars.
Even today, with a net worth of more than $100 billion, Buffett believes serving in the military is a valuable thing.
"I think it's a great experience," said Buffett, who turned 91 on Aug. 30, 2021. "Whether it's a career for you or whether it's reserve service or something of the sort, you're gonna make a lot of good friends, you're gonna learn a lot and I think you ought to be very proud of what you're doing."
-- Blake Stilwell can be reached at blake.stilwell@military.com. He can also be found on Twitter @blakestilwell or on Facebook.
Want to Know More About Veteran Jobs?
Be sure to get the latest news about post-military careers as well as critical info about veteran jobs and all the benefits of service. Subscribe to Military.com and receive customized updates delivered straight to your inbox.