He was one of the founding air commandos assigned to World War II's China-Burma-India theater, the first American to photograph Hiroshima after the atomic bomb attack, an Army retiree -- and 'Mr. Fixit' to James Bond.
Retired Lt. Col. Charles Russhon left his mark on the film industry as a military adviser to the Bond films in the 1960s and 1970s, earning the title of "Mr. Fixit" on the Bond sets.
Among the gadgets Russhon procured for filmmakers were the Bell-Textron Jetpack and the Fulton Skyhook, both featured in the 1965 "Thunderball," as well as the explosives that were used to blow up the Disco Volante ship.
He arranged for exterior access to Fort Knox, Kentucky, coordinated filming locations in Istanbul, Turkey, and facilitated film participation by Air Force pararescuemen in "Thunderball."
"Roger Moore called him 'Mr. Fixit' because he seemed to be able to do or get anything in New York City," Russhon's wife, Claire, wrote in an email. "For example, suspending traffic on FDR Drive for a Bond chase scene (and that isn't done in one take)."
As special associate to the producers, Russhon, a native New Yorker, researched new technologies, locations and permissions for whatever the scripts required, she said.
Russhon, who passed away in 1982, worked on "From Russia With Love," "Goldfinger," "Thunderball," "You Only Live Twice," and "Live and Let Die."
'Mr. FixIt'
Christian Russhon remembers his father's business card read "catalyst -- agent that brings others together."
For him, there was never a dull moment, he said.
"He was larger than life," Christian said.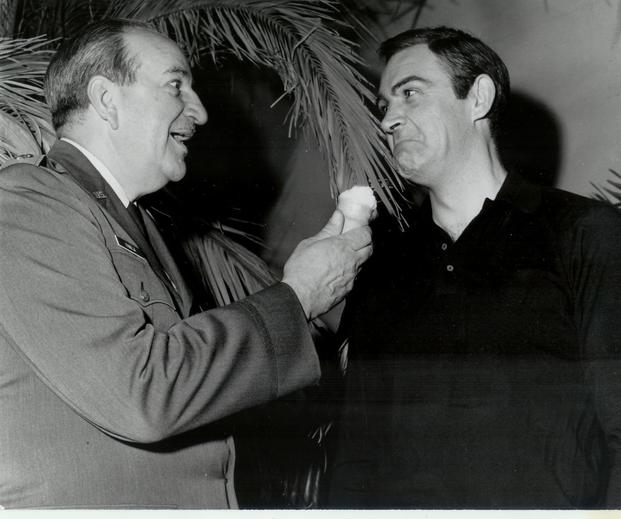 The film crew commemorated the colonel's penchant for life on the set of "Goldfinger" in which they promoted him to the rank of general. In the film, a banner hung on the Fort Knox airplane hangar reads "Welcome, General Russhon."
Christian Russhon said he also remembers seeing his dad on film in "Thunderball" in which he appeared as an Air Force officer at a conference with other agents. According to the International Movie Database, Russhon is sitting to the right of "M" in the scene.
Russhon's connections with movers and shakers made him the right man for the Bond job after his retirement from active-duty service in the Air Force. His acquaintance with film producer Albert "Cubby" Broccoli predated Broccoli's work on the Bond films, Claire Russhon said. He was available when Broccoli needed a man stateside to work on the films.
Russhon relied on his acquaintance with President John F. Kennedy's press secretary Pierre Salinger for access to film at Fort Knox in "Goldfinger."
He worked with his military connections to get approval for filming in Turkey in "From Russia with Love" and to arrange for pararescuemen conducting a water training jump to be featured in "Thunderball."
He was also there for a young Sean Connery when he arrived in New York City, Claire Russhon said.
"Connery was a stranger in New York, and Charles took him in tow."
When Connery was at odds with the producers, Russhon would serve as the go-between, she said.
"Despite his reputation with the girls, Sean was a man's man," she said. "They kept in touch long after working together, and Sean called me when Charles died."
Christian Russhon, who has also worked in the film industry for 30 years, remembers Sean Connery stopping by their New York apartment all the time.
"I called him Uncle Sean," he said.
The BSA Lightning motorcycle from "Thunderball," complete with rockets, also left an impression on young Christian Russhon. The motorcycle was gifted to his dad who gave it to his godson. Christian was not old enough to drive yet, so he missed out on the BSA Lightning, he recalled.
Some real spy work
Russhon not only had the connections, but he had the credentials to advise Bond filmmakers. He conducted his own top secret special operations work with the 1st Air Commando Group during World War II.
The group, led by co-commanders and then lieutenant colonels John Alison and Philip Cochran, assisted one of the fathers of irregular warfare, British Army Maj. Gen. Orde Wingate, and his ground forces, the "Chindits," as they penetrated the Burmese jungles in the fight against the Japanese.
Their mission was to provide air support to British ground forces through infiltration and exfiltration, combat resupply and medical evacuations in hostile territory using a wide variety of aircraft flying low-level, long-range missions.
Prior to the attack on Pearl Harbor, Russhon worked as a sound engineer for NBC in New York City and for Hollywood-based Republic Pictures, which specialized in Westerns.
Claire Russhon said her husband's deep patriotism and education at Peekskill Military Academy, Peekskill, New York, motivated him to join the U.S. Army Air Corps following the attack.
As a young lieutenant, he was sent to Burma where he led the 10th Combat Camera Unit, a small group of cameramen supporting the 1st Air Commando Group.
Alison and Cochran built a rapport with Russhon based on his exemplary work as a cameraman. He later became permanently attached to the Group, said Air Force Special Operations Command historian William Landau.
"They became fast friends," Claire Russhon said. "Gen. John Alison was later best man at our wedding."
Russhon became critical to mission success in the days leading up to Operation Thursday when he was cleared by Cochran to defy Wingate's orders and conduct last minute photo reconnaissance of the three landing strips Allied forces were to use during the mission, Landau said.
Operation Thursday, a mission in which gliders were used to drop the Chindits deep behind Japanese enemy lines, marks the first time in military history that airpower was the backbone of an invasion, Landau said.
"The photo reconnaissance was used to survey and select the landing sights," he said. "By cutting it off, Wingate basically left himself open to the possibility of a nasty surprise upon landing."
Russhon got in the air with his camera. The first airstrip, Broadway, was clear. Chowringhee airstrip was clear. Piccadilly, which was to be used in the first night of operations, was strewn with teak logs locals had dragged out to the clearing to dry, he said.
"Russhon was so taken aback, he actually forgot to photograph the area," Landau said. The pilot doubled back.
He rushed to develop about 30 photographs at the nearest base of operations and had them delivered to Cochran, Alison and Wingate.
"(Russhon's photo reconnaissance) not only saved many lives. It saved the operation itself," Landau said. "If they had landed with logs and debris at Piccadilly, the mission had the potential of being a catastrophic failure."
Russhon received the British Distinguished Flying Cross for his actions in August 1945. An excerpt from the citation reads: "This officer has displayed exemplary keenness and devotion to duty and was personally commended by General Wingate for his courageous action."
Russhon continued to serve as a photographer through the end of World War II.
After the atomic bombings of Hiroshima and Nagasaki, he was among the first Americans on location documenting the destruction.
A 1945 article from the San Francisco Examiner interviewed Russhon about being on the ground in both cities within 24 hours after each bomb dropped.
"A strange, rusty-looking haze hung over Nagasaki when I flew above the city at 3,000 feet the day after it was hit by the atomic bomb," Charles Russhon told the Examiner. "It was unlike anything I've ever run into before or since. I got out of there in one hell of a hurry."
Following his active-duty career with the Air Force, Russhon entered the Air Force Reserve and began his work bringing life to Ian Fleming's Bond on the big screen.
Claire Russhon said her husband enjoyed working on all of the Bond films but that one of the most interesting was "You Only Live Twice," because it required him to return to Japan where he recalled some of his World War II experiences.
"In preparing for the Bond filming, there was a reception for the Japanese officials at which a gentleman greeted Charles and said 'you have gained weight,'" she said. "It was a Japanese general who explained that he was on the welcoming committee at Atsugi Air Base, (Japan,) when that first plane arrived (after the atomic bombing of Hiroshima and Nagasaki) and Charles stepped off."
Russhon's legacy is extensive. Not only has he been immortalized on screen in the Bond films, but friend and celebrated American cartoonist Milton Caniff crafted "Charlie Vanilla" from his "Steve Canyon" comic strip after his person.
The "Charlie Vanilla" character was a mister fix-it with an affinity for vanilla ice cream who always managed to save the day, Claire Russhon said.
"The ice cream cone was fashioned after Charles's addiction to chocolate ice cream, but Caniff decided that 'Vanilla,' with the dangling vowel sounded more ominous," she said.
Beyond the life he breathed into Bond by supplying filmmakers with the cool gadgets and locations viewers remember when they watch classic movies like "Goldfinger," Russhon is immortalized in Air Commando history through his photos and his leadership.
"I get a sense of adventure. I get a sense of cunning," the AFSOC historian said. "To me, he embodied what an Air Commando more or less should be. He was fearless."
-- Military.com contributed to this report.