In many ways, "Bumblebee" (out now on 4K UHD, Blu-ray, DVD and Digital) is the "best" Transformers movie, if what you're looking for is logical plot, strong characters and emotional growth. Director Travis Knight (who previously made the Oscar-nominated animated movie "Kubo and the Two Strings") brings real movie-making skill to his first Autobot outing.
That means "Bumblebee" doesn't have the relentless sugar rush of Michael Bay's five Transformers movies. Bay's crazy, impressionistic action sequences have a poetry all their own and will one day get their due.
As for now, though, the producers have reined in the mayhem and created an '80s throwback story about B-127, the Autobot sent to protect the planet in the years before Bay's stories.
Working from a strong script by Christina Hodson (who also wrote the upcoming Harley Quinn and Batgirl movies), the movie follows Charlie (Hailee Steinfeld), an 18-year-old struggling to come to terms with the death of her father. She acquires a yellow VW Beetle that she calls Bumblebee. He turns out to be Autobot B-127.
Decepticons track B to Earth, fool the American military into getting access to our intel and try to wipe out the Autobot. Here's a VHS-style trailer made for the home video release.
You can figure out what happens. The good news is that Col. Burns (John Cena) is smart enough to realize who the real bad guys are and aid Bumblebee's mission.
The even better news is that the producers, director and screenwriter put real effort into getting the 1980s details right. They're definitely inspired by teen movies of the era, as seen in the tribute trailer above.
There's an attention to detail in the production design and soundtrack sorely lacking in this week's other big eighties movie, Netflix's Mötley Crüe biopic "The Dirt." While the Crüe movie lazily blenderizes the era, "Bumblebee" carefully matches songs, clothing and technology to the exact moment the film takes place.
Paramount is so into the details that it manufactured a limited run of VHS tapes and sent them out with an old-school press kit, complete with printed release notes, color photos for media use and a custom Bumblebee folder.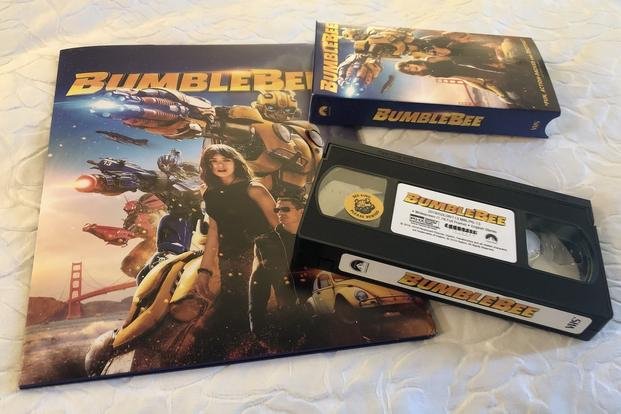 If you can't locate one of those on eBay, the real home video release includes more than 60 minutes of bonus content, highlighted by a brand-new animated motion comic and 14 deleted/extended scenes and outtakes. There's also a comic book available with the Amazon version of the 4K release.