The Optoma LH150 projector delivers an outstanding 1,300 lumen 1080p image in a portable package. What it doesn't have is built-in streaming software, but most of the Android systems that come on devices like this one are far inferior to a Roku or Apple TV, anyway.
There's something compelling about watching a movie or sports event projected on a screen or white wall that even the finest 4K Ultra HD TV can't match. Sure, the projected image isn't as sharp, but a wall-size image in a dark room is somehow the most immersive way to enjoy the show.
The projector measures 11" x 7.5" x 2.25", comes with a carrying case and weighs only 4.7 pounds. It has a 2.5-hour battery life, enough to let you plug in a mobile device, and a speaker for movie night on a camping trip.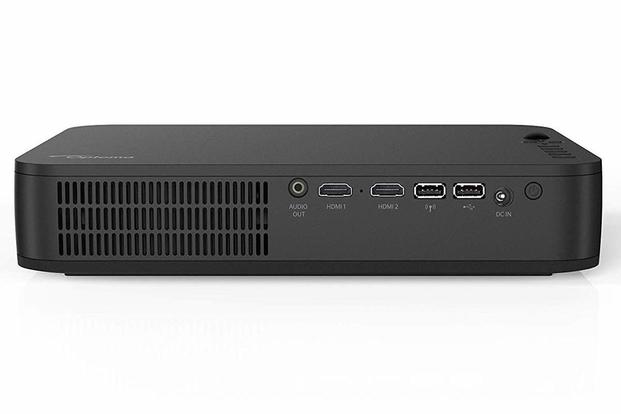 You need to provide your own video source. The LH150 comes with two HDMI ports, something that makes it easy to hook up a laptop, Roku, Amazon Fire, Apple TV, Blu-ray, DVD or 4K player. There's also a USB-in port that makes it easy to connect an Android or iOS device if you have the right connector cable.
You can improve the sound with an audio cable or by connecting the projector to a Bluetooth speaker.
Optoma is obviously planning to sell a few of these for corporate use. The LH150 is portable enough to use for traveling presentations and gives a far better image than the pocket-size projectors that have come on the market over the last few years. There's also a Wi-Fi hookup available if you buy a dongle accessory, but there's not really a scenario in which you'd choose that option for personal use.
It's a projector, so there's fan noise. Anyone who's grown up with flat-screen TVs over the last decade might think it's loud, but survivors of the beasts they used in '70s or '80s school classrooms will think it's positively quiet.
For a street price of $899, you get a high-quality image from a projector that works incredibly well with your personal player or streaming device. You can spend less, but you won't get this kind of brightness. You'll have to spend a lot more to get a significant step up from the LH150.