The submarine thriller "Hunter Killer" (now in theaters) is based on the novel "Firing Point" by U.S. Navy veteran George Wallace and Don Keith. Action star Gerard Butler plays American submarine Captain Joe Glass. His crew teams up with an elite group of Navy SEALs to prevent a Russian coup and rescue the country's kidnapped president.
Commander George Wallace served on two of Admiral Rickover's famous "Forty One for Freedom" submarines and commanded the USS Houston SSN 713 in the early nineties. After retirement, he decided to write a novel about submarines and, twenty years later, his story has finally made it to the screen. He spoke to Military.com about the journey.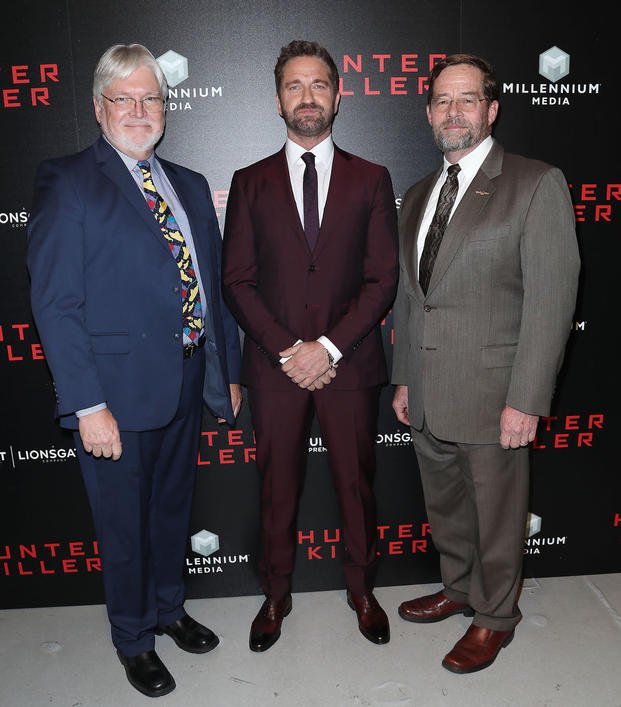 Please tell our readers about your military background.
I served 22 years, all in submarines. I was commissioned in '73, I have a degree from The Ohio State University. I went right into nuclear power and submarines. My first boat was the John Adams, one of the old 41 for Freedom, the original Poseidon Polaris boats. Then I was engineer officer on the Woodrow Wilson, another one of the 41 for Freedom. I was executive officer on Spadefish. She was a sturgeon class fast attack. And I commanded Houston, SSN-713. She was a Los Angeles-class fast attack. I retired in '95.
What made you decide to become an author?
When I retired, we moved to Durango, Colorado. And if you've never been to Durango, it's in southwest Colorado and it's about as far away from the ocean as you could possibly get and still be in the continental US. A lady who worked with me actually thought the submarine force was part of the Coast Guard. No one in town knew anything about submarines or submariners and I got the idea that people needed to understand what my crew and other submariners had done or were doing. This was a story that needed to be told.
I could have sat down and written a fact-based book, but there are two things to consider: One, most of what we did was pretty highly classified and still is, so I would run afoul of those rules pretty quickly. Quite frankly, most of what we did was extremely boring. You sit off somebody's coast for a month, two months looking at nothing, and then experience five seconds of sheer terror, and then you go home.
That doesn't make a very good book, so I decided to write a novel instead. That way, I could spend time explaining submarines and particularly submariners: what the life was like, what the comradery was like, and tell it in an interesting story that brings in the everyday reader and gives them some excitement. I wanted to give the young reader (or now the young movie attendee) something to look at for a life goal: "I want to go be a submariner because this is what it's like, it's really interesting, really challenging." That's where we started and hopefully that's where we're at.
There are a lot of people who believe they could write a book but you're one of the very few who've actually done the work and got it published How did you get a book deal? How did you manage to get your book out there for everyone to read?
You have to be extremely lucky. When we started, my first agent told me that 95 percent of the first-time authors never find an agent. 95 percent of those that find an agent never get published. And I'll add my own metric. I think 99 percent of the writers that get published never get a movie deal. So you have to be extremely lucky and Don and I were extremely lucky.
Tell us how you got a movie deal.
We wrote the manuscript, got an option for the movie, and then our book "Firing Point" was published. It was, again, being at the right place, at the right time. We were living in Los Angeles and my wife and I were a member of the Naval Submarine League. We attended a meeting down in San Diego. The president of the league who was a friend of mine and he introduced me to this guy named Arne Schmidt.
Arne was doing research for a movie he wanted to do on a World War II submarine, but he's a big time Hollywood producer. He's probably done 150 different movies as either director or producer or line producer or executive producer. We got to talking, discussed another book we'd written, and then Arne looked at "Firing Point." He said, "Hey, we can do something with this." So we took our 700-page baby, cut it down to a hundred-page screenplay, and then shopped it around to the studios. 11 years later we have a movie.
I don't think people realize how long it can take to get a movie made.
There's a whole other book in that. Yeah, it takes forever.
There were any number of times during those 11 years where we actually thought this idea is dead. Either the studios lost interest, the timing is not right, we can't get a director, we can't get a leading man, whatever. And it seemed like every time that happened, somebody would step up.
Relativity, the first studio, went bankrupt. Millennium and Neal Moritz stepped up. They were having a hard time getting a leading man. And Gerard Butler, Gerard has been with the movie since 2011. He stepped up and now he's the star of this movie, he's been the star of many other movies.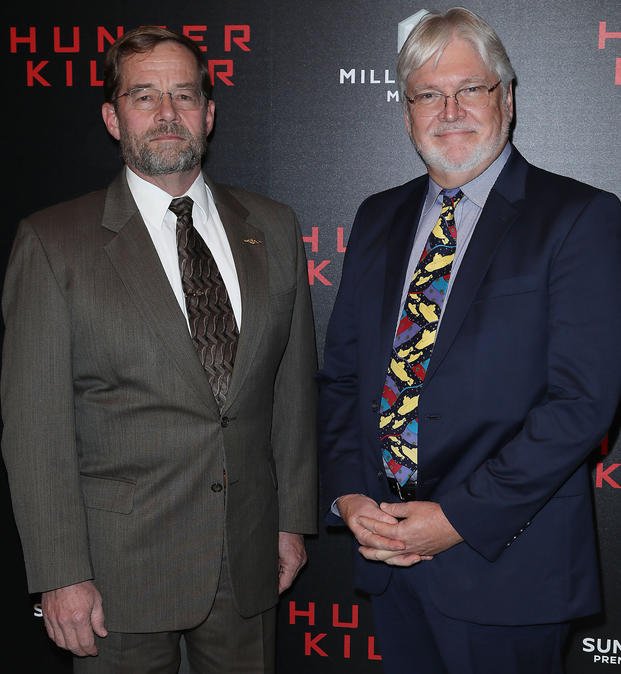 Were you on the Intrepid for the New York premiere event? Were you in New York for that event?
That was great. It was a fun event. It was a good chance to meet a lot of people who were involved in the movie that, frankly, I hadn't gotten a chance to meet before.
The feedback is that we've got something here and that we've done what we set out to do. I probably got that feeling more last Monday night, when they did a premiere at the Navy Memorial in D.C.. There were a number of Navy flags there, but they brought a bunch of midshipmen from the Naval Academy and the local NRTC units. The theater was packed.
When I talked with the midshipman afterwards, I got the realization that we accomplished what we wanted to do because they were very, very excited about "Hunter Killer."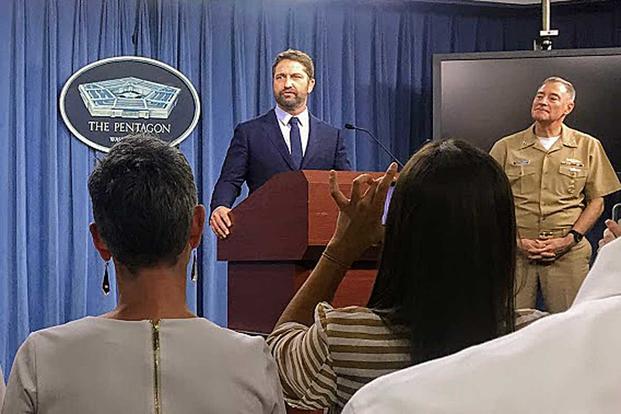 Your movie has something that I don't think I've ever seen before: Gerard Butler standing at the Pentagon giving a press conference. Do you have any inside scoop on how that happened?
A little bit. The movie has had tremendous navy support from the CNO, Admiral Richardson, on down. And you say Admiral Roegge that was there with Gerard at the Pentagon. He had made arrangements for Gerard and for Donovan Marsh to go out and ride Houston to learn what submarining was like. They were out for three days. So all that played into getting the Pentagon news conference. But as I said, tremendous navy support pretty much all the way through.
Thanks for speaking with us.
Thank you. When you see the movie, plan on sitting on the edge of your chair the entire time. I will tell you the action starts at the beginning and it doesn't stop until the end.