October 3rd marks the 25th anniversary of the Battle of Mogadishu in Somalia, a military operation forever memorialized in Mark Bowden's book "Black Hawk Down" and the Ridley Scott-directed movie it inspired.
We've got some news: "Black Hawk Down" is being restored in 4K resolution and the classic film will be released on 4K Ultra HD on May 7, 2019. Here's a first look at the cover art.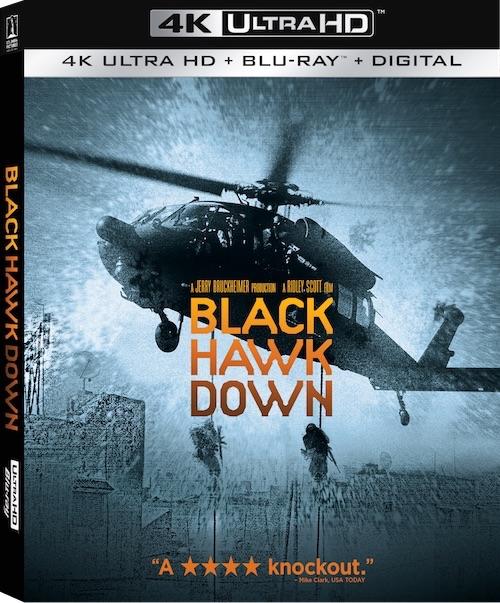 The operation in Somalia was intended to take out Habr Gidr leader Mohamed Farrah Aidid. Local forces shot down two Black Hawk helicopters and damaged three others. The next two days were spent trying to rescue the trapped men. 18 Americans were killed and 73 wounded. While the exact number is in dispute, it's safe to say hundreds of Somali militia and civilians were either killed or wounded during the fierce fighting.
The film won well-deserved Oscars for Best Editing and Best Sound and Scott was nominated for Best Director and Slawomir Idziak was nominated (and deserved to win) for Best Cinematography.
The cast features movie icons like Tom Sizemore ("Saving Private Ryan") and Sam Shepherd ("The Right Stuff") and younger players like Josh Hartnett, Ewan McGregor, Eric Bana, Tom Hardy, Orlando Bloom, Ty Burrell and Nikolaj Coster-Waldau. Casting director Bonnie Timmerman was certainly on her game here.
We'll have more details about the restored "Black Hawk Down" as the release date draws closer.