The "Universal Classic Monsters: Complete 30-Film Collection" has been upgraded in a new Blu-ray edition that features every important release from the studio's golden age of horror movies 1931-1956.
Dracula, Frankenstein, the Wolf Man, the Mummy, the Invisible Man, the Phantom of the Opera and the Creature from the Black Lagoon headline a series of films that remain the gold standard. Universal has tried repeatedly to launch a new Universal Monster Universe along the lines of Star Wars or Marvel but they've so far failed to capture the magic of these originals.
In additional to the well-known classics starring Bela Lugosi, Boris Karloff, Lon Chaney Jr., Claude Rains and Elsa Lanchester, you get all the various reboots and spinoffs that feature a variety of actors in the roles of the beloved monsters.
This set includes a ton of bonus material, including behind-the-scenes documentaries, 3D Versions of "Creature from the Black Lagoon" and "Revenge of the Creature," the 1931 Spanish Version of "Dracula," featurettes on Bela Lugosi, Boris Karloff, Lon Chaney Jr., and Jack Pierce, and 13 expert feature commentaries.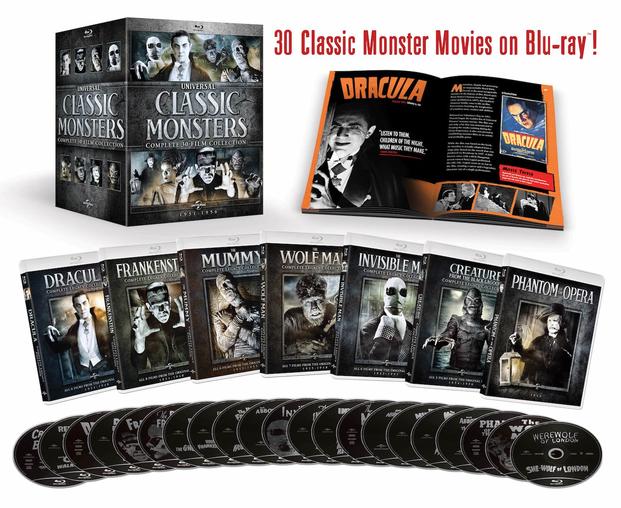 A lot of the later movies featured here are just as interesting as their more well-known predecessors, even if they're not as good. Hammer Films revived the horror genre in the '60s and '70s with Peter Cushing and Christopher Lee, but these are the movies that directly inspired those films and these are the characters that live on in Halloween costumes all over the world.
Here's the complete list of movies in the collection.
Dracula (1931)
Frankenstein (1931)
The Mummy (1932)
The Invisible Man (1933)
The Bride of Frankenstein (1935)
Werewolf of London (1935)
Dracula's Daughter (1936)
Son of Frankenstein (1939)
The Invisible Man Returns (1940)
The Mummy's Hand (1940)
The Invisible Woman (1940)
The Wolf Man (1941)
The Ghost of Frankenstein (1942)
Invisible Agent (1942)
The Mummy's Tomb (1942)
Frankenstein Meets the Wolf Man (1943)
Phantom of the Opera (1943)
Son of Dracula (1943)
The Invisible Man's Revenge (1944)
The Mummy's Ghost (1944)
House of Frankenstein (1944)
The Mummy's Curse (1944)
House of Dracula (1945)
She-Wolf of London (1946)
Abbott and Costello Meet Frankenstein (1948)
Abbott and Costello Meet the Invisible Man (1951)
Creature from the Black Lagoon (1954)
Revenge of the Creature (1955)
Abbott and Costello Meet the Mummy (1955)
The Creature Walks Among Us (1956)