"Unbroken: Path to Redemption" is the movie that World War II hero Louis Zamperini really wanted everyone to see. Director Angelina Jolie's 2014 Oscar-nominated movie "Unbroken" featured all the hero's tale, chronicling Zamperini's path to the 1936 Berlin Olympics and his determination to survive internment in a Japanese-run prisoner-of-war camp.
Jolie ended the movie with Zamperini's return home, but the struggles he faced after the war and how he overcame his post-traumatic stress was the message that the World War II veteran shared for most of his life. The new movie picks up right where the first one ended.
Producer Matthew Baer started working with Zamperini and his family to tell this story after he saw a CBS documentary broadcast during the 1998 Olympics. 
Baer and the family slow-rolled the movie while waiting for author Laura Hillenbrand to finish her 2010 book "Unbroken: A World War II Story of Survival, Resilience, and Redemption." This was a good call, as the book became a runaway best-seller and led to production on the original movie.
Unfortunately, Louis died at age 97 shortly before the first movie's release. Baer and the family were determined to tell more of his story and now we've got a sequel with a new director (Harold Cronk) and an almost all-new cast four years later.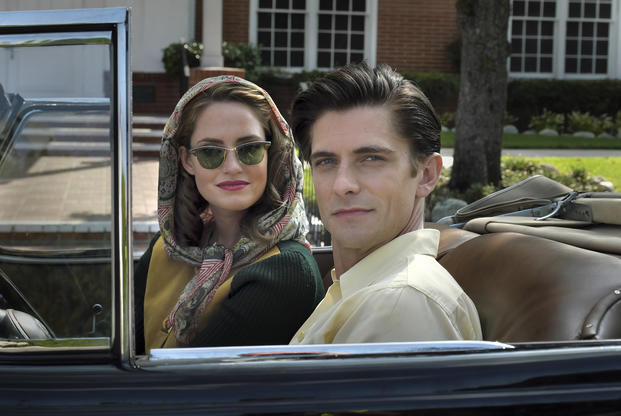 Zamperini struggled after the war and "Unbroken: Path to Redemption" details the rage and nightmares that dominated his life. His marriage struggles are portrayed onscreen and the movie does not hesitate to credit Zamperini's conversion to evangelical Christianity at a 1949 Billy Graham Crusade in Los Angeles with turning his life around.
This movie is most definitely a lower-budget project than its predecessor. Independent, faith-based studio PureFlix has taken over for Universal and the producers have made judicious use of footage from the original movie to give their new film a more expensive feel.
Samuel Hunt, best know for his role on the TV series "Chicago  P.D.," takes over the role of Louis Zamperini and Merritt Patterson ("The Royals") is introduced as Zamperini's girlfriend (and later wife) Cynthia Applewhite. Evangelist Will Graham takes on the role of his grandfather Billy Graham and significant stretches of the movie are dedicated to recreation of Billy's sermons.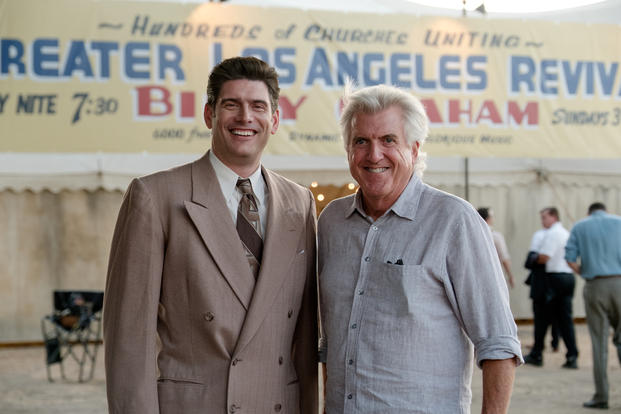 Louis Zamperini found peace after the war through religious faith and the movie's producers made this sequel to deliver that message. It's not a story for that mainstream Hollywood movies usually tell and Luke makes the point in our video interview below that his father's brand of faith might not be the solution in every situation.
Producer Baer envisions a third movie that follows Zamperini's efforts to establish the Victory Boys Camp, a life-long project that gave disadvantaged youth a chance to learn self-respect through "athletics, survival skills, and wilderness experience." 
After the epic global story told in the first movie, "Unbroken: Path to Redemption" focuses on a relatively brief period in Zamperini's life that leads to a singular event, one that the subject and his family believe is the most important of his life. This is an old-fashioned Witness Movie, destined to be shown at church youth group lock-ins for decades to come.
If you're not a member of the faith-based audience, this movie is still an important window into the life of one of our great World War II heroes. Louis Zamperini met Billy Graham and Graham's message showed him a way to tame his demons. But most of the movie is about those demons and the struggles they caused Zamperini and his family. For that alone, it's worth a look.