There are countless reasons that the Galapagos Islands land on so many bucket lists: There is simply nowhere else you can get up close and personal with some of the rarest animals on the planet.
You'll be traversing rare volcanic rocks, unspoiled beaches and sharing crystal blue waters with sea lions, giant tortoises, penguins and an array of exotic fish and sharks.
But wait: The Galapagos, which is part of Ecuador's National Parks system, is best visited when there is careful and strategic planning. For example, if you don't mind rain and humidity, go sometime between December and May. Should crowds or chillier waters not bother you, go June – August.
And then there's what may be the most important decision: Do you want to sleep on a boat or are you a day-tripper?
The number of visitors per day is limited and each travel company must employ verified and trained tour guides. There are also very strict rules regarding routes and the amount of time allowed at each locale.
We recommend letting the pros plan your trip for you. Companies like OARS take care of just about every little detail for an epic 10-day adventure that you and your family won't soon forget.
OARS also offers a wide variety of trips around the USA and they offer a Military Discount: 10% off Multi-day trips, 20% off 1-day trips and 25% off Guide Schools (excluding Alaska, Grand Canyon and international trips).
Check out these images from a trip where we enjoyed kayaking, snorkeling, gourmet meals, snacks and even deluxe personalized service like hot towels and vegetarian meals. Under each is a tip on how to make your Galapagos vacation an unforgettable adventure.
They Might Be Giants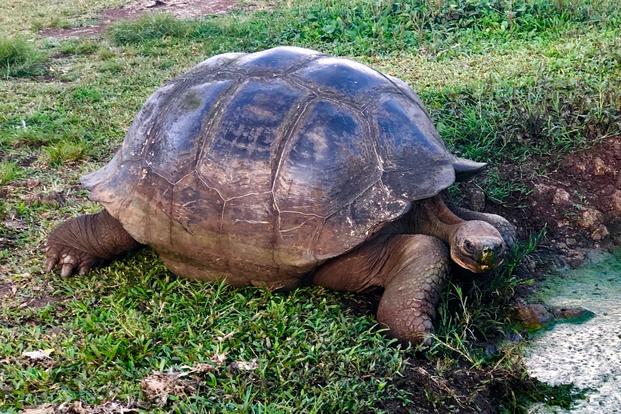 No trip to the Galapagos would be complete if you didn't interact with the famed giant sea tortoises. Spotting them in the water may prove elusive, so plan on a visit to Rancho El Manzanillo in Santa Cruz. Enjoy an incredible lunch of locally sourced foods and then walk the grounds where you're sure to encounter many shelled fellows bathing or simply resting.
Act Like a Local
Most Galapagos tours begin in Santa Cruz, which usually means a ferry ride from Baltra. This requires multiple flights, so keep in mind that spontaneity is best kept to a minimum. While in Santa Cruz, take time to walk the streets and check out the local offerings. The Galapagos Ceramic Mosaic Art Garden, which is tucked down a long road towards the ocean on the right when walking to the Darwin Interpretation Center, features this expansive mural from the brilliant imagination of a local woman with a passion for tiles.
Take a Dip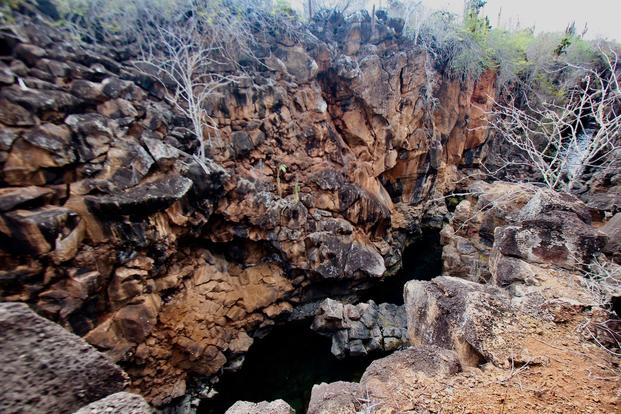 A knowledgeable and experienced guide will take you to off-the-beaten-path places like this freshwater swimming hole on the Island of Santa Cruz. Remember to take plenty of eco-friendly sunscreen and consider a wet suit for the cooler months. It provides both buoyancy and sun protection.
You're On a Boat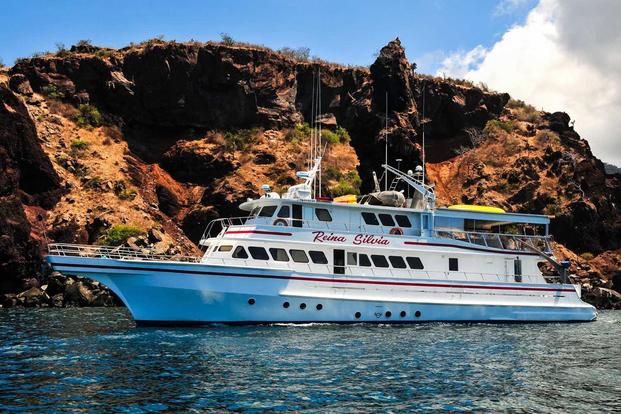 Depending on your preference, travel can be booked on vessels for a more a more intimate setting, like the Reina Silvia (part of the OARS tour). Larger boats accommodate up to a 100 passengers. Keep in mind that those folks will be your new BFFs for a week or more.
Private Archipelago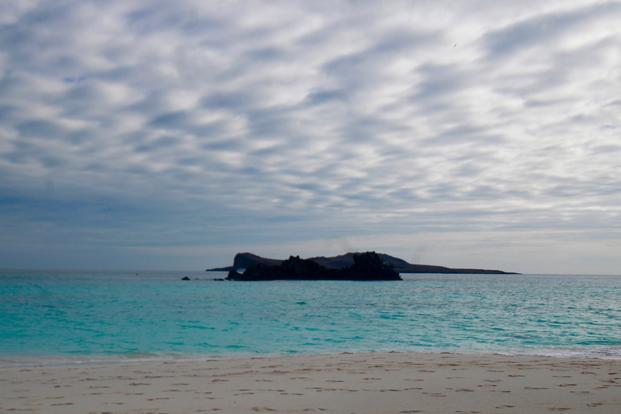 The Galapagos is an archipelago of 19 islands, each with unique features. Every day you can expect to see something new, whether it's a baby sea lion frolicking or a marine iguana foraging in the surf for food. And get used to hopping out of a dingy for both dry and wet landings. The islands may be part of Ecuador's National Parks, but handicapped accommodations are rarely, if ever, available. Hikes are less than strenuous, but there are no handrails, no restrooms and no gift shops.
Pride of the Galapagos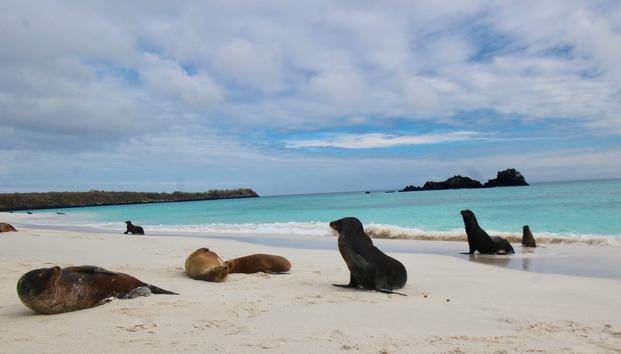 Brace yourself for intimate encounters with majestic animals like the Galapagos sea lion. Yes, you can get very close to them, even touch them, but that's ruining them for generations to come, not to mention for the tour group behind you. Take lots of photos, but don't talk excessively. You're in their home.
Consider the Children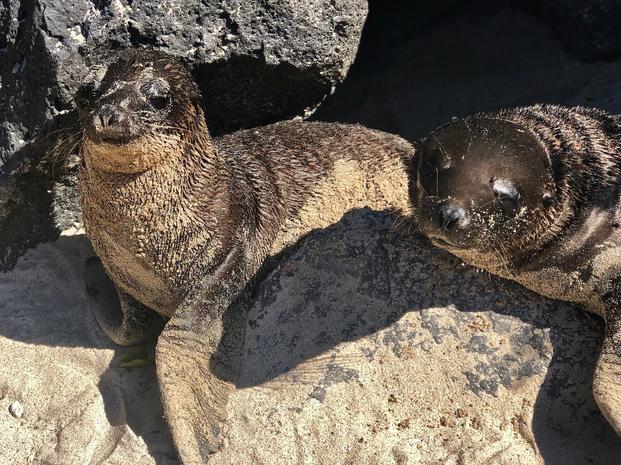 The reason why we can venture so close to these beautiful animals is that they have no fear. They are not hunted like so many creatures in other natural environments. One person acting aggressively or inappropriate creates a chain reaction of fear. Look, but do not touch.
Take a Hike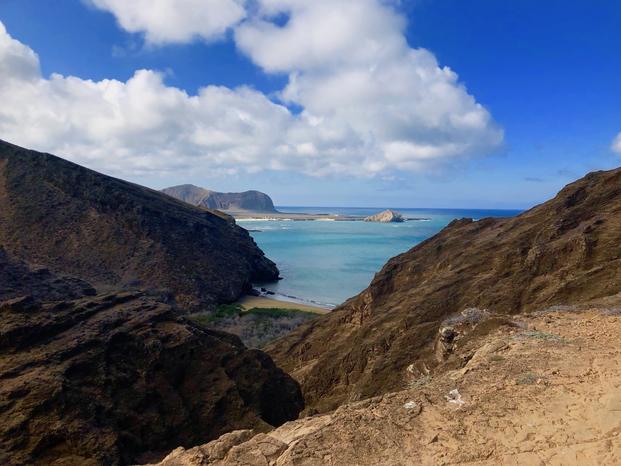 Breathtaking views can be enjoyed with the smallest bit of effort. Make sure you take shoes that adapt easily to moisture. Consider open-air waterproof hikers, like Keen or Tevas. Also, damp cotton socks are more likely to cause blisters than damp wool socks. Don't forget a wide-brimmed hat with a chinstrap. The winds can get pretty intense at higher elevations.
Booby Exam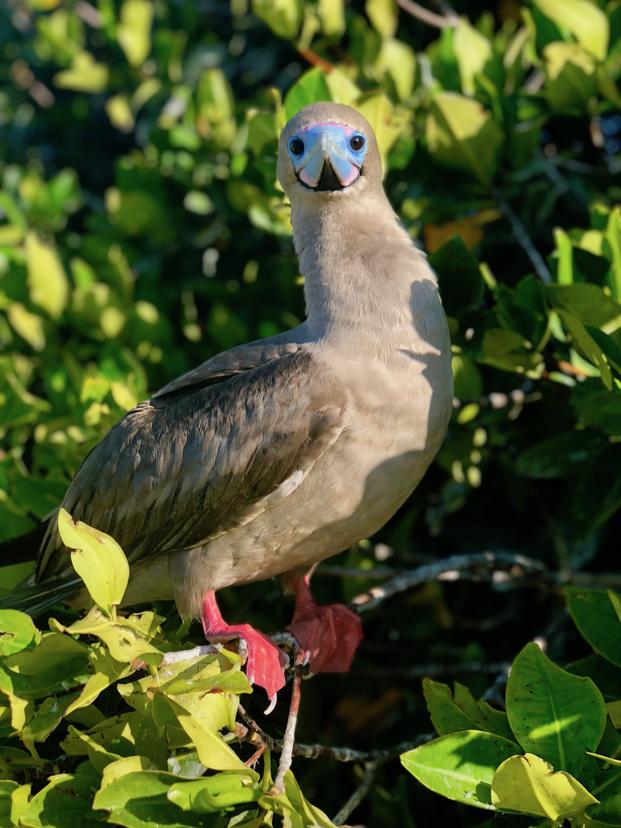 Folks come for the boobies. Having a general knowledge of the species will help you enjoy the experience. The red-footed booby seen here is the only bird that nests in trees.
Bluest Birds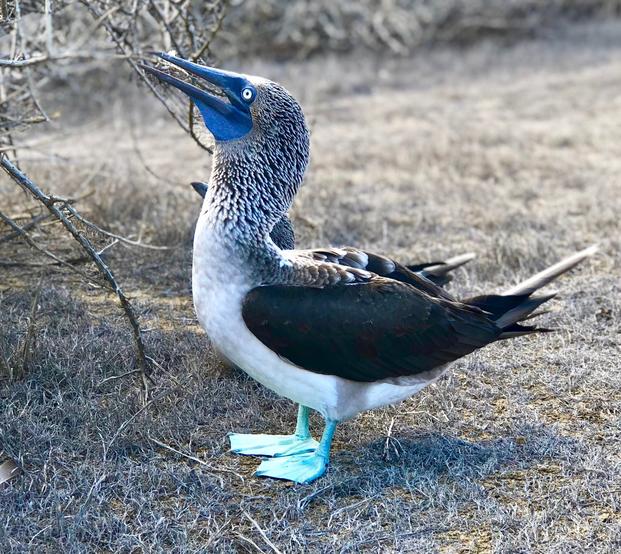 Be on the lookout for blue-footed, masked, Nazca and brown boobies as well. Most nest on the ground in round pebble and stick formations that are absolutely fascinating. And they are mostly seen in pairs – yes, pairs of boobies. Get your snickering over with now.
Slaughter of Iguanas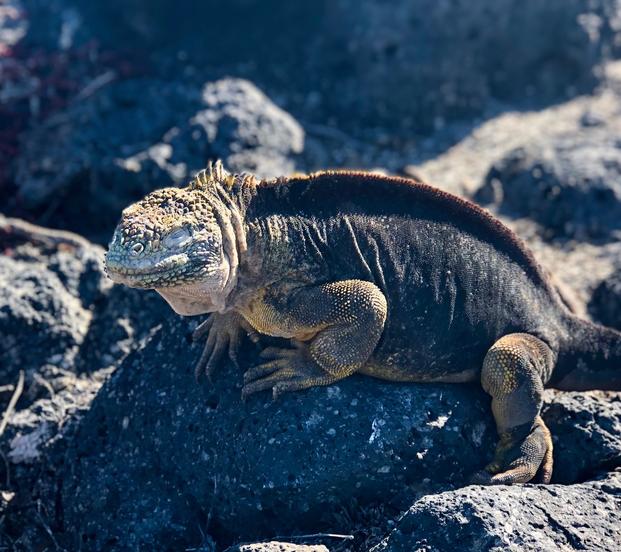 There's nothing more shocking than seeing a large group of iguanas, which is inexplicably called a slaughter. We realize they're not all furry and cute, but there is beauty to behold in the resilient marine iguana. These guys dive to the rocks, feed off the algae and then spend an inordinate amount of time spitting out the salt water they just consumed. It is truly a sight to see. Fernandina has the largest colony in the archipelago. It's also the youngest and most volcanically active island.
Hey Man, Nice Shot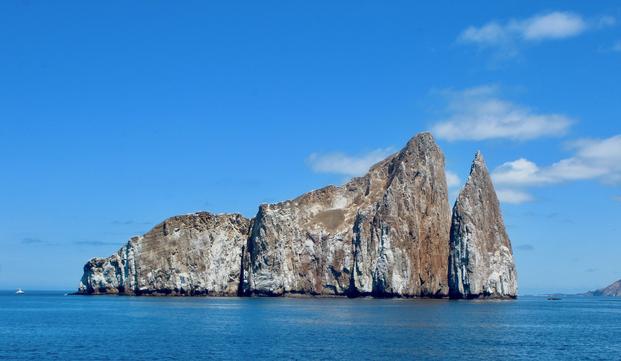 You are going to be spending a week seeing things that you've never seen and most likely will never see again. Take a decent camera or learn what your smart phone can do before you leave. And shoot into the sun! Take the shot when you have it. Editing software can work miracles.
Early Birds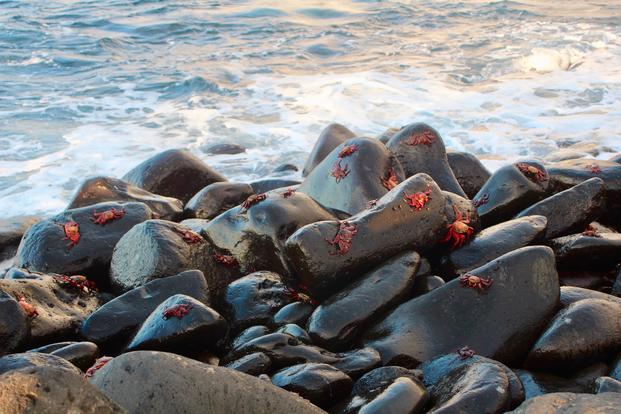 Sometimes wildlife is best spotted in the morning hours. Ask your guide for early landings to get better critter sightings. Though guides must adhere to park rules, if you want to spend more time in the water snorkeling or perhaps relaxing on the beach, just ask. They want you to have the best experience possible.
Find Your Spirit Guide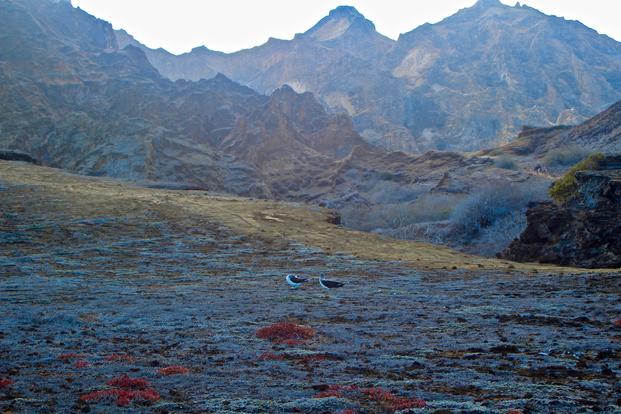 A good guide knows where to find the best views and how you can see the elusive penguins and flamingoes, hidden owls, hammerhead sharks, whale sharks, eagle rays and rare fish. Communicate your goals, and at the end be prepared to tip exceptional service.