Actor Michael Rooker, of "Walking Dead" and "Guardians of the Galaxy" fame, met with thousands of fans at Awesome Con, which was recently held at the Walter E. Washington Convention Center in Washington, DC.
Many of those fans were service members who serve in the Maryland, Virginia and Washington area. Growing up in Jasper, Alabama, before he moved to Chicago, Rooker said he always wanted to serve in the Marine Corps and even signed up but couldn't serve because of medical reasons.
"I had bad ears, but I've always been disappointed that I never got a chance to serve," he said wistfully.
Rooker said he's always been an athletic person. "I was a lifeguard for several years," he said. "I was just one of those guys that if you throw the ball out there and 30 guys go out there and try to bring it back, I'm the guy who brings it back every time. It's just my energy and focus. It's very military-like."
Admires, Respects Service Members
Rooker said his half-brothers served in the Army and Marine Corps, and he and his friends celebrate the Marine Corps birthday each year on Nov. 10.
The actor said military members should make more money. "I'm hopeful that one day, they'll actually get paid more money for what they do," he said. "It's a very amazing life, and it's a tough one. You've really got to love what you do, or you're not going to be happy doing it."
Rooker said he would love to portray a Marine in a television show or movie someday. "If I had gotten into the Marines, I'd have loved to have been a DI [drill instructor]. That would've been so much fun," he said. "I was always physically fit and really into showing people and teaching people how to do stuff. That would've been an awesome task and fun to do."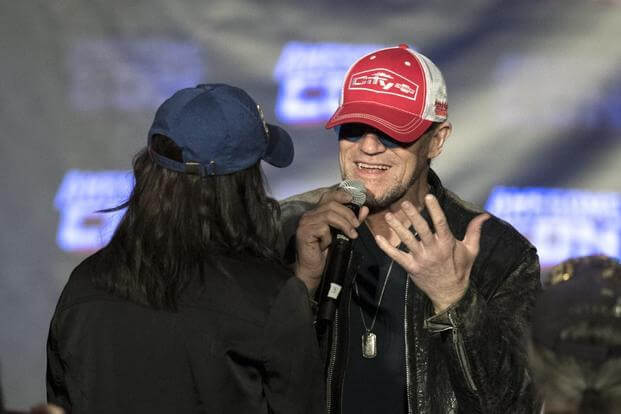 DoD Warrior Games
Rooker said he's humbled by the fans he meets who are veterans from World War II and Vietnam up to Operations Enduring and Iraqi Freedom. He offered words of encouragement to the athletes of the upcoming Department of Defense Warrior Games.
"Growing up as a kid with a bunch of cousins that were always trying to kick my butt, I was always the most stubborn. They were always trying to put me in headlocks and squeeze until their arms became numb. I'd never say uncle; I'd never give up," he said. "When I see guys in the military come back, and they're still fighting, and they're still making it happen, it thrills me. It gives me goosebumps. These athletes, they have that frame of mind, always fight, never give up."
'Walking Dead' TV Series Observations
Rooker said if he isn't given a backstory for his characters, he's always searching history for them so he can build his character. "It's my opportunity to invent and imagine my own history," he said. "Sometimes it's written in the script; sometimes it's indicated in the script."
He said for Merle Dixon on the "Walking Dead," he imagined he was an army cavalry scout with sniper capabilities who had gotten into trouble, spent some time in the brig and had been dishonorably discharged.
"You come upon him well after the zombie apocalypse has occurred, and you're very well into it by then," he said. "He's definitely the character you'd want to be with if things hit the fan."
Rooker said the characters in the "Walking Dead" each live an extraordinary life because they are all in a state of grief because they've lost all of their relatives. "Ninety-nine percent of all humans are gone," he said, "and they're replaced by these creatures – these walkers — and you're constantly on alert, not just from what is perceived as the enemy, but also from these humans that are no longer humans that actually want to eat you."
Shot in Georgia, many times in the summer in temperatures in the '90s with the humidity to match, Rooker said filming was physically demanding but a blessing. "This environment was just crazy and amazing and to be in that as an actor was a blessing and a lot of fun," he said. "It was a tough show."
Call of Duty: Black Ops
While voicing Call of Duty: Black Ops, Rooker said he was able to go back to his basics as an actor. "It's all motion capture and voice over," he said. "All of the images, the guns, ships, vehicles, airplanes, helicopters, all of this stuff is just imagined."
As the actor, he sat on a soap box with a dinner plate as his steering wheel, and then everything was produced by special effects.
"It's very challenging for your imagination," he said. "It's a fun thing to be involved in if you're an actor because you get to utilize your acting talents, and your imagination has to be going completely overtime. It's a lot of fun."