The Defense Department has a long-standing relationship with Hollywood. In fact, it's been working with filmmakers for nearly 100 years with a goal that's two-fold: to accurately depict military stories and make sure sensitive information isn't disclosed.
"We take both of those roles very seriously," said Army Lt. Col. Tim Hyde, the deputy director of the Los Angeles Office of the Chief of Public Affairs.
Hyde's office focuses on the Army, while each other branch of the armed forces, including the Coast Guard, has its own Hollywood liaison office. But they coordinate with each other, and projects are often doled out to various installations to best accommodate filmmakers' needs.
"In our office, there's only three of us," Hyde said. "If there's a topic dealing with tanks, I have no clue – none of us do. … So, we coordinate regularly with subject matter experts in the field that's being depicted."
Develyn Watson, the deputy director of the Air Force Entertainment Liaison Office, said that coordination can be one of the hardest parts of their job.
"Coordinating military assets and marrying them up with what a film company may need, at no cost to the government, requires considerable work, patience, and sometimes a sense of humor," she said.
Here are some other things you might not know:
Military liaisons work mostly with unscripted projects. 
There will always be large-scale scripted projects, like the recent "12 Strong," "The Long Road Home" and "15:17 to Paris," or TV shows like "NCIS" and "Hawaii 5-0." But there are also a lot of unscripted projects that require DoD attention, such as documentaries on the History and Discovery channels; game shows like "Jeopardy" and "The Price is Right" that often have military-themed episodes; and talk shows like Ellen, Steve Harvey and Conan.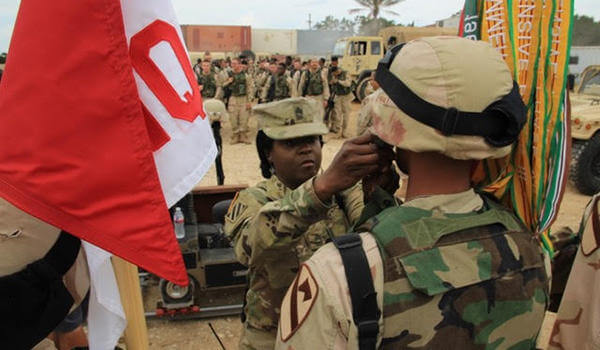 "If they request to have personnel or soldiers or people like that on their shows, we help coordinate that," Hyde said. "Then you have shows like 'Top Gear' that want to focus on some of our equipment."
Military participation in Hollywood dates back to the first Academy Awards.
Ever hear of the silent film "Wings"? Yeah … me either. Probably because it was made in 1927, the first year of the Academy Awards. The movie was about World War I fighter pilots, and the Army helped with its production. The film ended up winning best picture that year.
Toward the end of World War II, the Army finally set up an official Hollywood office that was part of the Signal Corps. Many soldiers were part of the film-making process, including Frank Capra, who directed "Prelude to War," the official government film about the U.S. joining World War II.
"We had filmmakers who were active-duty in the Army, and that was there job – to make those films as part of the war effort," Hyde said.
"Prelude to War" won the best documentary Oscar in 1942. Another major Army-approved project: the 1970 film "Patton," which won seven Oscars, including best picture, best actor and best director.
Installations are used to recreate sets of other places. 
"The Long Road Home" was filmed at Fort Hood, Texas, even though many of the scenes were set in Iraq. To recreate the scene, set designers built more than 100 buildings from scratch to look like a road in Sadr City.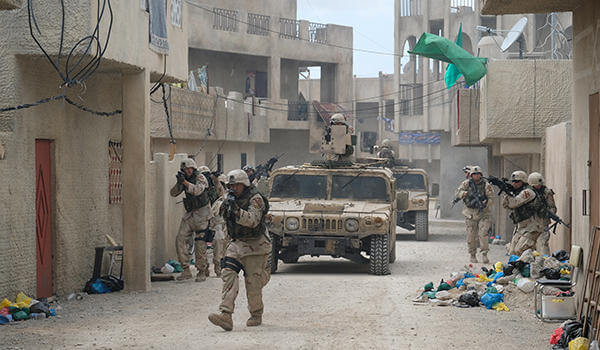 With "15:17 to Paris," Robins Air Force Base in Georgia was used for filming, but the movie depicts a character's time at Joint Base San Antonio-Sam Houston, Texas. Set designers spent two weeks making Robins look like Sam Houston.
There can be tension with filmmakers. 
While Hollywood is paid to tell a compelling story that will make money, the DoD is looking to tell an accurate story. So naturally, there can be challenges in combining the two.
"There are compromises on both sides. There's a point where we just have to say no – 'It's either going to happen like this, or it's not going to happen at all,'" Hyde said, although he admitted it rarely comes to that. Production agreements require the DoD to be able to review a rough cut of a film, so officials can decide if there are areas that need to be addressed before a film is released.
You can make a career out of this. 
Hyde has been in the Army for 20 years and with the Hollywood office for nearly three.
"It's all been a great experience that I never thought I would have while I was in the Army," he said. "It's so different and unique."
As are each of the projects.
"What works for one doesn't necessarily work for the next one, and being able to adapt to the needs of the production and personalities of the production [is a challenge]," Hyde said.
The bottom line? They want to tell the military story right.
"We want to make sure we're doing right by the soldiers and the families involved. If we're doing right by them, then in the end, to me, we've accomplished our mission," Hyde said.
Follow the Department of Defense on Facebook and Twitter!
———-
Disclaimer: The appearance of hyperlinks does not constitute endorsement by the Department of Defense of this website or the information, products or services contained therein. For other than authorized activities such as military exchanges and Morale, Welfare and Recreation sites, the Department of Defense does not exercise any editorial control over the information you may find at these locations. Such links are provided consistent with the stated purpose of this DOD website.