"Red Sparrow" is an unapologetically adult, complicated and ambitious spy thriller based on the Edgar Award-winning novel by former CIA agent Jason Matthews. Set in current times, it's a throwback to the darkest Cold War spy thrillers and earns its R rating with a mix of sex and violence that hearkens back to the best 70s spy movies.
Jason Matthews talked to us about his own experiences in the CIA and why post-Soviet Russia is still a threat to democracy.  
In the movie, Jennifer Lawrence plays Dominika Egorova, a Bolshoi ballerina who's recruited to Russian intelligence after an on-stage injury ends her dancing career. Her uncle happens to be deputy director of the SVR and he sends her to Sparrow School, where she's trained to use her sexuality as a weapon against Russian enemies.
Dominika pursues her own agenda as she's tasked with seducing an American CIA agent (Joel Edgerton) and finding the identity of a mole in Russian intelligence. There's a lot of methodical tradecraft punctuated by bursts of violence and sex. "Red Sparrow" isn't aimed at the "Hunger Games" audience and makes no apologies about being a movie for adults.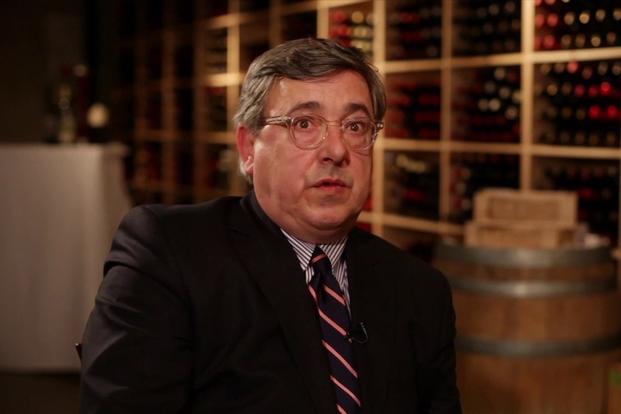 Jason is a CIA veteran doesn't hedge his thoughts about Russia. The good news for fans of the movie is that the two additional novels in his trilogy might make even better films.
You left the CIA in 2010. How did you become a novelist?
I left after 33 years. In the clandestine service part of the agency, our careers were very experiential, 24/7. You were always on, you were always looking for surveillance, you're always wondering about rooms being bugged.  
When that lifestyle ended, it ends with the crash. One of the familiar Hollywood tropes of retired spies is the big black car pulls up to your house and they recruit you back into service.  In reality, that never happens.  When you're out, you're out.  
I started writing fictionalized little snippets of accounts of people that we've known, fictionalized mosaics of places we've been and things we've done. Before I knew it, I had a novel together.  
The novel "Red Sparrow" is a throwback to the old-school spy novels that emphasize tradecraft, as opposed to a lot of the contemporary books that are action novels with spy plots grafted onto them.
Absolutely. There are lots of great thriller writers out there, but they mostly write about counterterrorism and catching the briefcase nuke. I wanted to write a classic, old spy yarn with the Russians as the main opponents.
You were born in the 50s. Did you grow up on that kind of fiction and those movies?
Sure. There were a lot of great spy movies in the 60's and 70's, really iconic sort of film-noir kinds of things.  But I think my world view was formulated by 33 years in the service.  
My wife was also in the service, we were a tandem couple. We lived in ten foreign capitals and we worked on a lot of different human targets, but we also kept our eye out for the Russian because that was the gold ring. 
You wrote these novels and then this film got developed at a time when Americans probably weren't thinking as much about the Russians. Here we are in 2018 and the Russians are at the front of everyone's mind again.
I wake up every morning and I thank Vladimir Putin for providing endless content for books and movies.  He's doing a great job as a PR director for us. 
Russia is always gonna be sort of a conundrum, they're always gonna be meddling. They love those active measures, political influence campaigns.  They've been doing them since the Bolshevik Revolution in 1917. Vladimir Putin's singular goal is to stay in power. That will take a weakened America, a weakened NATO, and a weakened Atlantic Alliance.  He just wants to stay in power.  
If he can fuss with the American democracy – and I don't care whether you're Democrat or Republican — all the partisanship, all the squabbling just plays into the Russian hands.  They're rubbing their hands in delight in the Kremlin.  
There's a school of thought that the Russian love of espionage is a trait that goes back centuries and that it's not something that started with the Soviets.
I think that's absolutely right on.  You hesitate to generalize, but Russians are xenophobic.  The only people they hate more than foreigners are themselves.  They don't like to be ignored, they don't like to be belittled.  They want a seat around the table. Russia is always caught between the European elegance of Catherine the Great and the Slavic beastliness of Ivan the Terrible.
As an expert, what do you think the United States should be doing right now to deal with this current wave of Russian influence, or can we say, interference?
I think that we have to show resolve, we have to show solidarity, we've got to stop our partisan squabbling, and create a unified front.  Russia, historically, stops what they're doing when the cost of it becomes more than the profits that they imagine they're getting.  
Putin has got elections coming up this year and, if you have any doubt what he considers the vulnerable spots in any election process, he has unplugged his internet, he controls state television and radio, he has disqualified his major opponents from running, and he makes demonstrations in the streets illegal. That's the Russian playbook and, if we could find the cracks in the cement between all those elements and give him a headache, he'll be too busy to start messing around with our process.  
Obviously, people with an interest in Russian spy tales are going to line up to see "Red Sparrow." Do you think the movie can act as a wakeup call for the broader Hollywood audience, the Jennifer Lawrence fans who don't think about our current situation with Russia?
Using a broad brush, maybe audiences will take back home the fact that the Cold War never ended, we're going through a second Cold War, and the Russians mean to do us harm.  The movie itself, you know it's sexy, it's violent, it's got a tremendous cast and terrific characters, but I don't know how much American theater goers will bring home besides the realization that Russia is not our ally. 
You created a spy character who's a woman. I don't think there's been a woman this prominent in spy fiction before.  Was that a conscious choice or something that just happened based on the stories you knew from your career?
Yes and no.  I thought it would be interesting and evocative to make the main character the heroine. I had read a little bit about the famous Sparrow Schools in the 60s and the 70s in the Soviet Union and how horrible they were. It was almost like slavery, making women go to those kinds of schools.  
Apart from the sexpionage, Dominika falls in love with the CIA officer who recruits her.  So there's mortal danger and a love affair and Sparrow School. I thought it was an interesting combination.
Is that sexpionage something that's still in the playbook?
Western intel services never got into sexpionage because they thought that anyone recruited by sexual blackmail would be a not trustworthy source. I think the old Sparrow School in the Soviet City of Kazan is probably closed.  But if a human target with access to classified information went to Moscow, he'd probably see a modern-day Sparrow at one of the bars of the five-star hotels in Moscow.  They would be there ready and waiting.  
What are you working on now?  What's next?
This year, the third book in the Sparrow trilogy came out, "Kremlin's Candidate." I told myself I was going to take a little break, but the next morning I found myself staring at my computer screen trying to figure out a new plot.  I don't have anything yet, but I can't stop.