Some people think peace on earth and goodwill to men are overrated. For those folks, we've got ten great Christmas movies loaded with guns and action.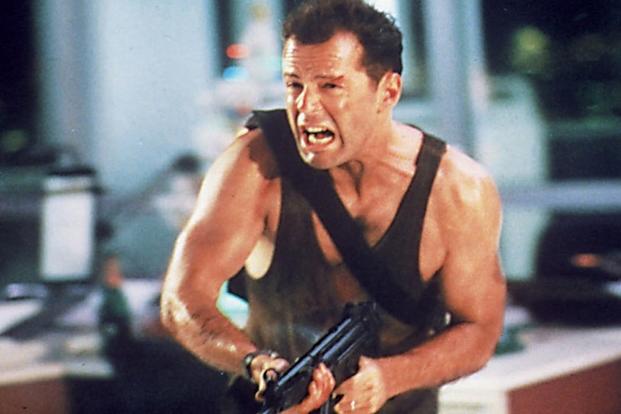 1. Die Hard
NYC cop John McClane (Bruce Willis) goes to visit his wife Holly (Bonnie Bedelia) and kids for Christmas in LA, where's she's taken a fancy new job after their marriage has gone on the rocks.
Holly works for the Japanese Nakatomi corporation and their holiday party is raided by German terrorists led by Hans Gruber (Alan Rickman) who are out to steal $460 million in bearer bonds.
It's fashionable on the internet to call "Die Hard" the best Christmas movie. That may be an ironic joke, but it may actually be the best action picture ever made. 
How to Watch: Streaming on Cinemax. Buy or rent from iTunes, Google Play or VUDU. Buy from Amazon Video
---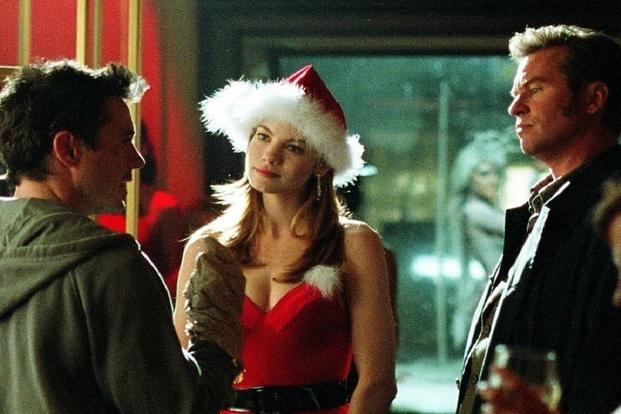 2. Kiss Kiss Bang Bang
Actually, this is the best Christmas movie ever made. Perfectly capturing the sleazy upper-class LA of the '90s, the movie follows a low-rent NYC hoodlum (Robert Downey, Jr.) who stumbles on an movie audition while escaping from a failed robbery. He's sent to LA to audition for a role as a private detective and he's paired with a Hollywood fixer detective (Val Kilmer) to learn the ropes before his screen test.
Downey and Kilmer get sucked into one of those complicated Tinseltown conspiracies and pinball through the gauntlet of wealthy lowlifes to save Downey's childhood crush (Michelle Monaghan), yet another actress who's not exactly tearing up the town.
Writer Shane Black made his directorial debut with "Kiss Kiss Bang Bang" and it's the movie where his obsession with Christmas runs free. What obsession with Christmas? Keep reading. Shane will return.
How to Watch: Streaming on Amazon Prime. Buy or rent from iTunes, Google Play, VUDU or Amazon Video.
---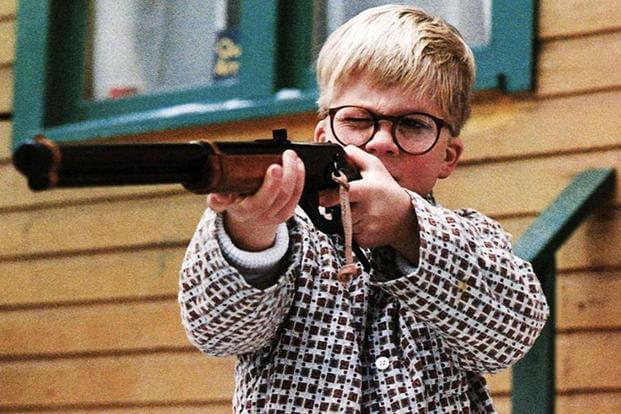 3. A Christmas Story
You don't think Ralphie's story fits on this list? It's the greatest movie ever made about gun lust. The entire movie is about his quest to have Santa Clause bring him a Official Red Ryder Carbine-Action Two- Hundred-Shot Range Model Air Rifle! 
How to Watch: The annual TBS 24-hour marathon starts Sunday, December 24 at 8PM Eastern Time. Buy or rent from iTunes, Google Play, VUDU or Amazon Video.
---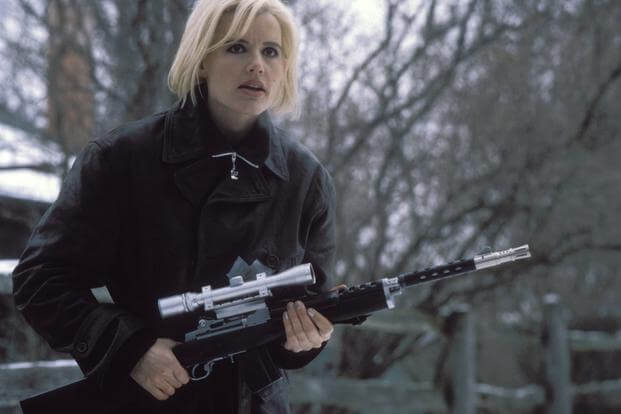 4. The Long Kiss Goodnight
Geena Davis plays Charly Baltimore, a CIA assassin who's spent eight years building a life as a small-town teacher after a whack on the head gave her amnesia.
She hires a private investigator (Samuel L. Jackson) to help her discover her true identity. As she learns more about her past, her lethal skills return and the pair leave a trail of casualties as they run from her last assigned assassination target.
All of this carnage takes place during the Christmas holidays, courtesy of screenwriter Shane Black. 
How to Watch: You better check the Goodwill for a DVD, because this one is not available to stream, buy or rent online.
---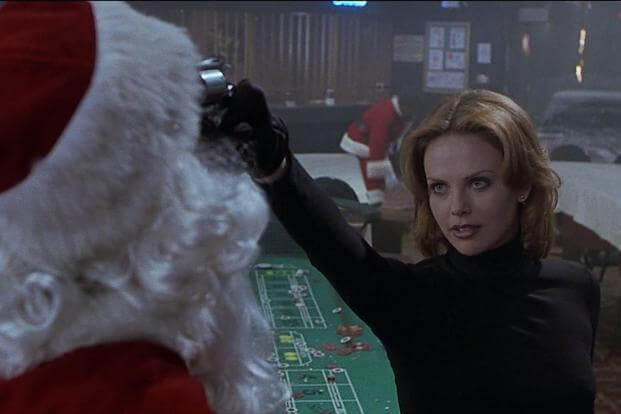 5. Reindeer Games
This is the final theatrical release directed by legend John Frankenheimer ("The Manchurian Candidate," "Seven Days in May," "Ronin") and it was Hollywood's first attempt at making Ben Affleck an action star. Nobody was buying at the time, but Ben's earned a following as an ass-kicker since then and the movie looks better.
Ben plays a convict who gets out of prison in time for Christmas. He pretends to be his recently shivved cellmate to get a date with a young woman (Charlize Theron) who the prison pen pal of his dead friend. 
Unfortunately, her brother (Gary Sinise) has been planning to use the dead guy's connections at a local casino to play a heist and poor Ben has to try to run the heist or get killed himself.
Everyone dresses up as Santa and carries weapons for the casino heist and of course it all goes to hell. If you're standing up for "Die Hard," check this one out.
How to Watch: Buy or rent from iTunes, Google Play, VUDU or Amazon Video.
---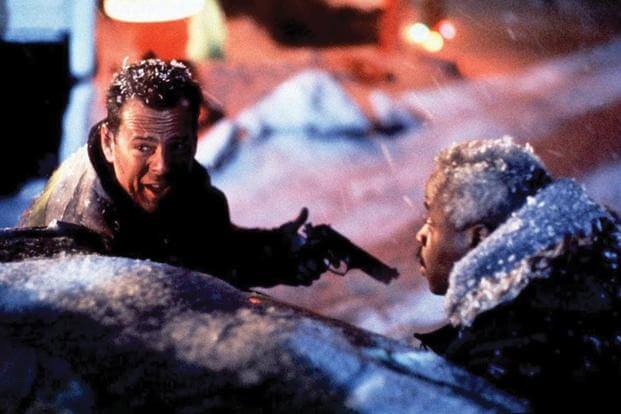 6. Die Hard 2
Another Christmas, another terrorist attack for John McClane. All the "DIE HARD IS MY FAVORITE XMAS MOVIE" crew seem to forget that "Die Hard 2" is also set on Christmas eve, two years later at Washington, DC's Dulles International. Terrorists have shut down the airport and John's wife is on a plane that's only got 58 minutes of fuel left before it crashes. Guess who wins?
How to Watch: Streaming on Cinemax. Buy or rent from iTunes, Google Play, VUDU or Amazon Video.
---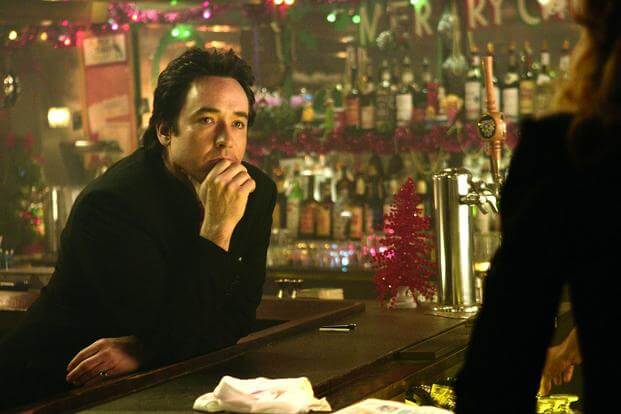 7. The Ice Harvest
Here's another outstanding Christmas movie that didn't find an audience in theaters. Harold Ramis ("Groundhog Day") directs John Cusack and Billy Bob Thornton as a couple of small-timers in Kansas who steal $2 million from their mob boss (Randy Quaid). 
The roads ice over and they're stuck in town as everyone celebrates Christmas while the boss aims to track them down and kill them. Everyone's funny, especially Oliver Platt as the drunk married to Cusack's ex-wife. 
How to Watch: Buy or rent from iTunes, Google Play, VUDU or Amazon Video.
---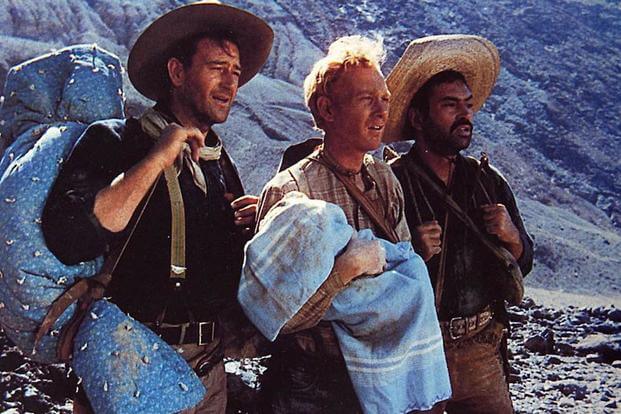 8. 3 Godfathers
John Ford's 1948 western is loosely based on the Bible's tale of the Three Wise Men. John Wayne, Harry Carey Jr. and Pedro Armendáriz star as bank robbers who flee to the desert after Carey is shot. During a sandstorm, they encounter a young widow about to give birth. She dies but makes the men promise to raise her boy.
While still running from the sheriff, the men struggle to reach the town of New Jerusalem. They arrive just in time for Christmas and there's redemption all around. It's one of those old movies that makes your tough-guy grandpa cry just a little.
How to Watch: Buy or rent from iTunes, VUDU or Amazon Video.
---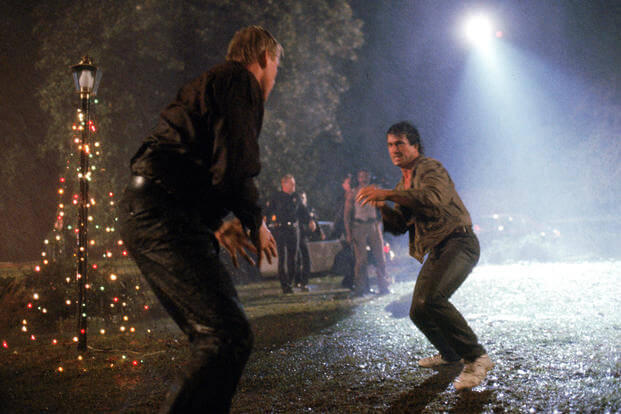 9. Lethal Weapon
"Lethal Weapon" is the movie that made Shane Black the hottest screenwriter in Hollywood and made Mel Gibson a box office superstar. It's got all the jokey banter between mismatched partners (Gibson and Danny Glover) that's a Black trademark and it also has a climactic showdown between Gibson and villain Gary Busey in front of a Christmas tree lawn decoration.
Shane Black = Christmas. He's also the writer of "The Last Boy Scout." He wrote and directed "Iron Man 3" and "The Nice Guys," both of which manage to shoehorn in passing references to the holiday season.
How to Watch: Buy or rent from iTunes, Google Play, VUDU or Amazon Video.
---
10. The Night The Reindeer Died
This is not a real movie, but even the fake two minutes that actually exist make it one of the best Christmas action movies. Bill Murray's classic retelling of "A Christmas Carol" opens with this promo clip for an upcoming Christmas special on the IBC television network.
"Scrooged" is worth watching every holiday season even if we never got to see Lee Majors defend Santa from a terrorist attack.
How to Watch: You can buy or rent "Scrooged" from iTunes, Google Play, VUDU or Amazon Video.