BY RICHARD SISK
Filmmakers Ken Burns and Lynn Novick got a thumbs-up Tuesday from a standing-room-only Pentagon audience for their acclaimed PBS series The Vietnam War.
If the documentarians had second thoughts about showing excerpts and discussing the series before uniformed personnel of all ranks and Defense Department civilians, those thoughts quickly dissipated in the packed Pentagon auditorium.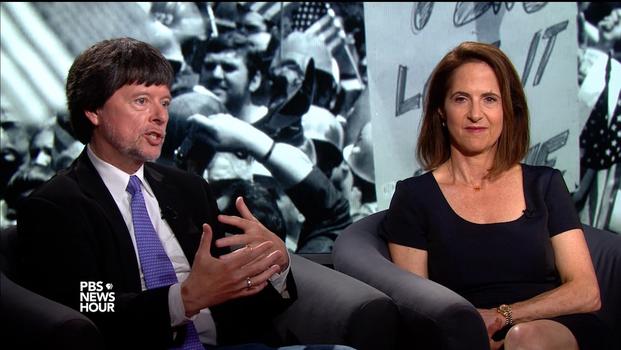 Ken Burns and Lynn Novick discuss their film at a PBS event earlier in 2017.
The two were applauded when they walked in, when they walked out, and numerous times in between. "It's an honor to be here with you," Novick said.
"We have a treat today," Deputy Defense Secretary Patrick Shanahan said in introducing Burns and Novick, whose work has won rave reviews but has been criticized by some for supposedly implying a "moral equivalence" between war protesters and those who fought in it.
Shanahan focused on those who served, and continue to serve through the example of shared sacrifice they set for future generations.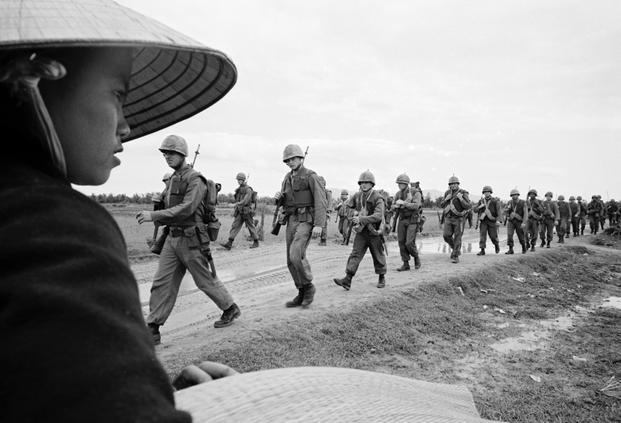 Marines marching in Danang. March 15, 1965. (Associated Press)
"Ken, Lynn, thank you for telling the story that, as [Defense Secretary Jim Mattis] told the Association of the U.S. Army last week: 'The Vietnam veterans raised today's generation of military leaders. In that way, their protection of our country extends beyond their own years in uniform to the present day,' " he said.
"Those veterans deserve to know their sacrifices are not taken for granted," Shanahan said. "Ken, Lynn, we at the Department of Defense are grateful to you for this opportunity."
The co-directors stressed that the series is an effort at storytelling meant to avoid taking sides in the greater interest of opening up an overdue national conversation on the war and its aftermath in the U.S. and in Vietnam.
However, Burns said there was one indisputable takeaway.
"We've learned one lesson from the war, which is we're never going to blame the warriors again, and that's a really good lesson," he said to sustained applause.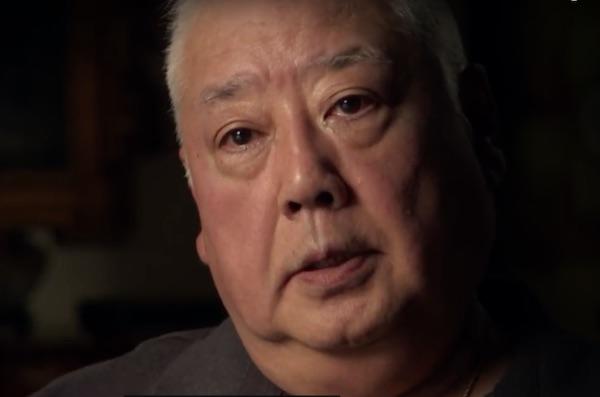 Vincent Okamoto in "The Vietnam War" documentary.
Vincent Okamoto, an Army veteran who was the most highly decorated Japanese-American to survive the Vietnam War, said it better in one of the excerpts shown at the Pentagon:
"You know what -- the real heroes are the men that died, 19- and 20-year-old high school dropouts. They didn't have the escape routes that the wealthy and the privileged had, and that was unfair," he said.
"And so they looked upon military service as like the weather. You have to go in and you do it. But to see those kids who had the least to gain -- there wasn't anything to look forward to, they weren't going to be rewarded for their service," Okamoto said.
"And yet, their infinite patience, their loyalty to each other, their courage under fire was just phenomenal," he said. "And you would ask yourself, 'How does America produce young men like this?'"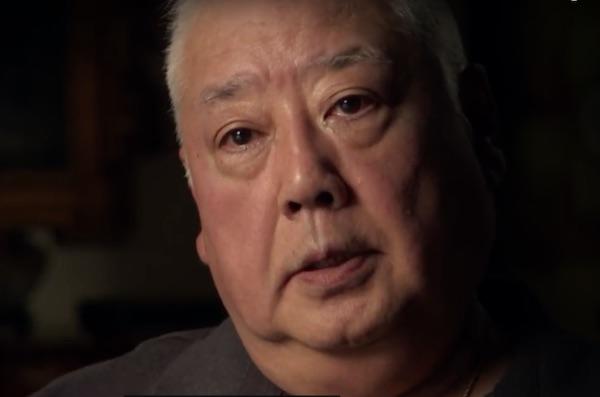 The Vietnam War was 10 years in the making with the assistance of producer Sarah Botstein, writer Geoffrey Ward, and interviews with 80 Americans and Vietnamese.
Burns and Novick opened their 18-hour documentary by throwing the film into reverse -- past the fall of Saigon, and Richard Nixon, and the battle of Hue and Lyndon Johnson and the politburo struggle between Ho Chi Minh and Le Duan, and the battle of Dien Bien Phu to set the viewer in the origins of American involvement after World War II.
They had decided on a chronological narrative. In a sense, Burns and Novick rolled the film forward Tuesday.
Since the series aired, "There hasn't been a day that's gone by when we haven't been contacted" by someone who wanted to tell them that they had "a Dad or grandfather who hadn't talked about this," Burns said, adding he was told, "They watched, and we watched together and we're talking now."
He added, "When you do war films, you presume it's just about armies and battlefields. It's also about battles within people."
Burns said that just prior to the Pentagon event, he received a message from a former high-ranking official in North Vietnam who had seen the series.
The official said, "America must be a great country if it can acknowledge in the same breath not only its triumphs but its mistakes."
"We had no political ax to grind, we had no agenda. We wanted to be umpires calling balls and strikes," Burns said, but the mistakes of hubris, and the bogus body counts, and the military briefings known as the "five o'clock follies" and the lies about lights at the end the tunnel, if anybody could find the tunnel -- all of that is told relentlessly.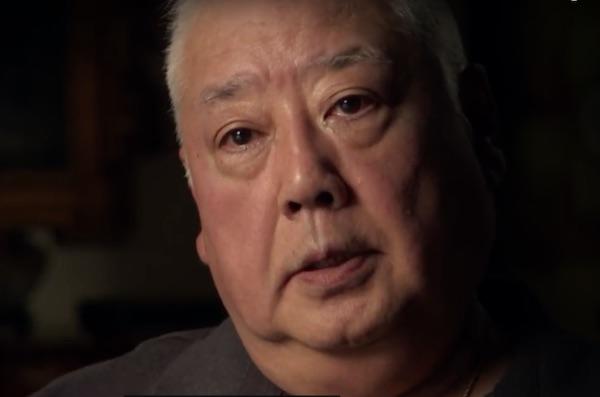 Burns and Novick ran the credits at the end of one episode with a cut from the incomparable Otis Redding in the background, seemingly attempting to cut through the fog.
"Tell the Truth," Redding sang, "you know you got me going crazy everything that you want me to do."
Lots of Vietnam vets can tell you they knew that one. Just about all can tell you they knew Redding's "Dock of the Bay -- this loneliness won't leave me alone."
The problem with telling the truth extended to the Joint Chiefs of Staff during the Vietnam War. Many in the audience were familiar with the book on the Joint Chiefs' involvement by Army Lt. Gen. H.R. McMaster, now the White House national security adviser.
Numerous commanders have the book on their reading lists. The title sums up McMaster's judgment on the Joint Chiefs at the time:
Dereliction of Duty: Lyndon Johnson, Robert McNamara, The Joint Chiefs of Staff, and the Lies that Led to Vietnam
.
McMaster concludes that the Joint Chiefs failed in their duty to tell Johnson and McNamara, then the defense secretary, that their overall strategy of "graduated response" would not work.
McMaster has not commented on the PBS series, but retired Marine Col. F.J. "Bing" West, a Vietnam veteran and author of several books on strategy and battle, gave it a scathing review in The New York Post.
"Burns' theme is clear: A resolute North Vietnam was predestined to defeat a delusional America that heedlessly sacrificed its soldiers," said West, who served as assistant secretary of defense for international security affairs in the administration of President Ronald Reagan.
"And the film implies an unearned moral equivalence between anti-war protesters and those who fought," he wrote.
In the series, "The veterans seem sad and detached for their experience, yet 90 percent of Vietnam War veterans are proud to have served. So there's a large gap between what we see and the attitude of the vast majority of veterans," West wrote.
Burns and Novick do not argue with the critics.
"We wanted to make sure that we created a space within the film in which all points of view could co-exist. We weren't going to make anybody wrong," Burns said. "We respect every single one of those voices, whatever they may be."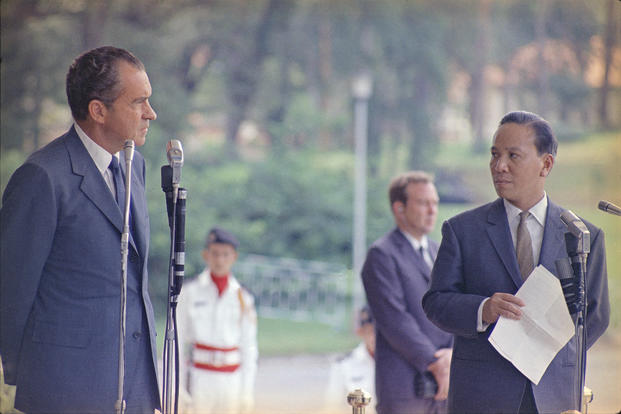 President Richard Nixon and South Vietnamese President Nguyen Van Thieu in Saigon, 1969. Courtesy of Associated Press
In the 10-year process of making the film, Burns and Novick conceded that they had to shed the "baggage" of their own pre-conceived notions about the war.
"We just kind of kept honing in on the story that we were learning as we went along," Novick said.
Burns said their research changed "our own conventional wisdoms about it. It certainly did mine. I lived through that period. I was eligible for the draft, but I had a high draft number. And so I thought I knew something about it and realized very early on how little I did know."
Burns and Novick said they also had to back up frequently in making the film to account for the complexity of the war.
The problem for filmmakers "is when you've got a scene that's working -- the art will triumph over the truth," Burns said. "This is one in which we woke up every morning anxious, prepared to know that what we'd done and what was working spectacularly wasn't quite right and we needed to complicate it a little bit more.
"And we then looked forward to further complicate what we thought," Burns said. He insisted, "We didn't romanticize the enemy. When their land reforms killed millions, we said that. When they committed a massacre greater than My Lai, we documented it."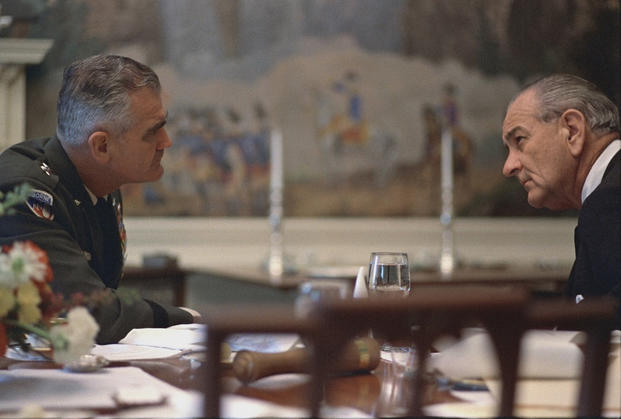 (L-R:) Gen. William Westmoreland, President Lyndon B. Johnson.
In a way, Burns said, he was looking for some "bedevilment" to come out of the series.
For the Vietnamese, Burns said there was the possibility that the series "will destabilize the conventional wisdom that has bedeviled them in the 42 years since the fall of Saigon, just as we have been bedeviled by our own conventional experience.
"One of the great strengths of our country," Burns said, "is not just our ability to compromise, but our ability to look at ourselves and be critical of what we are doing."
To that end, "All of us are the beneficiaries of that generation of Vietnam soldiers" who served in a divisive war, he said.
The Pentagon event was part of the Defense Department's continuing commemoration of the 50th anniversary of the official end of the Vietnam war on May 15, 1975. The commemorative events began in 2015 and will run through 2025.
In his introductory remarks Tuesday, Shanahan said, "As the years go by, we risk losing touch with the most important aspect of that time or any time -- the people. The Americans who put on a uniform, answered the call and sacrificed for our country."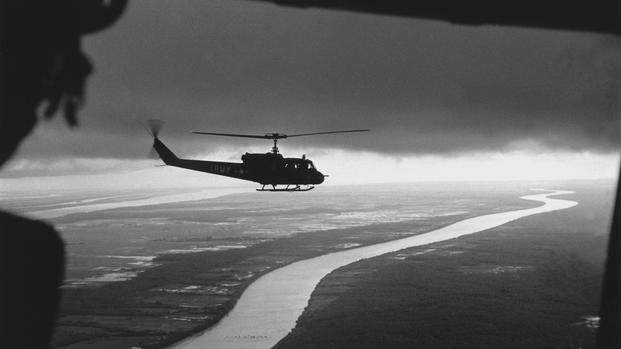 SOUTH VIETNAM. Mekong Delta. 1963.
In his 2015 proclamation authorizing the commemoration, President Barack Obama said of the Vietnam veterans:
"From Ia Drang to Khe Sanh, from Hue to Saigon and countless villages in between, they pushed through jungles and rice paddies, heat and monsoon, fighting heroically to protect the ideals we hold dear as Americans."
"Through more than a decade of combat, over air, land, and sea, these proud Americans upheld the highest traditions of our armed forces," Obama said.
-- Richard Sisk can be reached at Richard.Sisk@Military.com.