Only the Brave tells the story of the Granite Mountain Hotshots. 19 men from the Prescott, AZ firefighting team perished in the Yarnell fire back in 2013. The tragedy got a huge amount of news coverage at the time and now, four years later, we get a movie that pays tribute to the team and their sacrifice.
%embed6%
Directed by noted sci-fi director Joseph Kosinski (TRON: Legacy, Oblivion), Only the Brave plays an old-fashioned WWII hero movie, with wildfires taking the place of the German army. People say they want to see movies about valor in the face of disaster or tragedy, and this is exactly the kind of movie that those folks say they want to see. You might think that Only the Brave's stellar rating on Rotten Tomatoes would turn out the crowds, but everyone ignored our recommendations on Deepwater Horizon and Patriots Day. Both those movies were "Certified Fresh" and flopped at the box office.
The movie features a host of outstanding performances by actors playing real people. Josh Brolin (No Country for Old Men, Inherent Vice) plays Eric Marsh, the leader who led the charge to get the city team certified as hotshots. Miles Teller (Thank You For Your Service, War Dogs) portrays Brendan McDonough, a guy who joins the team and straightens out his life after he becomes a father. James Badge Dale (The Pacific, 13 Hours), Taylor Kitsch (American Assassin, Lone Survivor), Geoff Stults (Enlisted) and Scott Haze (Thank You For Your Service ) bring a lot of life to the hotshot team.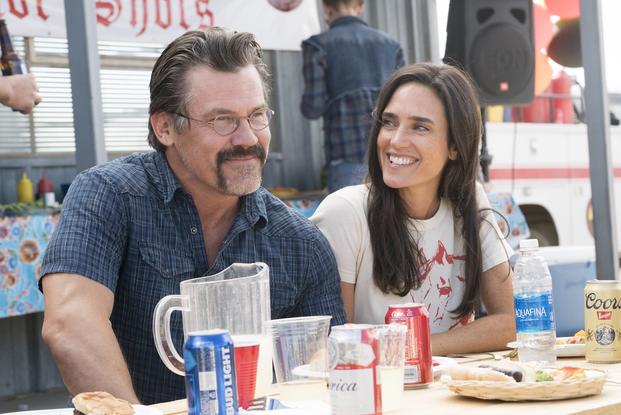 "Supe" Eric Marsh (Josh Brolin) and Amanda Marsh (Jennifer Connelly) in Columbia Pictures' ONLY THE BRAVE, THE TRUE STORY OF THE GRANITE MOUNTAIN HOTSHOTS.
Jennifer Connelly (Requiem for a Dream, A Beautiful Mind) plays Eric's wife Amanda and her struggles as someone who must share her spouse with the mission will resonate with a lot of our readers. Brolin and Connelly confront each other with their issues and find a way to make up but nothing's ever really resolved between them.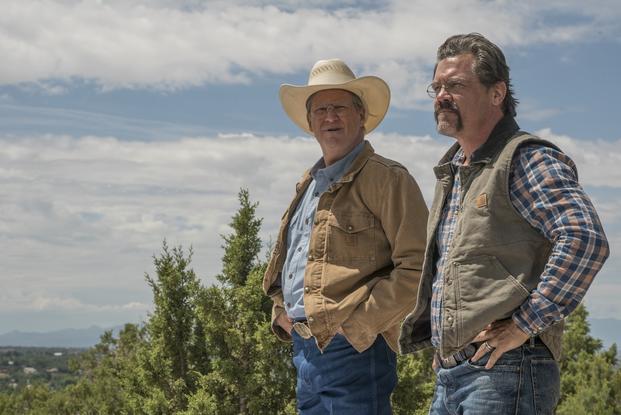 "Supe" Eric Marsh (Josh Brolin) and Fire Chief Duane Steinbrink (Jeff Bridges) at Lookout Point in Columbia Pictures' ONLY THE BRAVE.
Jeff Bridges (The Big Lebowski, Hell or High Water) plays Duane Steinbrink, the retired firefighter who uses his influence in Prescott city government to get the hotshot team funded. There's an incredibly moving scene late in the film with Bridges, Connelly and Andie McDowell (who plays Steinbrink's wife Marvel) driving in a truck to the town gym after the fire disaster. They take a very good script and elevate it with an eloquent portrayal of grief that will shock anyone who's been getting their action from Transformers or superhero movies.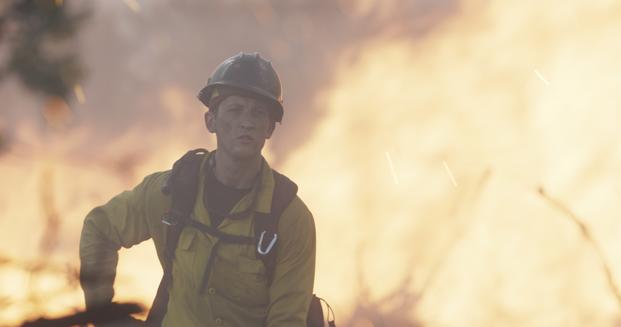 Brendan McDonough (Miles Teller) in Columbia Pictures' ONLY THE BRAVE.
Anyone who's been riveted by coverage of the California wildfires over the last two weeks shouldn't miss this movie. It's not an easy ending to watch but it's also not a surprise if you've been paying attention before you buy a ticket. It's an emotional movie that's best experienced in a crowded theater. Get out of the house and see it now instead of waiting for cable.
We had a chance to speak with the cast and former Granite Mountain Hotshots Pat McCarty and Brendan McDonough in Los Angeles. Check out the videos below.
Josh Brolin
%embed2%
Miles Teller
%embed3%
Pat McCarty & Brendan McDonough
%embed4%
Jeff Bridges & Jennifer Connelly
%embed5%
James Badge Dale & Taylor Kitsch
%embed1%