Watching the beautiful 4K scan of Steven Spielberg's classic E.T. The Extra-Terrestrial makes me think I need to go back and rewatch everything I saw in a crackerbox multiplex back in the 1980s. This version of the movie looks a million times better than it did in the theater back then (and maybe a trillion times better than streaming it from Netflix onto your phone).
The 35th Anniversary Limited Edition on 4K Ultra HD + Blu-ray + Digital comes with a spectacular lenticular cover so you can make Elliott and E.T. fly past the moon. There's also a re-mastered CD of the film's soundtrack and a ton of bonus features on the 4K and Blu-ray.
%embed1%
E.T. is maybe the best representation of Spielberg's obsession with the idea that boring adults crush the wonder and insight of magical children. The movie holds up after 3 1/2 decades later and this is the version you should own if you've invested in a 4K disc player.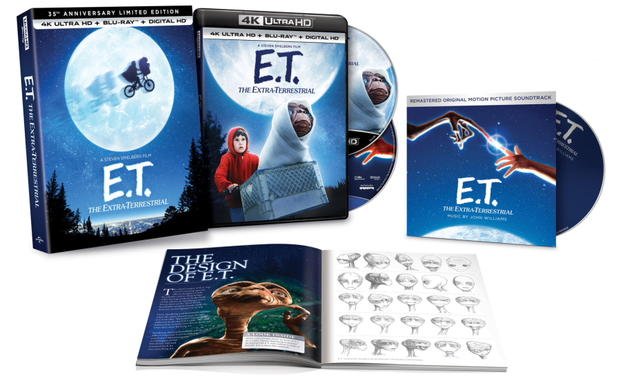 From Universal Pictures Home Entertainment: E.T. The Extra-Terrestrial 35th Anniversary Limited Edition Gift Set
The package includes all of the bonus features from the 2012 Blu-ray release and they're included on the Blu-ray disc that comes with this set.
The E.T. Journals - Retrace the day-to-day experience of creating E.T from behind-the-scenes footage shot by Academy Award®-winning cinematographer John Toll.
Steven Spielberg & E.T. - Watch an interview with Steven Spielberg, as he reflects back on the film and discusses his experience working with the actors, as well as his overall and current perspective on E.T.
The Music of E.T.: A Discussion with John Williams - Interviews and footage focused on the long-standing relationship between John Williams and Steven Spielberg.
Designs, Photographs and Marketing of E.T
E.T. Designs by Production Illustrator Ed Verreaux
E.T. Designs by Carlo Rambaldi
Spaceship Designs by Ralph McQuarrie
Designs by Production Illustrator Ed Verreaux
Production Photographs
Marketing E.T. A Look Back - A special insider's look into the making of E.T. featuring interviews with Steven Spielberg, the cast, and others intimately involved with the film.
The E.T. Reunion - The cast and filmmaker reunite to discuss their thoughts on the impact of the film.
The 20th Anniversary Premiere - Composer John Williams played the score of E.T. live at the Shrine Auditorium for the re-release premiere of E.T.   This featurette gives us a behind the scenes look at this presentation.
Deleted Scenes
Theatrical Trailer