Update: Villanueva has now APOLOGIZED for standing for the anthem. See new details at the end of this post.
What a weekend! On Friday night, President Donald Trump gave a campaign speech for U.S. Senate candidate Luther Strange at the Von Braun Center in Huntsville, AL. Instead of taking a perfect opportunity to highlight the legacy of Operation Paperclip, the president decided to aim his fire at NFL athletes who kneel during the national anthem before games.
Trump Stakes His Claim in Huntsville
The president make his feelings crystal clear: "Wouldn't you love to see one of these NFL owners,  when somebody disrespects our flag to say, 'Get that son of a bitch off the field right now, out. He's fired. He's FIRED!'"
The President Takes His Campaign Online
He continued his campaign Saturday morning on Twitter:
If NFL fans refuse to go to games until players stop disrespecting our Flag & Country, you will see change take place fast. Fire or suspend!

— Donald J. Trump (@realDonaldTrump) September 24, 2017
...NFL attendance and ratings are WAY DOWN. Boring games yes, but many stay away because they love our country. League should back U.S.

— Donald J. Trump (@realDonaldTrump) September 24, 2017
As anyone who's seen the ESPN 30 for 30 documentary "Small Potatoes" can tell you, Trump is the former owner of the USFL's New Jersey Generals and has a longstanding beef with the NFL over the collapse of his league back in the '80s.
Football Responds to Trump
NFL owners clapped back right away and, in an extremely rare show of unity, both the league and the players' association denounced the president's attack on NFL players.
Why Do Players Kneel Anyway?
There's so much going on here that it's tough to stay focused, but let's remember the reason that former NFL QB Colin Kaepernick started kneeling as his Black Lives Matter protest against police practices during the national anthem: former NFL player and Army Green Beret suggested it as a respectful alternative to sitting.
This is true. Here's the article from back in the day.
Kaepernick Meets With Veteran Nate Boyer, Then Kneels During Anthem
On Sunday, The League Responds
The stage was set for Sunday's games. Of course there was a response. All around the league dozens of players who'd never considered kneeling before kneeled in response to President Trump's attacks. Jacksonville Jaguars owner (and noted Trump supporter) Shahid Khan and Atlanta Falcons owner Arthur Blank stood on the sidelines and linked arms with their players.
A Friendship in Trouble?
New England Patriots owner Robert Kraft is a close personal friend of the president and even gave Trump a Super Bowl ring this summer. Kraft didn't hold back in his own response.
Statement from #Patriots Chairman & CEO Robert Kraft: pic.twitter.com/f5DJeK0Woj

— New England Patriots (@Patriots) September 24, 2017
TMZ thinks President Trump gave Kraft the finger when they asked him about his friend's statement.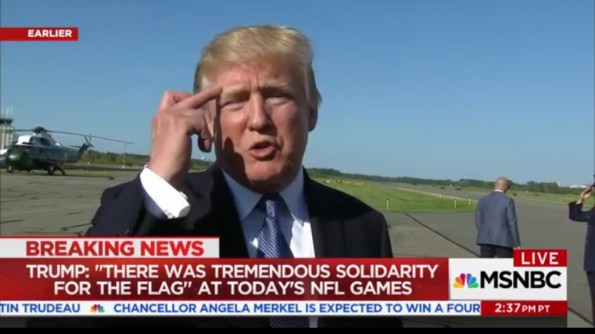 A Surprising Truth About NFL Players and the National Anthem
Oh yeah one more thing. For most of the league's history, NFL players stayed in the locker room during the national anthem and continued their mental and strategic preparation for the upcoming game. That changed around 2009.
In 2015, Military.com reported that the National Guard was using taxpayer funds to pay the NFL to have its players stand on the field during the anthem as a military recruiting tool. That's not a typo. That's a real thing: players stand for the anthem because someone paid the league to make them do that. And that "someone" is the U.S. military.
Villanueva Takes a Stand
Whew. After all that, one man stands alone: former Army Ranger and Pittsburgh Steelers offensive tackle: Alejandro Villanueva.
The Steelers team took a vote and decided to stay in the locker room during the national anthem. Their absence would be their comment on the controversy.
Except Villanueva slipped out of the locker room and appeared by himself on the sidelines during the national anthem.
Alejandro Villanueva was the only Steeler to come out for the National Anthem, standing in the tunnel. pic.twitter.com/L4EtxRQSvA

— CBS Sports (@CBSSports) September 24, 2017
Coach is Not Happy
The Steelers lost the game to a terrible Chicago Bears team 23-17. After the game, coach Mike Tomlin was pissed.
"Like I said, I was looking for 100 percent participation, we were gonna be respectful of our football team. Many of them felt like something needed to be done. I asked those guys to discuss it and whatever they discussed that we have 100 percent participation or we do nothing. They discussed it for an appropriate length of time and they couldn't come to an understanding, so they chose to remove themselves from it. They were not going to be disrespectful in the anthem so they chose not to participate, but at the same time many of them were not going to accept the words of the president."
Steelers linebacker James Harrison told the Penn Live website that he was confused by Villanueva's move: "We thought we were all in attention with the same agreement, obviously. But, I guess we weren't."
What Would You Do?
Obviously, it's always a long week after a loss but the Steelers have some communications issues to work through. This was supposed to be a short post but all of this requires some clarity and now I feel like the referee in the GEICO commercial.
Villanueva was a long shot to play in the NFL and only got a chance to learn a new position with the Steelers because Tomlin believed he had leadership traits that could help his football team win games.
Should Villanueva have stayed in the locker room in solidarity with his teammates even if he didn't agree with the decision? Or did he earn the right to stand for the anthem no matter what because of his military service?
What's the call here? Obviously, if certain people (CK, DJT) had kept their traps shut, the Steelers and Villanueva wouldn't find themselves in this situation. But here we are. What should happen next?
UPDATE: Alejandro Villanueva Apologizes
Several of our Facebook commenters noted that Villanueva has issued a statement on the incident and it's a shocker:
"Unfortunately I threw my teammates under the bus, unintentionally," Villanueva said. "Every single time I see that picture of me standing by myself I feel embarrassed. People that are taking a knee are not saying anything negative about the military, they're not saying anything negative about the flag, they're just trying to protest that there are some injustices in America."
Villanueva also gave a fuzzy statement explaining that he took the field by accident:
"When we came out of the locker room into that tunnel, it was a very small area. There was a flag or something coming off the field so there were a bunch of Bears fans, coming off the field holding that going in front of us, so it kind of held us up," he said.
According to Alejandro, he kept running, the team hung back.
What do you think? Did he exit the tunnel by mistake? Did he make the right call today? Will his teammates buy his explanation?