Each week, Military.com searches the globe (and the internet) for the DoD's best military photos and posts them here for you.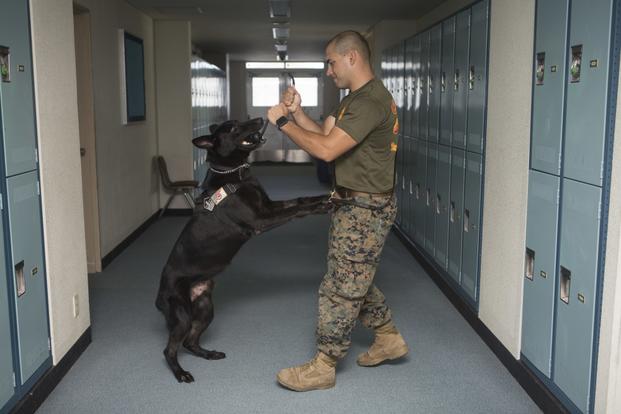 Photo by Lance Cpl. Jesula Jeanlouis/U.S. Marine Corps
U.S Marines with Provost Marshal's Office, K-9 unit, conduct training sessions with their military working dogs (MWD) at Kubasaki High school on Camp Foster, Aug. 9, 2017.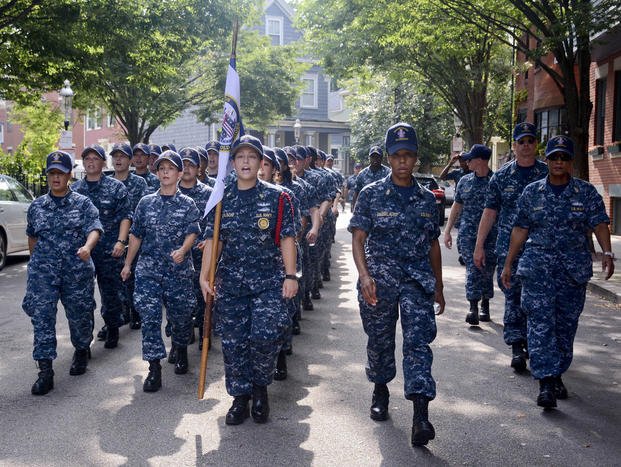 Photo by Gunners Mate 2nd Class Erin Bullock/U.S. Navy
Chief petty officer selectees march through Boston during Chief Petty Officer Heritage Week. The heritage week is a week dedicated to mentoring the Navy's newest chiefs through naval history and heritage training aboard USS Constitution.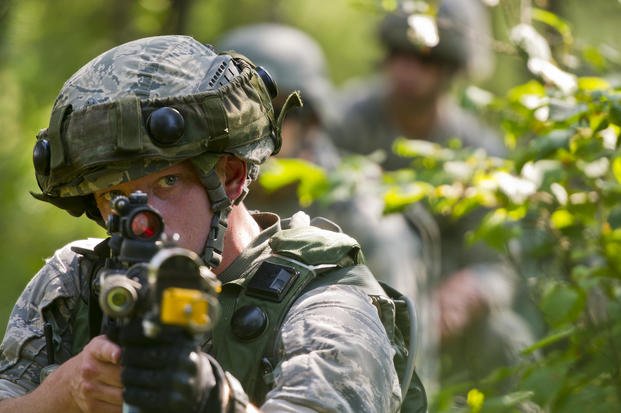 Photo by Tech. Sgt. Efren Lopez/U.S. Air Force
U.S. Air Force Tech. Sgt. Gregory St. Martin, 434th Security Forces Squadron, Grissom AFB, Ind., looks down the scope of his M4carbine rifle equipped with a Multiple Integrated Laser System as he participates in a tactical engagement simulation drill during exercise Patriot Warrior at Young Air Assault Strip, Fort McCoy, Wis., Aug. 18, 2017.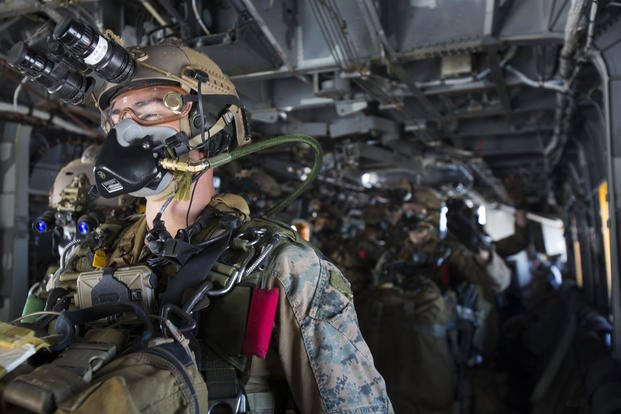 Photo by Lance Cpl. Savannah Mesimer/U.S. Marine Corps
A U.S. Marine Corps Force Reconnaissance team assigned to the 3rd Reconnaissance Battalion waits to perform high altitude-high opening jumps for the first time over Yausubetsu, Japan, Aug. 20, 2017, during Northern Viper 17.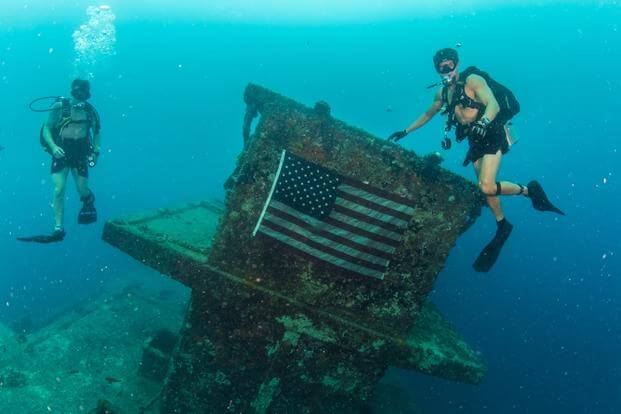 Photo by Mass Communications Specialist 1st Class Arthurgwain L. Marque/U.S. Navy Combat Camera
Explosive Ordnance Disposal Technicians, assigned to Explosive Ordnance Disposal Mobile Unit Five (EODMU 5), dive in Apra Harbor, Guam, Aug. 20, 2017. EODMU-5 conducts mine countermeasures, improvised explosive device operations, renders safe explosive hazards, and disarms underwater explosives such as mines.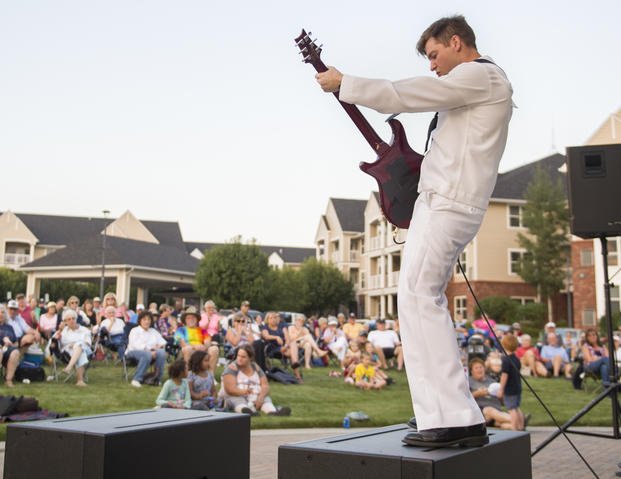 Photo by Mass Communication Specialist 2nd Class James Vazquez/U.S. Navy
Musician 2nd class Dan Webber, assigned to the U.S. Navy Band Northwest popular music group, Passage, performs at the St. John's Summer Concert Series during Navy Week Montana.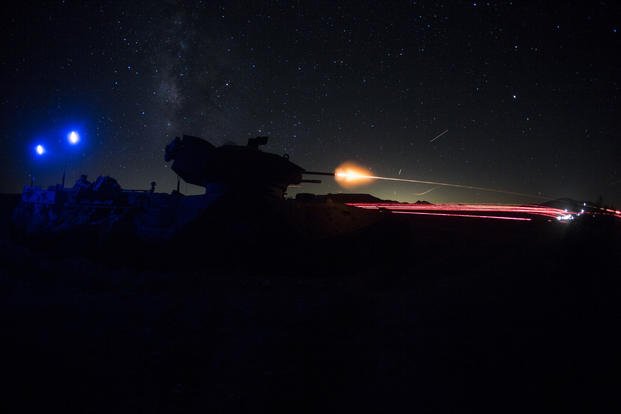 Photo by Lance Cpl. Taylor Cooper/U.S. Marine Corps
U.S. Marines fire an M2 .50 caliber machine gun, mounted to an amphibious assault vehicle, at simulated enemy targets during Large scale Exercise (LSE) 17 at Twentynine Palms, Calif., Aug. 17, 2017.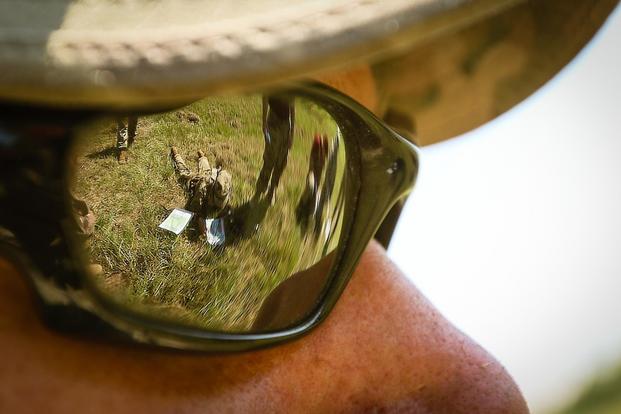 Photo by Spc. Hubert D. Delany III / 22nd Mobile Public Affairs Detachment U.S. Army
A U.S. Army Soldier watches as Pfc. Hannah Johnson, a military policewoman with the 258th Military Police Company, 16th MP Military Police Brigade, plots her location at a section of the orienteering event during second day of the 2017 Forces Command Best Warrior Competition at Fort Bragg, N.C., Aug. 21.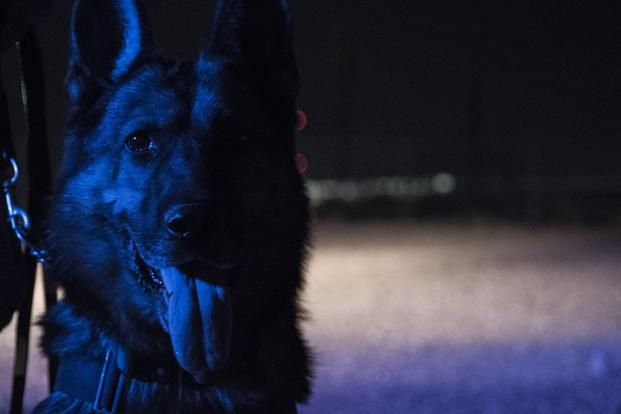 Photo by Airman 1st Class Andrew D. Sarver/U.S. Air Force
Habo, 99th Security Forces Squadron military working dog, pauses during a patrol around Nellis Air Force Base, Nevada, August 7, 2017.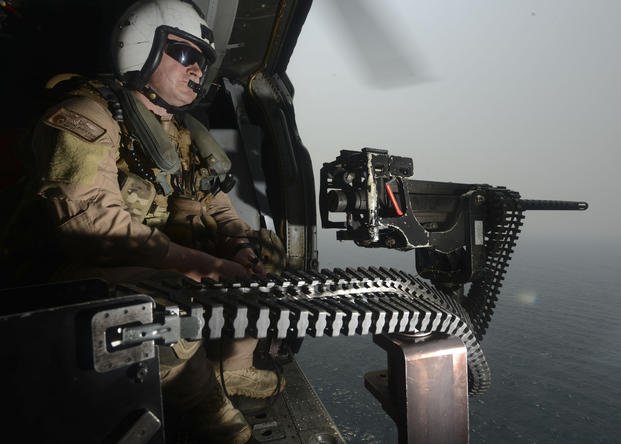 Photo by Mass Communication Specialist 3rd Class Colby S. Comery/U.S. Navy
Naval Air Crewman (Helicopter) Erik Potter mans a .50-caliber machine gun aboard an MH-60S Sea Hawk helicopter assigned to the "Eightballers" of Helicopter Sea Combat Squadron (HSC) 8 during routine operations with the aircraft carrier USS Nimitz (CVN 68) in the Arabian Gulf.