Each week, Military.com searches the globe (and the internet) for the DoD's best military photos and posts them here for you.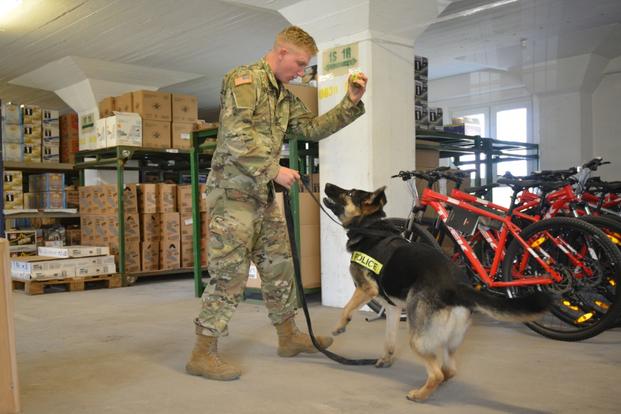 Photo by Gertrud Zach/Training Support Activity Europe
U.S. Army Pfc. Matthew Abkemeier, a military working dog handler with 131st Military Working Dog Detachment, 615th Military Police Company, 709th Military Police Battalion, plays with his military working dog Cezar after a training aid search in a warehouse at Tower Barracks, Grafenwoehr, Germany, Aug. 9, 2017.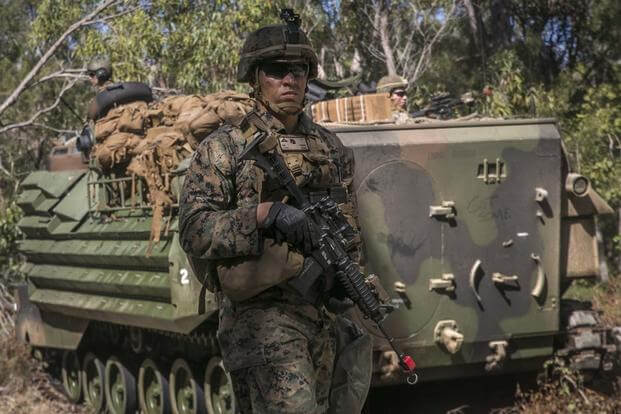 Photo by Cpl. Amaia Unanue/31st Marine Expeditionary Unit
Lance Cpl. Jonathan M. Frink, a mortarman with India Company, Battalion Landing Team, 3rd Battalion, 5th Marines, 31st Marine Expeditionary Unit, patrols during Exercise Talisman Saber 17 in Freshwater Beach, Shoalwater Bay Training Area, Australia, July 19, 2017.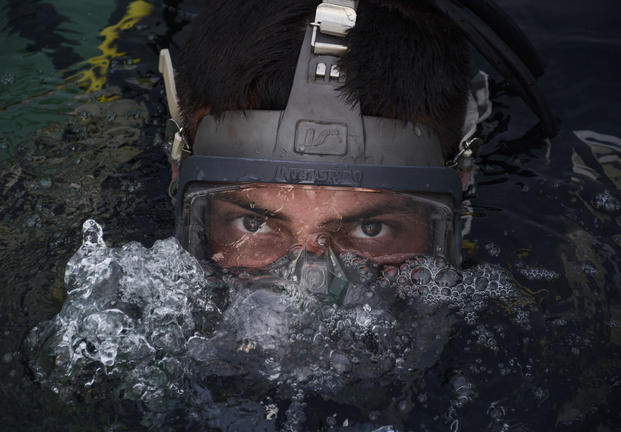 Photo by Gunner's Mate 2nd Class Erin Bullock/U.S. Navy
Explosives Ordnance Disposal Technician 3rd Class Cameron Duffy, assigned to Explosive Ordnance Disposal Group (EODGRU) 2, emerges from the water at the Indianapolis State Fair during Navy Week Indianapolis.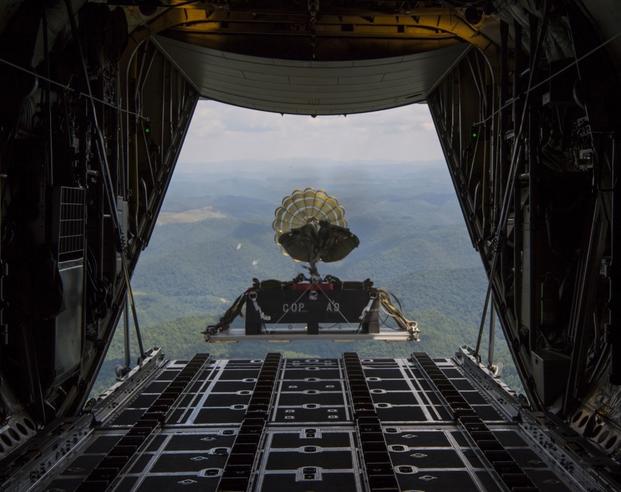 Photo by Airman Caleb Vance/130th Airlift Wing Air National Guard
A U.S. Air Force C-130H from the 130th Operations Group, Charleston, W.Va. drops a type five airdrop platform with a heavy equipment training load Aug.8, 2017 while flying a local training mission.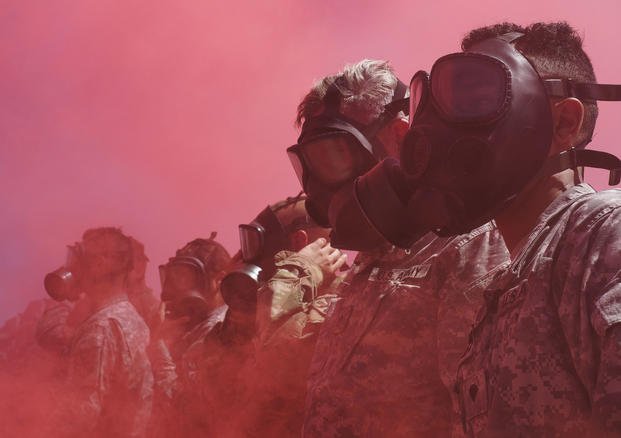 Photo by Staff Sgt. Brian A. Barbour/U.S. Army National Guard
Arizona Army National Guard Soldiers from the 2220th Transportation Company are engulfed by colored smoke after putting on their protective masks during a simulated chemical attack August 5, 2017 at Florence Military Reservation in Florence, AZ.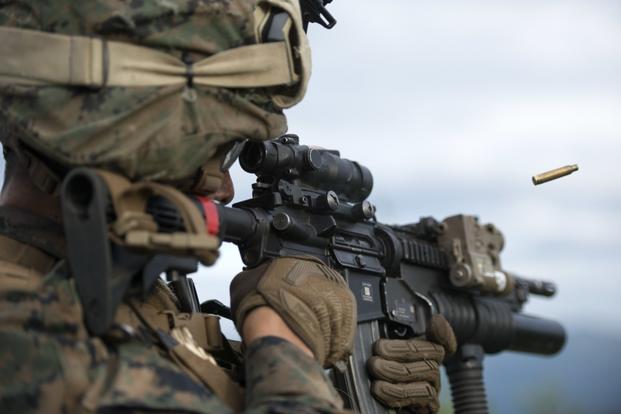 Photo by Alejandro Pena/Joint Base Elmendorf-Richardson Public Affairs
A U.S. Marine assigned to 2nd Battalion, 23rd Marine Regiment, 4th Marine Division, engages simulated enemy targets while conducting a live-fire exercise at Joint Base Elmendorf-Richardson, Alaska, Aug. 7, 2017.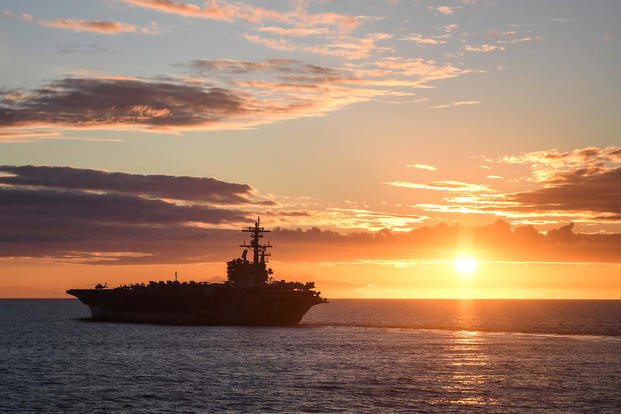 Photo by Mass Communication Specialist 1st Class Theron J. Godbold/U.S. Navy
The Nimitz-class aircraft carrier USS George H. W. Bush (CVN 77) transits the Atlantic Ocean during exercise Saxon Warrior 2017.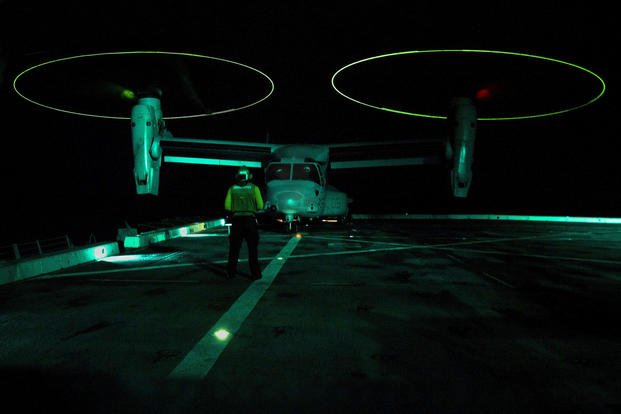 Photo by Mass Communication Specialist 3rd Class Justin A. Schoenberger/U.S. Navy
Aviation Support Equipment Technician 3rd Class Angus Moss, a native of Columbus, Indiana, assigned to the Air department aboard the amphibious tranport dock ship USS San Diego (LPD 22), directs an MV-22B Osprey, assigned to Marine Medium Tiltrotor Squadron 161 (reinforced), on the ship's flight deck.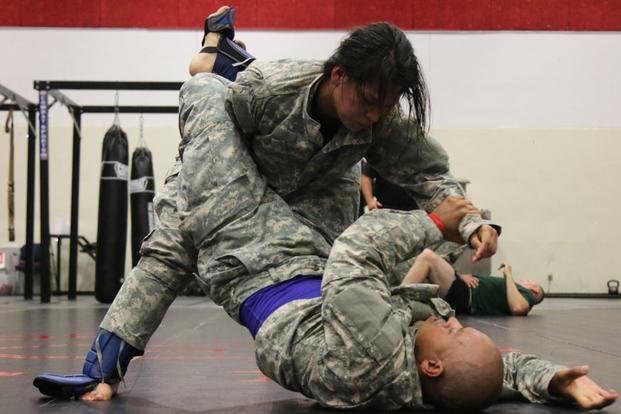 Photo by Spc. Casey Hustin/19th Public Affairs Detachment
Members with the 97th Military Police Battalion, 89th Military Police Brigade, practice take-down maneuvers during a combatives drill Aug. 7 at Long Fitness Center, Fort Riley, Kansas. A combatives tournament will be part of the Commander's Cup challenge during Victory Week 2017.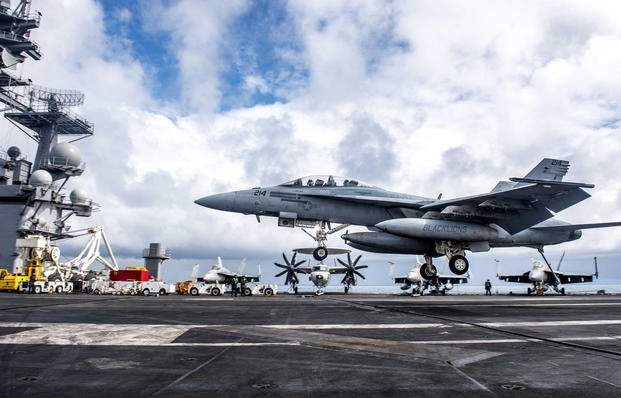 Photo by Mass Communication Specialist 2nd Class Hank Gettys/U.S. Navy
An F/A-18F Super Hornet, attached to the "Blacklions" of Strike Fighter Squadron (VFA) 213 and carrying U.K. Carrier Strike Group Commander Cdre. Andrew Betton, OBE, lands aboard the Nimitz-class aircraft carrier USS George H.W. Bush (CVN 77) during exercise Saxon Warrior 2017, Aug. 4.