NBC's The Night Shift wraps up its fourth season this week with an episode about San Antonio Memorial Hospital's new program to train combat medics for the U.S. military. There's controversy with the hospital's owner who didn't approve the plan and the team mobilizes after a mass shooting at San Antonio Southern University.
There's no word about whether NBC will pick up the show for a fifth season, so this episode could represent the series finale. This summer's episodes have been consistently strong in telling military-themed stories and this show gets back to the subject after a pair of less-successful episodes about a computer hack and villainous ICE agents.
Military advisor Toby Montoyoa also makes his acting debut in tonight's episode. Read our profile of Toby here. Creators Jeff Judah and Gabe Sachs have made a huge commitment to telling military stories and hiring veterans on their show. He's a big fan of Toby.
Toby is amazing. When you're a writer, everyone you meet has a story and you love getting to know people and strangers and hearing what their stories are. Toby was an extra on our show and Brendan Fehr insisted that I talk to him. Toby wanted to be a script supervisor. We let him shadow us on set and then he came to my house in LA and hung out and I learned more about him. I called Jeff and said he's got to be our military adviser. He has amazing stories and life experience. We hired him this year and he's been incredible. Besides just the military advising, he helps us with every scene.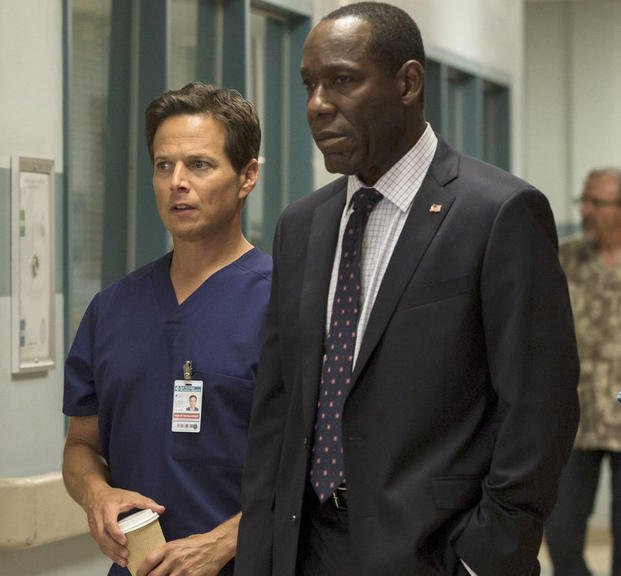 THE NIGHT SHIFT -- "Resurgence" Episode 410 -- Pictured: (l-r) Scott Wolf as Scott Clemmens, James McDaniel as Julian Cummings -- (Photo by: John Britt/NBC)
Scott Valentine plays a civilian doctor who's also running the hospital in season four. His character is surrounded by men and women with military experience and sometimes that difference leads to tensions between the character on the show. He offered some thoughts on that divide.
As much as it's important to talk about veterans and their circumstances and their experience, it's really important to address the ways in which we can bridge divides between people who didn't serve and people who have. In many ways, my character does represent that point of view of people who don't share the experience. My character has an incredible amount of respect for people who served, but there's a tinge of feeling on the outside of it just because it wasn't his experience.

Some people in civilian life might be intimidated or feel a sense of inadequacy or guilt about being in the face of somebody who has sacrificed that in that way. I like that part of our story is him deciding that he doesn't have to feel that way. He chooses to embrace who he is and who he is not. Ultimately neither is right, neither is wrong, neither is good, neither is bad. These are just individual journeys.

It's good any time you have an opportunity to tell stories where the reality of what war is like. We tell stories that feature characters who served in previous wars and we tell stories pulled from different areas of civilian life. The more humanizing we can make these stories about veterans and their experience, it serves a great purpose, connecting us all and bridging any kind of divides where there's a lack of understanding.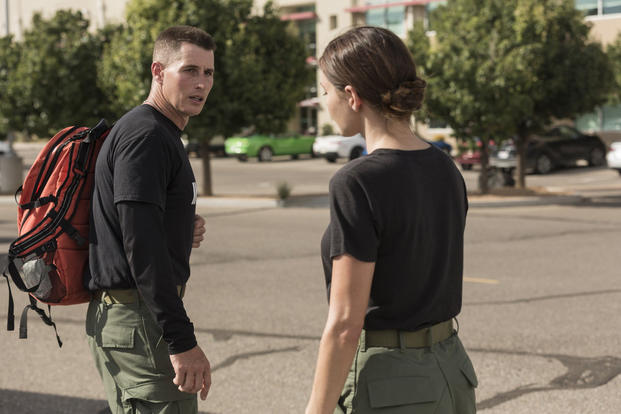 THE NIGHT SHIFT -- "Resurgence" Episode 410 -- Pictured: (l-r) Brendan Fehr as Drew Alister, Jill Flint as Jordan Alexander -- (Photo by: John Britt/NBC)
Brendan Fehr has enjoyed a long run on network television, starting with Roswell and running through CSI: Miami and Bones before he took a lead role as Dr. Drew Alister on The Night Shift. He's set up a home in Albuquerque with his wife and three daughters and has made appearances on other New Mexico-filmed shows like Better Call Saul and Longmire in between seasons of The Night Shift.
Brendan's the first person on set to realize what an asset Toby Montoya could be and he's developed quite a following because he plays an openly gay veteran in a high-profile network series. Drew is married to Rick Lincoln (Luke Macfarlane, Mercy Street) and the couple has an adopted teenage daughter. Brendan talked about whether he's a role model for LGBTQ people serving in the military and what the response has been to his character.
Most people have nothing but positive things to say, but I talked to a man who is going to be a general soon and he had a different opinion on it. He didn't want the military treated as a social experiment. He believes that certain things need to be accepted in society first and then you bring them into the military. In the military, there are lives at stake and having women in combat and all those things, however nice it seems, can be a distraction.

Good order and discipline, that was the only thing he cared about. Anything that would rock that particular boat should not be allowed. We had a great conversation. You know we listened to each other and some of his points were good and he listened to some of mine.

When you really grasp the sacrifice that those men and women make and what it takes to serve and how they're treated when they come back, you realize that those are the people that you want to be there to honor. You want to do your homework and, even though you recognize you can't tell every soldier's story, you want to tell one that hits home so they can say, "I know someone like that or I heard about that."

I have a friend out here who is an EOD and he had to go to a harassment program. He has been in the military his whole adult life and he had never seen any. "This stuff doesn't happen. It's going to be a waste of time."

One by one people would get up, almost all men, and they would tell their story about how they were raped in the military. He just sat back of the room with like tears running down his face. He had thought it was all overblown. When people would talk to him about this stuff, he no concept that this stuff was happening. Because he'd never known anyone.

When I do my research, I get to hear stories like that and they color my character. I hope the LGBT community is on my side. I hope they like that story and I certainly want for them to identify with my character and to have him as an inspiration.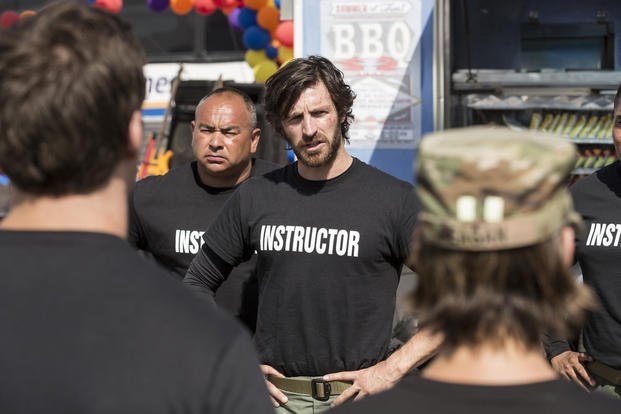 THE NIGHT SHIFT -- "Resurgence" Episode 410 -- Pictured: Eoin Macken as TC Callahan -- (Photo by: John Britt/NBC)
The series has evolved from a more traditional medical drama that had a few veteran characters to one that has an intense focus on veteran issues. We interviewed Jeff and Gabe during season one and they described a show that's very much like the one they're making now. Gabe commented on the show's development over time.
It's not that we didn't want to do it then. It's just you have to get a lot of people to sign off on your direction. We said that we wanted our characters that you've seen in our hospital to go overseas. Wait, how's that gonna happen? Well, TC was over there before and he loves that, so he would love to go back there. The network was open to letting us do it. Now we're at the point where this is exactly the show we want to do, which is a great feeling. Hopefully, people like it.
Last month, Gabe Sachs
told television critics
that "we have a lot of stories to tell" on The Night Shift. Seasons 1-3 are streaming on Netflix and we'll let you know when we get word on a possible fifth season.