Each week, Military.com searches the globe (and the internet) for the DoD's best military photos and posts them here for you.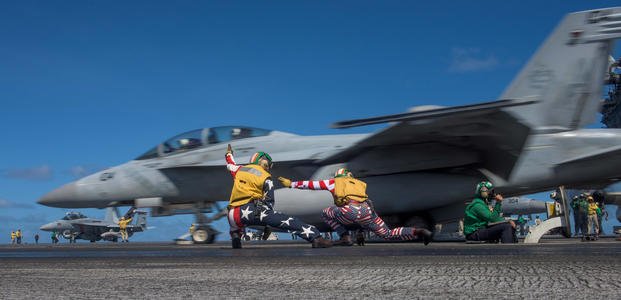 Mass Communication Specialist 2nd Class Kenneth Abbate/U.S. Navy
Lt. Miranda Krasselt and Lt. Chris Williams signal for the launch of an F/A-18F Super Hornet, from the Diamondbacks of Strike Fighter Squadron (VFA) 102, on the flight deck of the Navy's forward-deployed aircraft carrier, USS Ronald Reagan (CVN 76).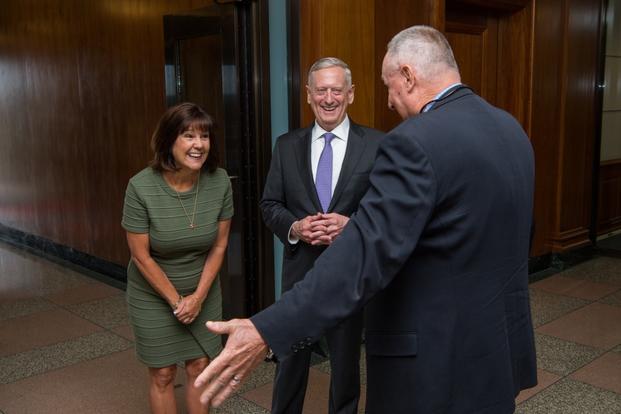 Staff Sgt. Jette Carr/Office of the Secretary of Defense Public Affairs
Secretary of Defense Jim Mattis meets with Karen Pence, wife of Vice President Mike Pence, at the Pentagon in Washington, D.C., July 12, 2017.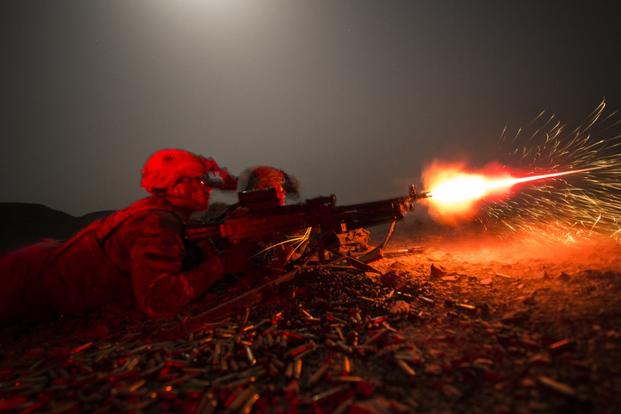 Master Sgt. Russ Scalf/Combined Joint Task Force - Horn of Africa Combat Camera
U.S. Soldiers with Bravo Company, 1st Battalion, 327th Infantry Regiment, 1st Brigade Combat Team, 101st Airborne Division (Air Assault) assigned to Combined Joint Task Force-Horn of Africa's (CJTF-HOA) East African Response Force, engage targets in a night live-fire range with crew-served weapons teams at a range along the southern coast of the Gulf of Tadjoura, Djibouti, July 1, 2017.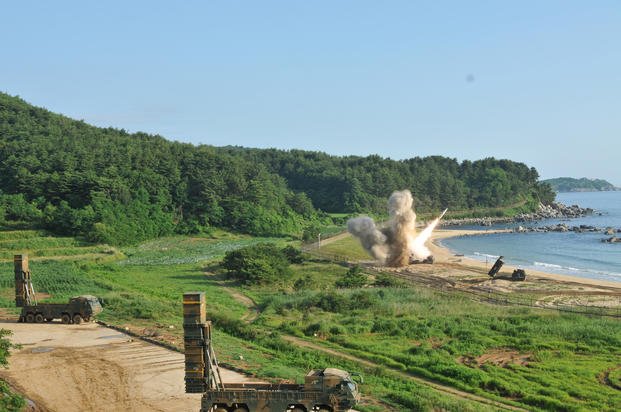 Staff Sgt. Sinthia Rosario/U.S. Army
An M270 Multiple Launch Rocket System assigned to the A Battery, 6th Battalion, 37th Field Artillery Regiment, 210th Field Artillery Brigade, 2nd Republic of Korea/United States Combined Division, fires an MGM-140 Army Tactical Missile into the East Sea off South Korea, July 5, 2017.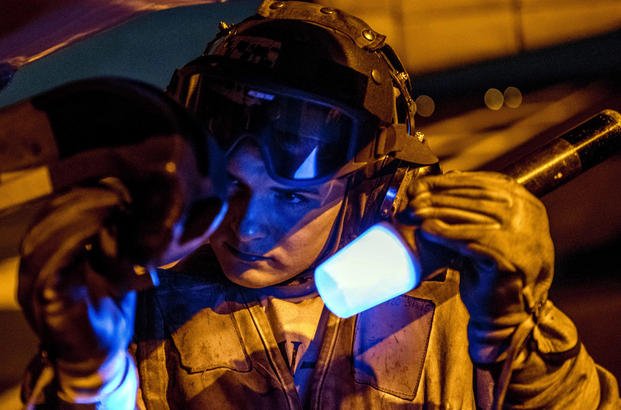 Mass Communication Specialist 3rd Class Daniel Gaither/U.S. Navy
A Sailor inspects an E-2C Hawkeye assigned to the "Bear Aces" of Carrier Airborne Early Warning Squadron (VAW) 124 on the flight deck of the aircraft carrier USS George H.W. Bush (CVN 77).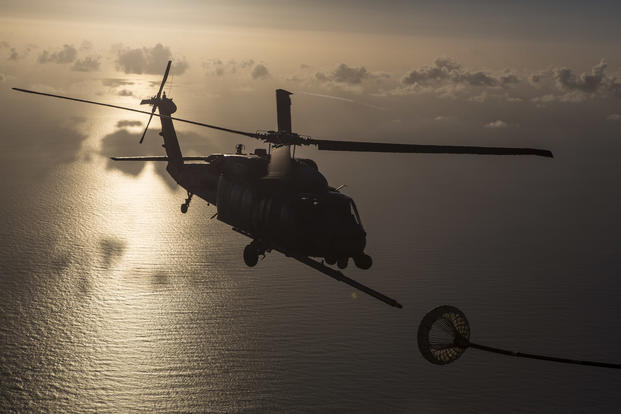 Master Sgt. Mark Borosch/U.S. Air Force
An HH-60G Pave Hawk refuels from an HC-130P/N King enroute to rescue two German citizens in distress at sea July 7, 2017 and into July 8. The victim's vessel caught fire approximately 500 nautical miles off the east coast of southern Florida.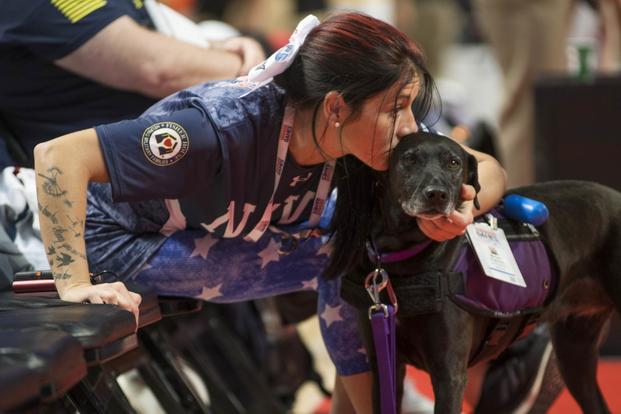 Petty Officer 2nd Class Lenny LaCrosse/Navy Media Content Services
Retired Coast Guard Yeoman 3rd Class Kristen Esget, a native of Beaufort, S.C., and member of the 2017 Warrior Games Team Navy shares a moment with service dog, Breezey, before the start of the sitting volleyball game at the United Center.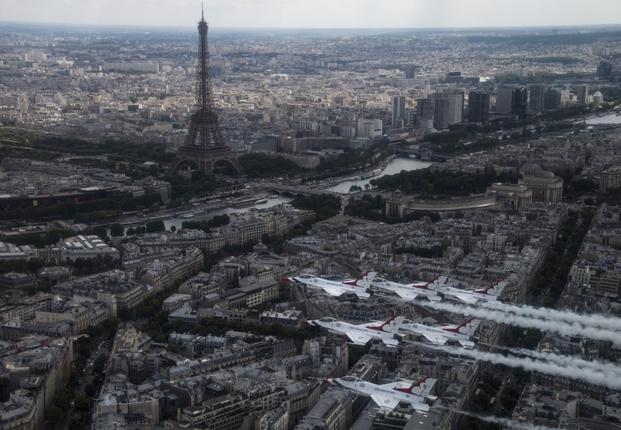 Tech. Sgt. Christopher Boitz/U.S. Air Force Air Demonstration Squadron "Thunderbirds"
The U.S. Air Force Thunderbirds fly by the Eiffel Tower during a practice procession in Paris, France, July 11, 2017. The Thunderbirds, along with more than 90 aircraft, will be in attendance to help France celebrate the 2017 Bastille Day festivities.
Pfc. Dion Levi/U.S. Army
U.S. Soldiers of 82nd Airborne Brigade prepare to breach a barricade while conducting a crowd riot control scenario during a Kosovo Force (KFOR) mission rehearsal exercise (MRE) at the Joint Multinational Readiness Center in Hohenfels, Germany, July 6, 2017.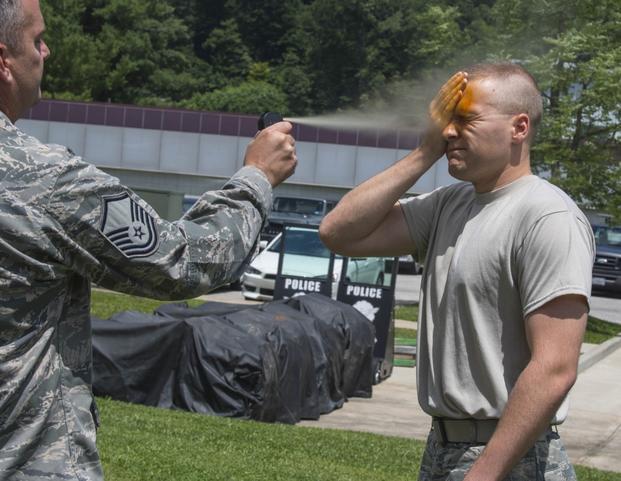 Staff Sgt. Adam Juchniewicz/130th Airlift Wing Air National Guard
Master Sgt. Chris Kohut sprays Airman 1st Class Christopher Marcum with pepper spray, July 9, 2017, at McLaughlin Air National Guard Base, Charleston, WV. Security Forces members are required to get pepper sprayed at least once in their career to test their abilities to carry out their duties in case of exposure.