The 2004 miniseries Dunkirk has just been added to BritBox, a new streaming service from BBC and ITV for Apple TV, Roku and mobile devices. Britbox features classic UK TV series, current soaps like Coronation Street and British news and information programs for $6.99/month.
Winston Churchill would be looking for his British TV fix if he lived in his mother's home country.
Britbox's more traditional version of Dunkirk offers a stark contrast to Christopher Nolan's brilliant new film, which focuses on the experience of war and devotes no time whatsoever to historical context or character development. The 2004 docudrama stars Oscar nominee Benedict Cumberbatch and features the real-life accounts of the British Expeditionary Force with rarely before heard archival footage, eyewitness accounts and original dramatized sequences.
Check out these clips from the program.
%embed5%
%embed4%
The three-part docudrama tells the story of the 1940 mission that freed over 340,000 British and Allied troops who were trapped and surrounded by the Nazis in the French city of Dunkirk.
British troops evacuate from France in this photo from the actual event.
Along with the release of the docudrama, BritBox has dug into BBC's incredible vault. The service has unearthed rare archival audio clips including reports from premiere journalists like Edward Murrow, Winston Churchill's first broadcast as prime minister, and first-hand accounts from the soldiers who were there. They've given us three examples to post here.
%embed1%
1. Dunkirk Evacuation / Sgt John Bridges (4/1/1960) - John Bridges arrived at Dunkirk with his small but orderly battalion to witness chaos on the beaches and 'complete hell' in the town. None of his men could swim. He describes in vivid detail what it was like to be there, and how they struggled to get away. After the first few failed attempts, being bombarded by shells and bullets and narrowly avoiding getting dragged under a destroyer, he managed to board a minesweeper that eventually took him back to England. Part of this recording was included in the programme 'Dunkirk: Twenty Years After'. It may not have been broadcast in its entirety before.
%embed2%
2. Dunkirk Evacuation British Expeditionary Force Accounts (6/3/1940) - Four members of the British Expeditionary Force share their experiences of being on the frontline as the Germans broke through and describe close encounters with advancing German tanks and surviving German bombs. This recording was not broadcast at the time and may never have been transmitted in its entirety.
%embed3%
3. Dunkirk: A Personal Perspective / Margate Lifeboats (5/4/1950) - On 30 May 1940, the lifeboat crews of Margate were called into action to rescue troops from Dunkirk. Coxswain ED Parker recollects how his men went straight from their favorite pub to the hellish waters of Dunkirk, where they helped to take soldiers out to the ships. This recording was made for the BBC 2004 Docudrama of Dunkirk but not included in the transmission.
Other audio clips available on BritBox include Winston Churchill's "Blood, Sweat and Tears" Speech, Churchill's First Broadcast as PM and his legendary "Finest Hour Speech."
You can try BritBox free for 7 days and watch Dunkirk with Benedict Cumberbatch when you sign up at this link.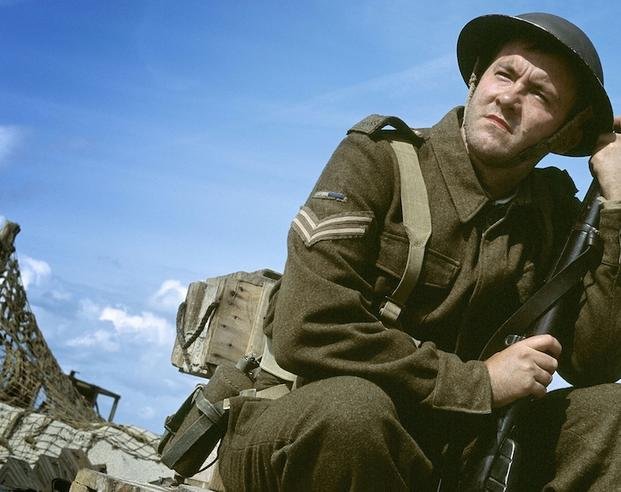 Picture Shows: Corp. Titch Hummphreys (JULIAN KERRIDGE)