Each week, Military.com searches the globe (and the internet) for the DoD's best military photos and posts them here for you.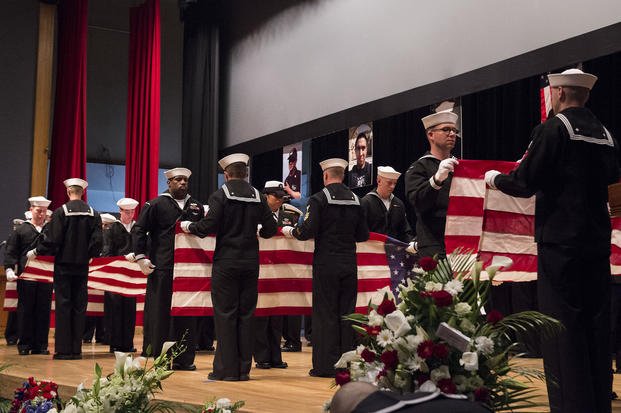 Photo by Mass Communication Specialist 2nd Class Raymond D. Diaz III/U.S. Navy
Sailors fold seven American flags during a memorial ceremony at Fleet Activities Yokosuka honoring the seven Sailors assigned to the Arleigh Burke-class guided-missile destroyer USS Fitzgerald (DDG 62) who were killed in a collision at sea.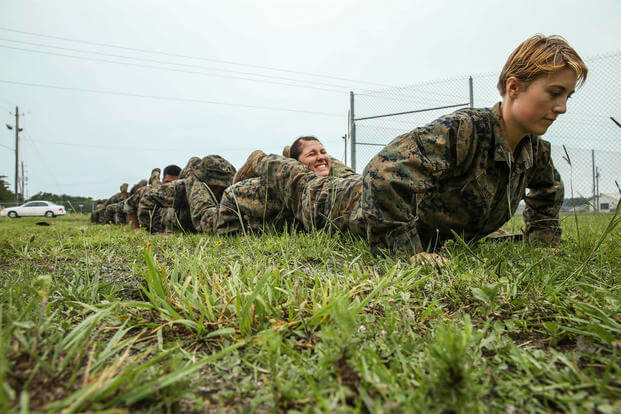 Photo by Lance Cpl. Tyler W. Stewart/U.S. Marine Corps
U.S. Marines with Headquarters Company, Combat Logistics Regiment 25, 2nd Marine Logistics Group (MLG), conduct squad push-ups during the 2nd MLG Squad Competition at the Battle Skills Training School on Camp Lejeune, N.C., June 21, 2017.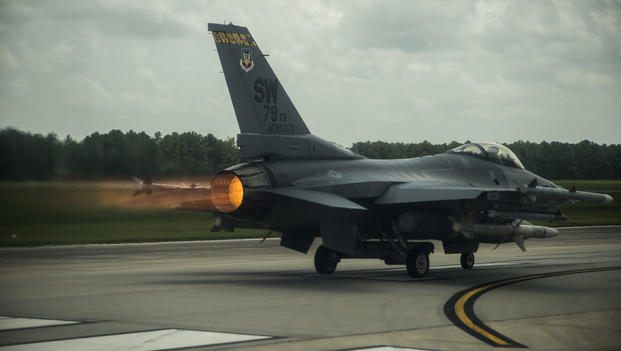 Photo by Tech. Sgt. Gregory Brook/U.S. Air Force
A Four-Ship formation of F-16 Fighting Falcons fly over Shaw Air Force Base, S.C., 23 June, 2017, as part of a commemoration of the hundredth anniversary of the 55th Fighter Squadrons activation.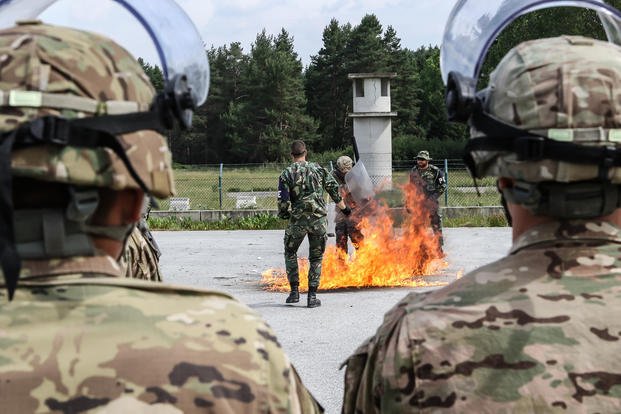 Photo by Staff Sgt. Nicholas Farina/U.S. Army
Paratroopers look on toward a fiery scene during Fire Phobia training for a Kosovo Force mission rehearsal exercise at the Joint Multinational Readiness Center in Hohenfels, Germany June 23rd, 2017.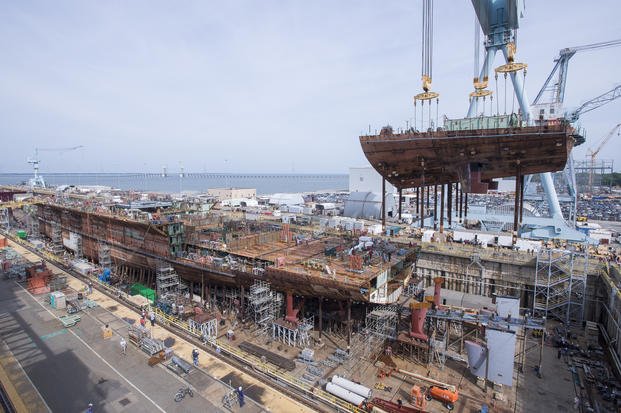 U.S. Navy photo
A crane moves the lower stern into place on the nuclear-powered aircraft carrier USS John F. Kennedy (CVN 79) at Huntington Ingalls Shipbuilding in Newport News, VA.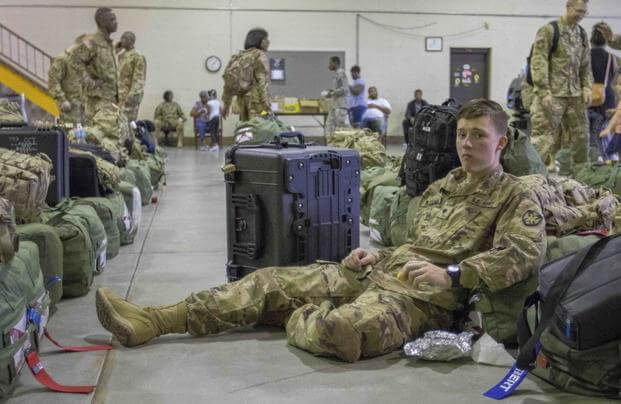 Photo by Cpl. Jaccob Hearn/135th Expeditionary Sustainment Command
Spc. Kyle Alexander, info tech specialist for the 135th ESC, enjoys his breakfast before the unit leaves Birmingham. The 135th's luggage is laid out on the drill hall floor waiting for final inspection. The rest of the day will be spent traveling to Fort Hood, Tx where they will conduct training exercises before leaving the country.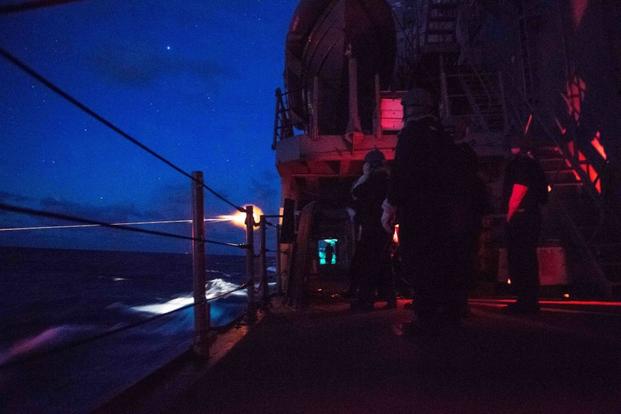 Navy Media Content Services courtesy photo
Sailors aboard the Ticonderoga-class guided-missile cruiser USS Princeton (CG 59) fire an M2HB .50-caliber machine gun during a live-fire exercise. Princeton is currently on an underway period in the 7th fleet area of operations.
Photo by Austin Anyzeski/11th Armored Cavalry Regiment
Troopers from Coldsteel Troop, 1st Squadron, 11th Armored Cavalry Regiment position their OPFOR Surrogate Vehicle to survey the battlefield from Forward Operating Base "Reno" in the National Training Center, during the 1st Stryker Brigade Combat Team, 4th Infantry Division's advancement, June 26, 2017.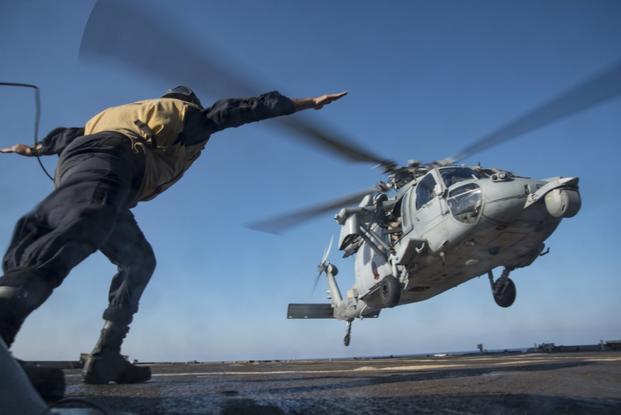 Photo by Patrick I Crimmins/Navy Media Content Services
Boatswain's Mate 3rd Class Randy Culler signals to an MH-60S Sea Hawk helicopter attached to the "Tridents" of Helicopter Sea Combat Squadron (HSC) 9 as it prepares to land on the flight deck of the guided-missile cruiser USS Philippine Sea (CG 58).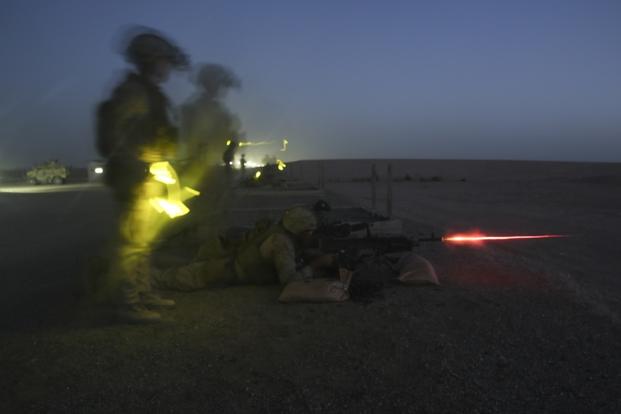 Photo by Sgt. Lucas Hopkins/Resolute Support Headquarters
A Marine with Task Force Southwest fires an M240L during a night live-fire range at Camp Shorabak, Afghanistan, June 25, 2017. Approximately 30 Marines with the unit's security force conducted a live-fire sustainment range in order to improve their weapon's handling and marksmanship skills, helping bolster their defensive posture.