Each week, Military.com searches the globe (and the internet) for the DoD's best military photos and posts them here for you.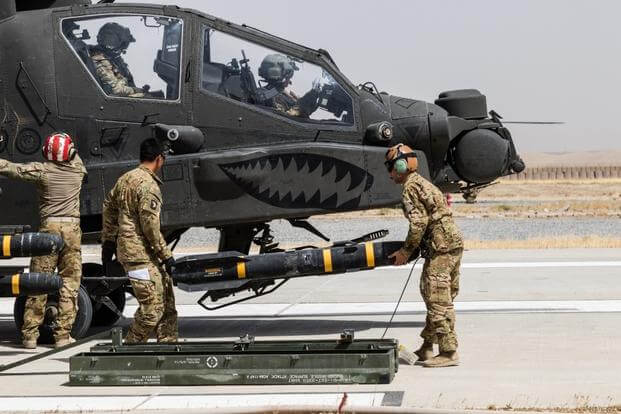 Photo by Capt. Brian Harris
U.S. Army Soldiers assigned to Task Force Griffin, 16th Combat Aviation Brigade, 7th Infantry Division load an AGM-114 Hellfire missile on an AH-64E Apache helicopter in Kunduz, Afghanistan, May 31, 2017. The Griffins are working hard to support U.S. Forces Afghanistan as part of Operation Freedom's Sentinel and Resolute Support Mission.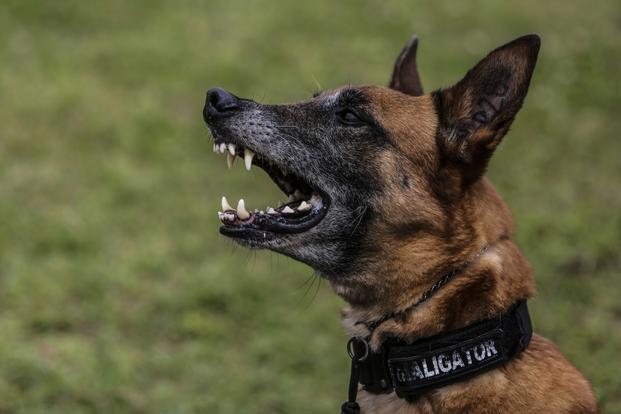 Photo by Cpl. Allison Lotz
Military Working Dog (MWD) Bbutler barks at an aggressor during training aboard Kadena Air Base, Okinawa, Japan, May 30, 2017. MWD's are trained to subdue or intimidate suspects before having to use lethal force; they are also used for detecting explosives, narcotics and other harmful materials.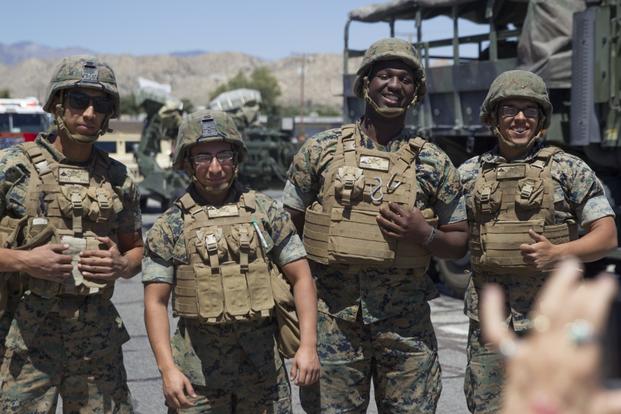 Photo by Sgt. Connor Hancock
Marines with 3rd Light Armored Reconnaissance Battalion pose for a spectator's photo during the 67th annual Grubstake Days Parade along California Highway 62 in Yucca Valley, Calif., May 27, 2017. The town holds the annual Grubstake Days festival to commemorate the mining heritage of the Yucca Valley community.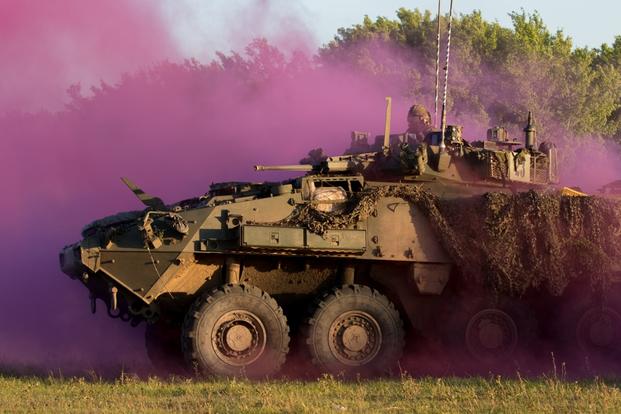 Photo by Spc. Elizabeth Scott
Canadian soldiers from 1st Battalion, The Royal Canadian Regiment, Bravo Company, advance on a town held by 1st Battalion The Royal Canadian Regiment, Duke's Company during a simulated battle in Exercise Maple Resolve 17 at Camp Wainwright in Alberta, Canada, May 28, 2017. Exercise Maple Resolve is an annual collective training event designed for any contingency operation. Approximately 4,000 Canadian and 1,000 service members from the U.S., Britain, Australia, New Zealand, and France are participating in this year's exercise.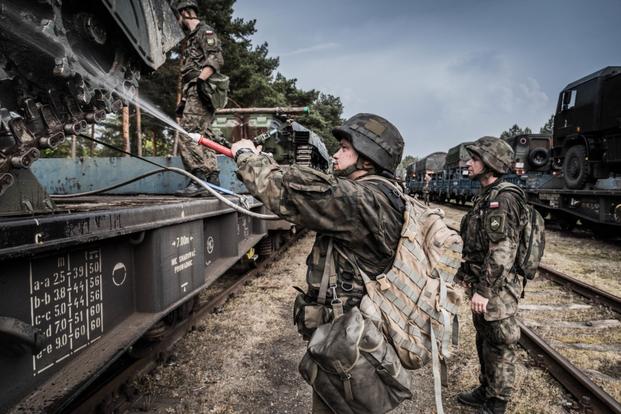 Courtesy Photo: Allied Joint Force Command Naples
Polish soldier from the 10th Armoured Cavalry Brigade hoses down a Polish BWP-1 fighting vehicle. Dozens of Polish military vehicles have been loaded onto trains in Poland. They're being transported to Cincu in Romania for an upcoming NATO exercise. Noble Jump 2017 will test the readiness of NATO's Very High Readiness Joint Task Force (VJTF). Around 4000 troops from nine NATO countries are taking part. They include Albania, Bulgaria, Germany, The Netherlands, Norway, Poland, Spain, Romania and the United Kingdom.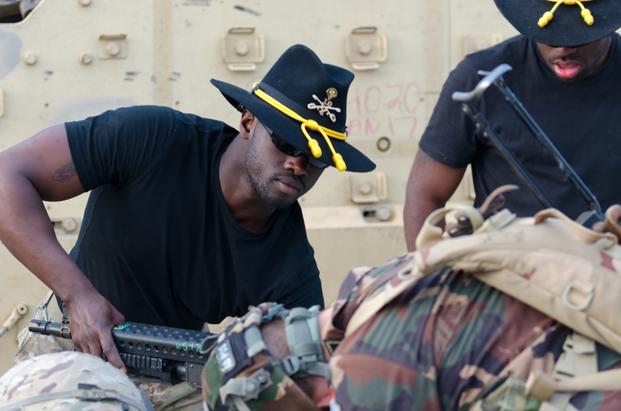 Photo by Capt. John Strickland
Apache Troop, 4th Squadron, 10th Cavalry Regiment conducts a spur ride May 30 - June 1, 2017 in Tata, Hungary including their Hungarian Allies to test soldiers on their cavalry skills, build esprit de corps among the troop and alliance, and a chance to earn silver spurs. The troop is currently deployed to Hungary in support of Operation Atlantic Resolve, a U.S.-led effort to strengthen the alliance and demonstrate its commitment to NATO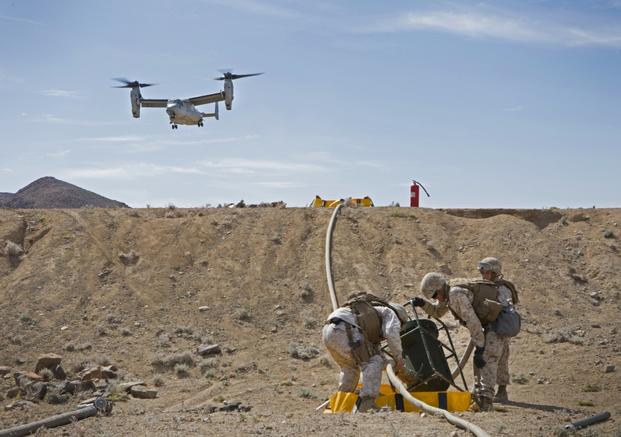 Photo by Lance Cpl. Mark Lowe
Marines with Marine Medium Tiltrotor Squadron (VMM) 363 conduct an air delivery ground refueling (ADGR) exercise at a Marine Wing Support Squadron (MWSS) 373 field aircraft refueling point (FARP) during Integrated Training Exercise (ITX) 3-17, at Marine Corps Air Ground Combat Center Twentynine Palms, Calif., May 30. ITX is a combined-arms exercise enabling Marines across 3rd Marine Aircraft Wing to operate as an aviation combat element integrated with ground and logistics combat elements as a Marine air-ground task force. More than 650 Marines and 27 aircraft with 3rd MAW are supporting ITX 3-17.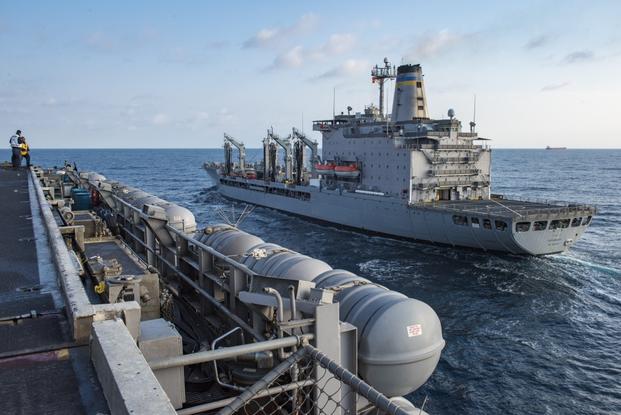 Courtesy Photo: Navy Media Content Services
The Henry J. Kaiser-class fleet replenishment oiler USNS Rappahannock (T-AO 204) pulls alongside the Nimitz-class aircraft carrier USS Carl Vinson (CVN 70). The U.S. Navy has patrolled the Indo-Asia-Pacific routinely for more than 70 years promoting regional peace and security.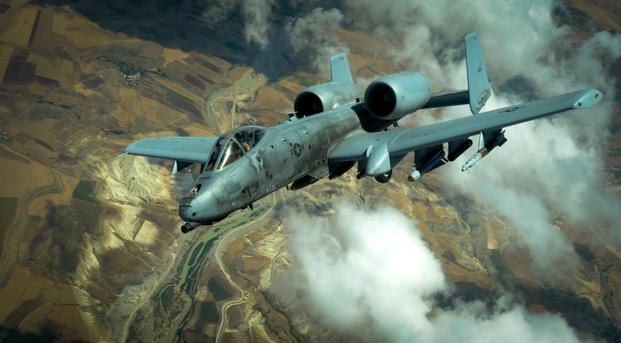 Photo by Staff Sgt. Michael Battles
A U.S. Air Force A-10 Thunderbolt II departs after receiving fuel from a 908th Expeditionary Air Refueling Squadron KC-10 Extender during a flight in support of Operation Inherent Resolve May 31, 2017.The aircraft can loiter near battle areas for extended periods of time and operate in low ceiling and visibility conditions. The wide combat radius and short takeoff and landing capability permit operations in and out of locations near front lines.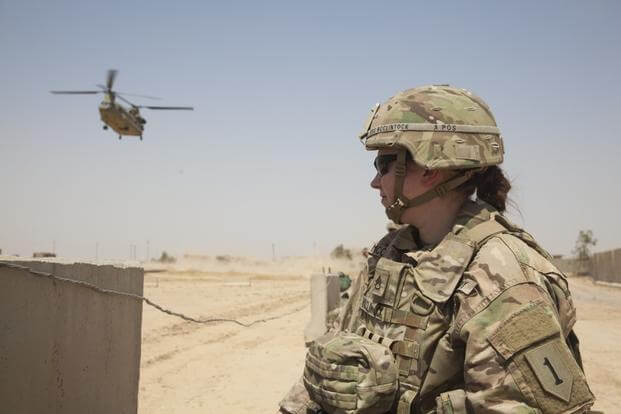 Photo by Cpl. Rachel Diehm
U.S. Army Staff Sgt. Heidi McClintock, deployed in support of Combined Joint Task Force-Operation Inherent Resolve and assigned to the Main Command Post Operational Detachment, 1st Infantry Division, waits for a CH-47 Chinook to land at a tactical assembly area near Mosul, Iraq, May 29, 2017. More than 60 Coalition partners have committed themselves to the goal of eliminating the threat posed by ISIS in Iraq and Syria and have contributed in various capacities to the effort. CJTF-OIR is the global Coalition to defeat ISIS in Iraq and Syria.