Looking for Genuine American Heroes to Celebrate the Anniversary of the Liberation of Rome and D-Day on June 5 and 6, 1944? Meet WWII Commander R.T. Frederick and his Devil's Brigade.
In Altar of Resistance, Book 2 of his WWII Series, Historical Suspense Author Samuel Marquis chronicles the legendary General Robert T. Frederick and his crack "Devil's Brigade." The hard-fighting, colorful Special Forces' unit took part in the Italian Campaign of 1943-1944 and was the first Allied unit to liberate Rome on the eve of D-Day.
Every American knows what happened on June 6, 1944. Even history-challenged teenagers who think Lincoln was our first president know D-Day was the epic battle of WWII, right? Except it wasn't. Sure, it was a monumental defining moment that will live on in glory for the Allied nations that took part in it for all eternity, but it was not the greatest battle of WWII (that distinction belongs to Stalingrad or Kursk), nor did it involve the best fighting general of the war or its best fighting outfit. Because both happened to be in Italy driving back Field Marshal Kesselring's Wehrmacht army and liberating Rome. They weren't even on the beaches of Normandy.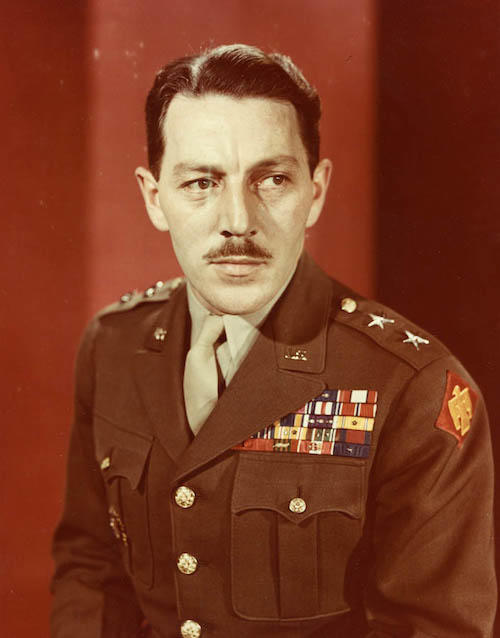 General Robert T. Frederick
So who was this field commander that no less than Churchill himself called him "the greatest fighting general of all time," and who was this crack outfit that the Germans nicknamed 'Schwartzer Teufel'—the Black Devils—because they crept in silently at night with blackened faces, baggy cargo pants, and 16-inch battle knives and slit the throats of the enemy. The black-faced commandos that struck fear in the hearts of Hitler's finest were commanded by Colonel (later General) Robert Tyron Frederick and belonged to the illustrious First Special Service Force. The joint American-Canadian brigade trained in Helena, Montana, saw its initial WWII service in Alaska, and fought pitched battles against the Nazis during the Italian Campaign of 1943 and 1944, including the Battles of Monte La Difensa and La Remetanea, Anzio, and Rome.
Specifically trained for cold weather insertion, mountain combat, and covert operations behind enemy lines, the Devil's Brigade would become one of the most celebrated units on either side in the Second World War—though few know about them today. They scared the holy crap out of the vaunted Hermann Göring Division and other crack German outfits, especially when they snuck in with blackened faces in the dark of night. The modern American and Canadian Special Forces trace their heritage to this colorful and deadly combat unit that struck fear into the hearts of the Krauts during WWII. In 2013, the United States Congress passed a bill to award the First Special Service Force the Congressional Gold Medal; the living members of the legendary unit officially received the medal on February 3, 2015.
The 2,500-man Force—made up of two-thirds Americans and one-third Canadians— reflected the leadership, adventurism, and humanity of the unit's beloved, thirty-six-year-old commander. Frederick—a 1928 West Point graduate known for his mediocre record as a cadet in the grand tradition of Ulysses S. Grant and George S. Patton —was a bit idiosyncratic and his troops seemed to like him for it. It was rumored that he had made his first parachute jump after only ten minutes of instruction wearing bedroom slippers, and that in combat the only things he carried with him were his rifle, Nescafe, cigarettes, and a hand-written letter in Latin from the bishop of Helena, commending him as "altogether worthy of trust." The youngest general to command a division-size unit in WWII, he was awarded two Distinguished Service Crosses and several other decorations, and it was said that his men worshipped him because he shared the same hardships as they did, led from the front, and never blamed them when things went poorly. Indeed, many Devil's Brigade veterans say they would have followed him to hell and back if he had asked them.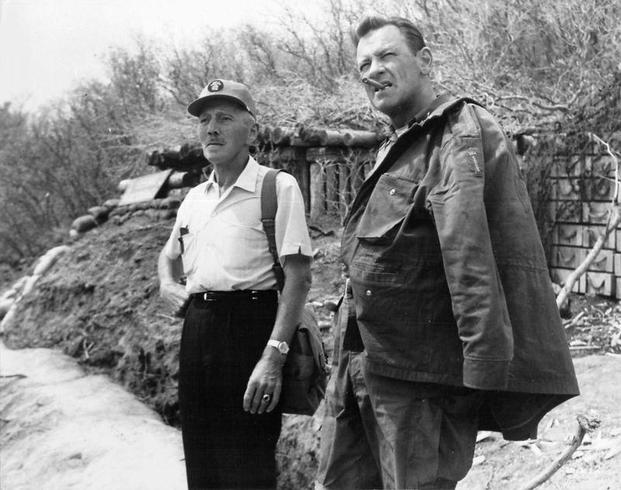 Robert T. Frederick and William Holden on the set of "The Devil's Brigade" (1968).
Many people know about D-Day and the Battle for France and its legendary cast of characters: names like Eisenhower, Rommel, Patton, and Montgomery and places like Omaha Beach and the Falaise Pocket resonate with us as the Allied Armies stormed the beaches of Normandy, stalled, eventually broke out, and then raced across France behind Patton's Sherman tanks. But we should also know the story of Frederick, the joint American-Canadian First Special Service Force, and the Italian Campaign, one of the bloodiest and fiercest of the war. As eminent WWII historian Carlo D'Este said to commemorate the general and his Devil's Brigade: "He was one of the most respected and fearless American commanders, and his accomplishments in organizing and commanding the Anglo-Canadian First Special Service Force were unparalleled…Frederick was the heart and soul of his unit and the right man for the very difficult task of creating and training the most successful unconventional unit ever fielded by the United States Army in World War II."
So this Memorial Day and June 5 and 6—the 73rd anniversary of the liberation of Rome and D-Day —pay homage to a true and largely unknown American hero and a legendary fighting outfit to which we owe our freedom: General Robert T. Frederick and his Devil's Brigade.
---
Samuel Marquis is a bestselling, award-winning suspense author of a WWII Series, the Nick Lassiter-Skyler International Espionage Series, and the Joe Higheagle Environmental Sleuth Series. His thrillers have been #1 Denver Post bestsellers, received multiple national book awards (Foreword Reviews' Book of the Year, USA Best Book, Beverly Hills, Next Generation Indie, and Colorado Book Awards), and garnered glowing reviews from #1 bestseller James Patterson, Kirkus, and Foreword Reviews (5 Stars). Book reviewers have compared Marquis's WWII thrillers Bodyguard of Deception and Altar of Resistance to the epic historical novels of Tom Clancy, John le Carré, Ken Follett, Herman Wouk, Daniel Silva, and Alan Furst. Mr. Marquis's newest WWII-based thriller, The Fourth Pularchek, will be released on June 6, 2017, on the 73rd anniversary of D-Day. His website is www.samuelmarquisbooks.com.