PBS will present its 28th annual broadcast of the National Memorial Day Concert on Sunday May 28 at 8pm ET. Returning co-host Joe Mantegna will be joined by Laurence Fishburne, as long-time co-host Gary Sinise will be presenting a special WWII tribute during the program.
There will also be appearances by General Colin L. Powell, USA (Ret.), Renée Fleming, Vanessa Williams, Auli'i Cravalho, Scotty McCreery, Five For Fighting, John Ortiz, Christopher Jackson, Ana Ortiz, Ronan Tynan, Russell Watson, Maestro Jack Everly and the National Symphony Orchestra.
The concert will also be rebroadcast immediately after its live airing at 9:30pm ET. In addition, the concert will be live-streamed on Facebook Live and at www.pbs.org/national-memorial-day-concert and available as PBS Video on Demand for a limited time, May 28 to June 10, 2017.
Joe Mantegna currently appears as FBI BAU Supervisory Special Agent David Rossi on the CBS drama Criminal Minds. He's had a long and successful acting career with highlights including the David Mamet film House of Games, the underrated metalhead comedy Airheads and his role as Joey Zasa in The Godfather: Part III. Joe's been part of the concert for many years now and he took a moment to reflect on the meaning of Memorial Day and why he keeps coming back.
Joe Mantegna and 2017 co-host Laurence Fishburne.
You've been doing this concert for quite a few years now.
Yes, this will be my fifteenth year.
What keeps you coming back?
The first time I did it fifteen years ago had such an impact on me that it cast the die for it. I went into it as a favor, basically, for my dear friend Charlie Durning, who was a World War II veteran. I had a lot of military in my family but Memorial Day did not have any particular significance to me. It was what it was, but I didn't lose any family at all in any conflict.
Memorial Day all has the Indianapolis 500 and a three day weekend that starts off the summer. Back then, it didn't have any particular significance above and beyond that. When I did that concert that first time, it opened my eyes to the significance of that holiday, to the point where I now believe that Memorial Day is our most important holiday because it's the one that ensures us the ability to have all the rest of them.
Once I was there and experienced the concert with hundreds of thousands of people in attendance, I understood. Making visits to the hospitals and just talking to different people and being in DC -- it's hard to explain, but I think everybody who has done it in some way comes away with similar kinds of feelings.
A lot of civilians don't seem to be able to distinguish between Veteran's Day and Memorial Day.
I guess the short answer is one is a date to take the time off to be grateful for those who served actively. We're talking about Veteran's Day, honoring those who are still with us. Memorial Day is much more somber and reflective, a day to think about what our military has done from the very beginning, going back to the Revolutionary War.
There are always going to be certain holidays that they affect certain segments of our society with more impact than others. Memorial Day is our nation's holiday and we all need to be grateful for the sacrifices that our military has made. Without Memorial Day, it kind of negates all the other holidays otherwise.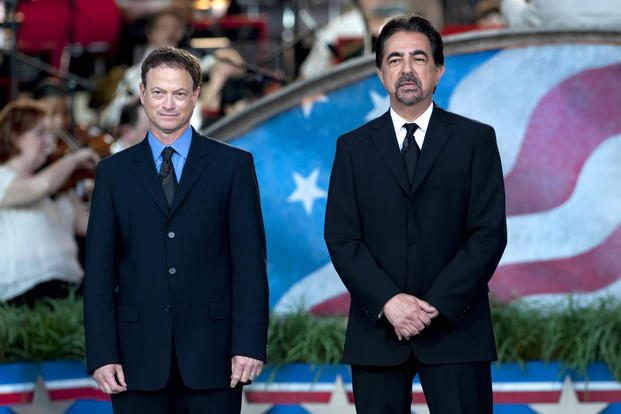 Actors Gary Sinise and Joe Mantegna co-host the 2011 National Memorial Day Concert at the U.S. Capitol in Washington, D.C. on May 29, 2011. (Department of Defense photo by Mass Communication Specialist 1st Class Chad J. McNeeley/Released)
Are you from an immigrant family?
Both my parents were born in the United States, but all my grandparents were.
Does growing up with an immigrant's perspective give you a different attitude towards the country?
Oh, absolutely. I'm calling you right now from Oklahoma. Over these last few days we've been doing some filming on the farm that my grandfather bought in Krebs, Oklahoma after working five years in a coal mine from 1907 to about 1912. He bought this 50-acre farm from the Choctaw Indians. He and a lot of other immigrants from this one part of Sicily all settled in the same place.
It was very sobering for me to be there at his gravesite. There's this tombstone that's all written in Italian here in Oklahoma. My father used to talk endlessly about his memories of growing up in Oklahoma, with his dad dying young due to an appendicitis attack on the farm. My grandmother had to wrangle up seven kids and take them all to Chicago, where she had family. They couldn't all live on the farm. The kids were too little.
But the farm is still in our family to this day. Here's this Mantegna farm, 50 acres, in Krebs, Oklahoma, just outside McAlester, that is a testament to what immigrants have done and what they've came here to do and what the result of it is.
Here I'm the direct result of the fact that this little Sicilian man back at the turn of the century decided to get on a boat and come to this country where they told him, yeah, you can work and you can get land and become a landowner. That was a big deal.
%embed1%
Over the last few years, there seem to be factions on all sides in this country who try to make things more divisive. Do you see this concert as an opportunity for everyone to share in a patriotic event?
I certainly do because, first of all, I'm not political at all. I've been an independent all my life. I don't affiliate with any particular political party because I try to align myself in many ways to what the military has to do. The military has to follow the leadership of the commander in chief, whoever it may be. You hope that the people who are making these decisions and their advisors are doing it with the best possible knowledge and purpose and ability.
Memorial Day is not a day of thinking about politics. You can't say to yourself, oh, I'm kind of down on this because I'm not a fan of whatever political party or person is predominant at that time. This is a memorial for our nation, which allows us to be a country where we have the ability to make choices. If, after a certain amount of time, we don't like the way things are, we have the ability to vote and change things. That's what our constitution is all about and that's what makes our country as great as it is and makes us unique compared to other countries on this planet.
Even with our flaws, we are the role model the way a country should be. I do think the concert should be an event that helps put our divisiveness aside at least for that day where we can collectively give thanks for the sacrifices that have been made.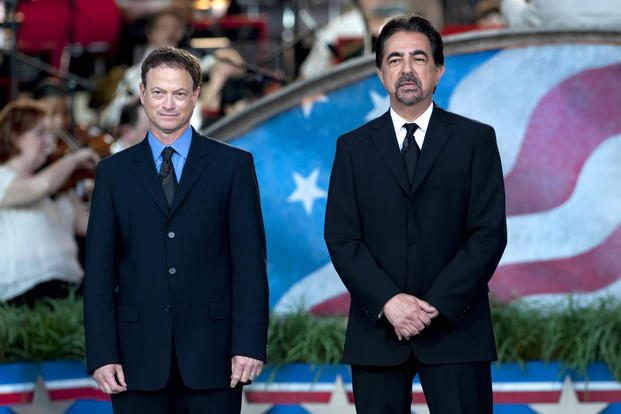 For people who watch the concert every year, is there anything that's happening that's new, that they should keep an eye out for?
It always amazes me because every year I never know exactly how it's going to go. Every year I'm blown away by just the impact that it has. The program always seems to work, a combination of dramatic readings and music. Just being there, just having this multitude of people all there for the same purpose, it generates its own power.
When you watch it on PBS, they do a wonderful job. With the National Symphony Orchestra and the setting on the west lawn of the Capitol, we're on the stage just staring at the Capitol building and it's all lit up and the flag is flying. If that doesn't get to you, then you have no blood in your veins.
I would say is to people who have never seen it, just give it a shot. It's only 90 minutes long. You know you've been given the luxury of having a 3-day holiday weekend. I think it's only fair that you take 90 minutes out of that holiday weekend to sacrifice this amount of time out of respect for why we have this holiday.
I'm not saying you have to watch the show. If you turn it on and it doesn't do it for you after 10 minutes, go ahead, go barbecue, go do what you want to do. If you've never seen it, just check it out. Hopefully, what will happen to you is what happened to me, that you experience it and you say to yourself, "Wow, so this is why we have Memorial Day."
I get emails all the time from people who now make it an annual family thing to do. So that's what I would say, give it a shot.