Senior advisor to President Trump Jared Kushner has been called the "Shadow Secretary of State." The 36-year-old Harvard graduate is a lifelong Democrat who's married to the president's daughter (and fellow advisor) Ivanka Trump.
Jared Kushner arrives at the Ministry of Defense in Baghdad. (AP)
The White House sent Kushner to Iraq this week. Instead of Secretary of State Rex Tillerson or National Security Advisor Lt. Gen. H. R. McMaster, young Jared is the first senior Trump administration official to visit to visit the country. Kushner spent time with Iraqi government officials and visited a forward operating base near Qayyarah West.
Jared Kushner at a forward operating base near Qayyarah West in Iraq. (Chairman of the Joint Chiefs of Staff/Flickr)
Obviously, President Trump trusts his son-in-law's insight and advice, perhaps more than he values the insights of his own Cabinet. That's not the question here today, though.
Let's talk about fashion. It's jarring to see a flak vest worn with the standard "casual Friday" Ivy League ensemble of khaki trousers, blue blazer and pale blue Oxford button-down. Kushner's trying to dress it down by skipping the belt and tie, but the overall look is something we haven't seen before.
U.S. Secretary of State John Kerry waits in a helicopter in Baghdad September 10, 2014. Kerry arrived in Baghdad on Wednesday as he began a tour of the Middle East to build military, political and financial support to defeat Islamic State militants controlling parts of Iraq and Syria. (REUTERS/Brendan)
Well, that's not exactly true. Fellow Harvard grad John Kerry rocked a flak jacket with a suit and power tie back in 2014 and that looks even weirder.
What do you think? Should civilians make more of an effort to blend in a war zone? Or should guys who live in blazers and suits not try to make the effort to blend in? Or should our leaders and their advisors be enthusiastic about the chance to kit up? Sound off!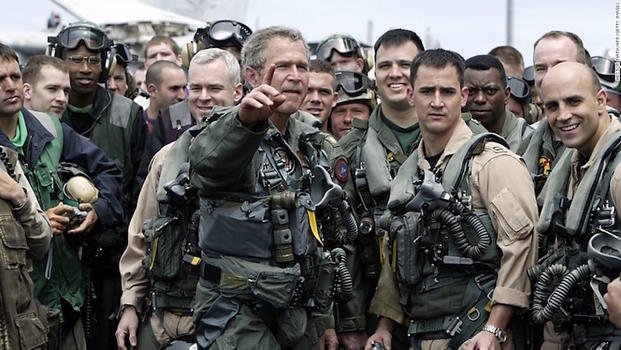 US President George W. Bush meets pilots and crew members of the aircraft carrier USS Abrahan Lincoln as they return to the US after being deployed in the Gulf region 01 May 2003. President Bush landed on the aircraft carrier which is scheduled to dock in San Diego 02 May. Bush in a speech to be delivered from the ship is expected to tout Saddam Hussein's ouster as "a crucial advance" in the war on terrorism but warned "difficult work" lies ahead in that campaign and in Iraq. AFP PHOTO / HECTOR MATA (Photo credit should read HECTOR MATA/AFP/Getty Images)