While competing in the 2017 Boston Marathon, retired U.S. Marine Jose Luis Sanchez carried a U.S. flag signed by fellow Marines for most of the 26.2 race. Sanchez lost the lower part of his left leg when he stepped on an IED in 2011 while serving in Afghanistan.
The flag was a gift from his unit and flew at every location during their tour of duty. Five years after receiving it, Sanchez opened the folded flag and read the messages while he was battling PTSD. He resolved to display the flag in honor of their sacrifices.
"Then instead of putting it away, I wanted to fly flag the flag again in their honor, for everyone's sacrifices," Sanchez told the station. "It wasn't for me; it's for everyone that's here fighting day in and day out."
Intense exercise has helped Sanchez recover from his injuries. "I was like I'm not gonna let this beat me, dude. I used that to fuel my drive," he said to Boston's WBZ. "Never again am I going to feel sorry or feel these emotions. I'm not gonna feel weak anymore. At that point, I never looked back."
Sanchez ran the marathon as a part of Team Semper Fi, a nonprofit organization that helps service members who are dealing with life-changing injuries, post-traumatic stress or critical illness. He completed the race with a time of 05:46:13.
Boston had its fourth successful Boston Marathon since the 2013 terrorist bombing that shut down the city and inspired the recent film Patriots Day. The holiday, always an important one in the cradle of the American Revolution, has taken on an even deeper resonance for citizens of New England in the years since the attack.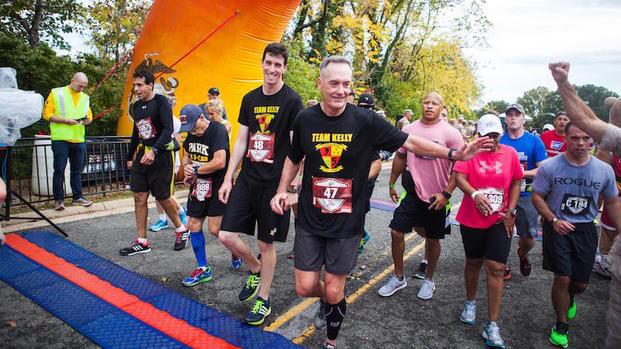 Marine Gen. Joseph Dunford, the chairman of the Joint Chiefs of Staff, completes the 40th Marine Corps Marathon at Arlington, Virginia, Oct. 25, 2015. This year's participants joined the 512,370 runners, who have completed the "Marathon of the Monuments" since its inaugural event in 1976.
Boston native and U.S. Marine Corps General Joe Dunford, chairman of the Joint Chiefs of Staff, also competed in the Patriots Day event. The 61-year-old completed the race at 04:50:25.