Rogue One: A Star Wars Story is definitely the movie that puts the "war" into "Star Wars" and the Army & Air Force Exchange Service has teamed up with Walt Disney Studios to present special screenings for troops stationed in Iraq, Afghanistan and Jordan.
Rogue One will premiere on Dec. 16 in Baghdad, Iraq, and Bagram, Afghanistan, the same day the movie officially opens back home in the States. Additional showings in Iraq will follow at Union III on Dec. 17, Baghdad Diplomatic Support Center on Dec. 18, Erbil on Dec. 19, Taji on Dec. 20 and Al Asad on Dec. 22. The movie will also screen at the King Abdullah Special Operations Training Center in Jordan on Dec. 18. Contact each location for full screening details.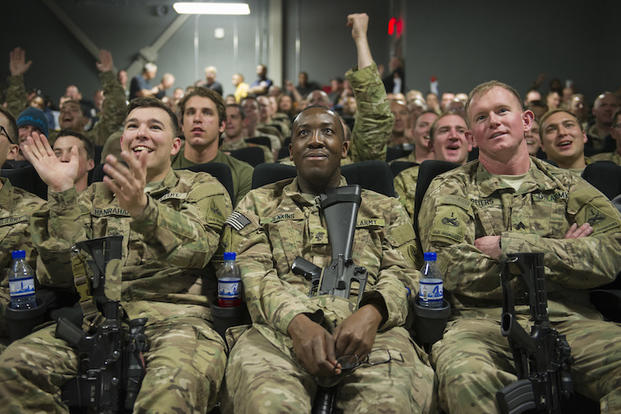 Service members deployed to Bagram Air Field, Afghanistan, clap and cheer as they prepare to view first showing of "Star Wars: The Force Awakens," here, Dec. 22, 2015. The Army & Air Force Exchange Service partnered with Walt Disney Studios to give service members a chance to see the movie in a deployed location. (U.S. Air Force photo by Tech. Sgt. Robert Cloys)
U.S. Army Col. Geoff De Tingo, Exchange Europe Region Commander predicts that the screenings will be a success. "Last year's screening of Star Wars: The Force Awakens for deployed troops was very well received. We are excited to once again be able to offer a much-needed break from the harsh day-to-day reality these service members face while on deployment."
%embed1%
How's the movie? Writing about "Star Wars" is like writing about religion: no matter what you say, you're going to offend someone's closely held beliefs. At the advance screening I saw, a few hardcore George Lucas fans were not pleased, but they were the kind of guys who like to pretend that Episodes 1-3 are just as good as the other movies.
Rogue One is the first standalone "Star Wars" movie and there definitely won't be a sequel. Everything takes place leading up to where Episode 4 begins (its ending seems to be happening just moments before the events at the beginning of real Star Wars). Short, spoiler-free plot: a small band of rebels is tasked with stealing the plans to the Death Star because there's a flaw in the system that might allow them to neutralize the threat.
And, probably to the dismay of toy collectors and Clone Wars cartoon viewers worldwide, this is a real war movie, one that examines the gray areas that are hardwired into any resistance force. There's regret for extreme acts of violence, suspicion about who's really supporting the cause and who's in league with the Empire and disputes about just how far the Rebel Alliance should go to stop the Empire. Acts of war have real consequences and the fates of [REDACTED NUMBER] of major characters could be traumatic for 6-year-old fans (and probably more than a few of those 40-year-old, unmarried collector fans).
Jyn Erso (Felicity Jones) is the daughter of Galen Erso (Mads Mikkelsen), the scientist whose research is making the Death Star possible. He tries to run away with his family but the project director Orson Krennic (Ben Mendelsohn) tracks him down, kills his wife and drags him back to work. Jyn hides and is rescued and raised by rebel leader Saw Gerrera (Forest Whitaker).
As an adult, the rebels rescue Jyn (now a petty criminal) from custody after defecting Empire pilot Bodhi Rook (Riz Ahmed) claims he has a message from her father and that he can tell them how to destroy the Death Star. The rebels want her to get them in to see Gerrera to find out where Galen Erso is working. A rebel band, led by Cassian Andor (Diego Luna) and Jyn comes together to locate Galen and retrieve the plans. There's also K-2SO (voiced by Alan Tudyk), a reprogrammed Empire droid who tends to say whatever pops into his head: his constant updates on mission status provide the movie's funniest moments.
All of this is an elaborate setup for a Dirty Dozen-style WWII heist movie: an unlikely band of soldiers is tasked with an impossible mission. The battle scenes are far more intense than anything seen in earlier "Star Wars" movies and discussions about freedom vs. security are highlighted by a story that offers support for both sides.
An unintended consequence of this darkest "Star Wars" movie is that the sacrifices and consequences of actions by the characters in Rogue One will likely influence your response to the original three Star Wars movies the next time you see them.
Fair warning for hardcore Star Wars fans: Grand Moff Tarkin plays a big part in this movie, even though actor Peter Cushing died in 1994. How you respond to his appearance may influence your reaction to the movie.
Rogue One doesn't exactly fit into the "Star Wars" tradition. The Force Awakens now seems like an elaborate audition tape, something to prove to the fans that the new regime understood "Star Wars" fans more than George Lucas did when he returned to make Episodes 1-3. Director Gareth Edwards (who nails the battle scenes) and writers Chris Weitz and Tony Gilroy offer the first truly outside perspective on the material to arrive in movie form. "Star Wars" can handle it and there's reason to hope that Disney and Lucasfilm will continue to take chances and open up the stories even more as they gain confidence with the series.