Star Trek Beyond is out now on home video. There's a vast array of Blu-ray, DVD, 3D Blu-ray, 4K and Digital HD options, many with retailer-exclusive packaging and special features. You can check out the full array here.
The third film in the contemporary series reboot was directed by Justin Lin (movies 3-6 in the Fast & Furious series) and feels more like a big-budget version of the original series than any film to date.
We got a chance to talk with Andrew M. Siegel, the movie's prop master about what exactly he does on a movie set, how he got into the business and why men and women with military training have skills that should help them succeed in a film career.
When you were a kid, was Star Trek a big deal to you? Was it an inspiration for what you're doing now?
It's one of those iconic movie franchises, that if you do what I do, you certainly would love to be a part of it. I've been really fortunate enough to get to do two movies.
How does someone become a prop master for the movies?
In my case, I volunteered for things I didn't know how to do, and then I kept telling people I could do things and then I actually learned how to do them while I was doing them. You just keep saying, yes, you can, yes, you can, yes, you can. No one can really train you how to do this. There aren't that many people who do what we do, so it's not like there's a school for being a prop master. This job is pretty much just trying to figure out how to solve problems. If you're a good problem solver, you're probably the right fit for the movie business.
%embed1%
Your first credit on IMDB is a job working on "Pee-wee's Playhouse."
Yes. Again, that's another job that I was totally unqualified for that I managed to talk them into hiring me on. I was very lucky and I was playing in a band with a guy who was a PA on Peewee's Playhouse. I went to visit him on the set and then the next day the on-set prop guy quit and I just kept saying, "Yeah, I've done that, yeah, I've done that." And I kept saying that until eventually they hired me.
I think it took a few days before they realized that I didn't know how to do anything that they were doing, that I needed to do, but I was trying really hard.
What exactly are your responsibilities on a set? What's different for you than for everybody else in the art department?
The prop master is responsible for anything the actor touches, which can vary wildly. And the most important distinction for my job is that we have to interact with everyone else on the set. We have to interact with the art department on where props come from and go to, with costumes to figure out where props can fit in a scene and still let the actor look good.
If you do a military movie, military equipment is functional, not necessarily glamorous, so you have to try to bridge that gap and make the actors look really good doing what they're doing and help make the costumes look good if props have to go on a costume. You have to interact with special effects and make things work for them and you have to give the digital guys enough of a prop to work with when they take over the reins and digitally make a prop do something that it can't really do.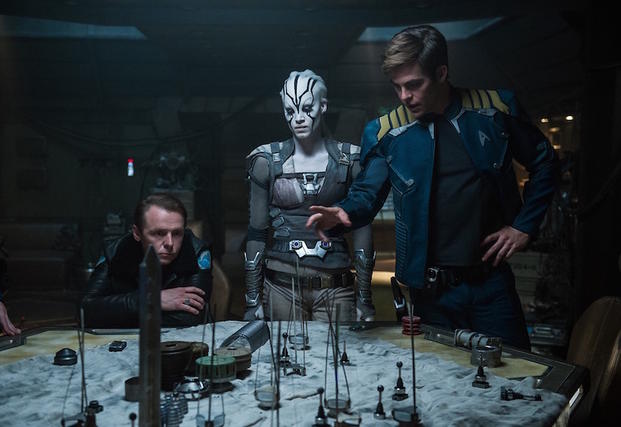 Left to right: Simon Pegg plays Scotty, Sofia Boutella plays Jaylah and Chris Pine plays Kirk in Star Trek Beyond from Paramount Pictures, Skydance, Bad Robot, Sneaky Shark and Perfect Storm Entertainment
If one of our readers thinks your job sounds interesting, what's the strategy for finding their way into your career?
It's really just about relentlessly contacting people and saying, "Hey, I'd like to do this." The thing about the movie business is that there's a lot of turnover and people move up and around and move onto another project and then they're unavailable. If you work for somebody on a student film or a low budget film and do a good job, you've met a hundred new people. If one of those people goes onto something bigger and better, then hopefully they take you with them.
That's kind of what happened to me. The Peewee's Playhouse thing turned into something, then I went onto The Abyss and I worked for six different companies on The Abyss because I would just meet somebody and chat them up and figure out what their next job was and go from there.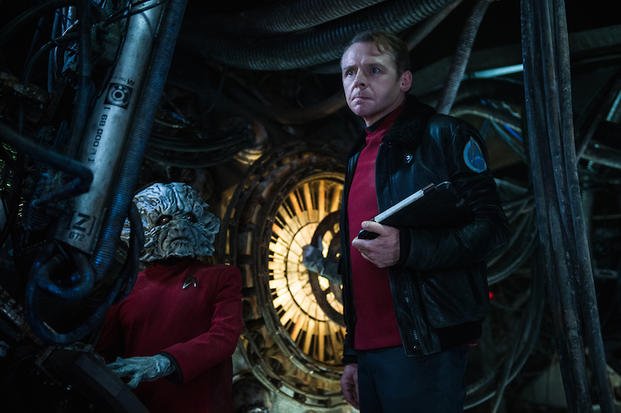 Left to right: Deep Roy plays Keenser and Simon Pegg plays Scotty in Star Trek Beyond from Paramount Pictures, Skydance, Bad Robot, Sneaky Shark and Perfect Storm Entertainment
Would you say that any state that has a lot of film and TV production is a place to find your way into the business or is it still a good idea to go to the hubs or New York or L.A.?
Atlanta is certainly a very busy place for film and movie production right now. And the busier it is, the more likely it is that films need people. You may not necessarily find the job that you're looking for, but the movies are always looking for people who are driven, who are good problem solvers, and can get along with a lot of people.
If you go to a place like that, you can probably find — union restrictions notwithstanding — a position and see how that works out and see if you like it, see if you're a good fit, and make the best of it. Your readers are probably people who know how to solve a problem and know how to make decisions and can figure out a path forward in that kind of activity.
We're always looking for people who can follow an instruction and complete a task. We need people who can think outside of the box and come up with a creative solution to a problem because props on a movie are different every day. You're always learning about something that you had no idea existed. You have to be able to figure it out and find the best solution for that particular situation for that particular scene.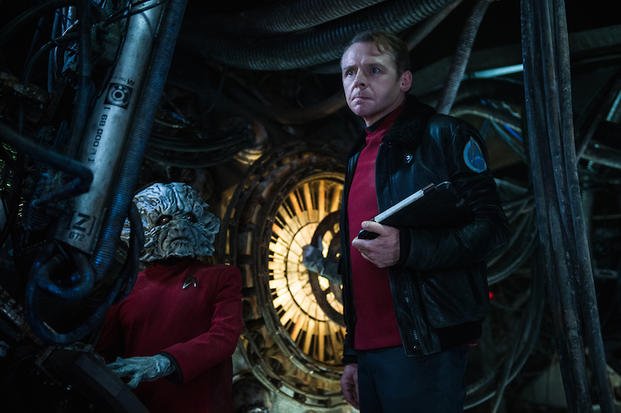 You've worked on two different Star Trek movies with two directors (J.J. Abrams and Justin Lin) with contrasting styles. How different were the experiences on the two pictures?
They were very different. J.J. and Justin are both really, really great collaborators and they welcome opinions. They're very helpful when they're trying to get you to help them achieve what they need to achieve for the movie. The big different is J.J. is very verbal and Justin is not.
That's one of the challenges in working on a movie. I think this goes back to one of your earlier questions. You have to learn how to read the room and figure out how you can help understand the person you're working for so you can do a better job for them. Those two guys are very different, but their process leads both of them to the same place, which is ultimately to make the best film possible.
It was also very different because of the time frames of the two films. We had a very limited production process on Beyond, which meant we had to move very quickly. I was very lucky that sort of all the skills we developed on Star Trek Into Darkness really came into play when we did Beyond. It really helped us out and enabled me and my crew to do as good a job as we did.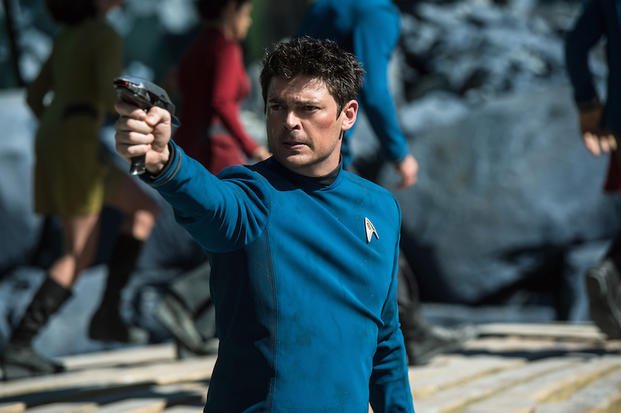 Karl Urban plays Bones in Star Trek Beyond from Paramount Pictures, Skydance, Bad Robot, Sneaky Shark and Perfect Storm Entertainment
Star Trek has a lot of fans in the military.
When we started on Into Darkness, one of costumer supervisors, Jim Tyson, suggested something that really made sense. We based a lot of the Federation uniforms and rankings on the Navy. That was really helpful to give us the structure for Starfleet.
I then went on to do a couple of shows that interacted with the Navy, which was awesome. All that knowledge really helped in putting together the world of Star Trek. If you think about the Federation as a big naval organization, it makes a lot of sense and it helps give you perspective.
You worked with the Navy? Which shows?
I prepped for another prop master on Battleship. So we toured a couple of ships and we worked with the Navy a lot. Then I worked on the pilot for The Last Ship. We got to film on a destroyer and that was a phenomenal experience. I really loved working with the Navy on that. They were great.