"Hacksaw Ridge" brings yet another story of little-known World War II bravery to the screen, this time telling the story of Army medic Desmond Doss, who received the Medal of Honor for his actions during the fighting on Okinawa to take Hacksaw Ridge with the 77th Infantry Division in April 1945.
The medic singlehandedly removed more than 70 injured men from the field of battle after his unit fell back. The twist is that Doss was serving as a conscientious objector and refused to handle a weapon. His acts of heroism were carried out without any means of self defense.
Director Mel Gibson returns to filmmaking after a ten-year absence and Hacksaw Ridge is a reminder of just how good he can be at staging action and battle scenes. Andrew Garfield gives a memorable performance as Doss and the British actor executes an incredibly convincing (i.e. not embarrassing) Southern accent.
Gibson performs a masterful act of misdirection with the movie. The first 70 minutes or so play like an incredibly old-fashioned Hollywood war picture. Young Desmond and his brother Hal are being raised in rural Virginia by loving parents played by Hugo Weaving and Rachel Griffiths. Weaving's Tom Doss is a World War I veteran haunted by his service and the deaths of his childhood friends. The family attends a Seventh-day Adventist church and young Desmond adopts their non-violent beliefs.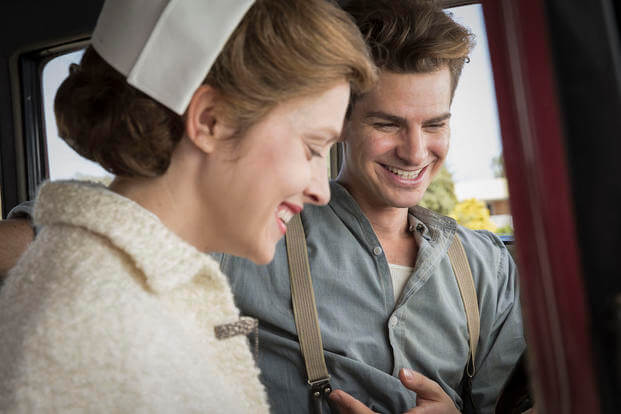 As a young man, Desmond falls in love with a young nurse named Dorothy Schutte whose career will inspire his future military service. When World War II breaks out, Hal Doss immediately signs up to serve and enrages his father. After his brother and most of the town's other young men enlist, Desmond decides to enlist as a conscientious objector and the Army recruiter assures him that won't be a problem.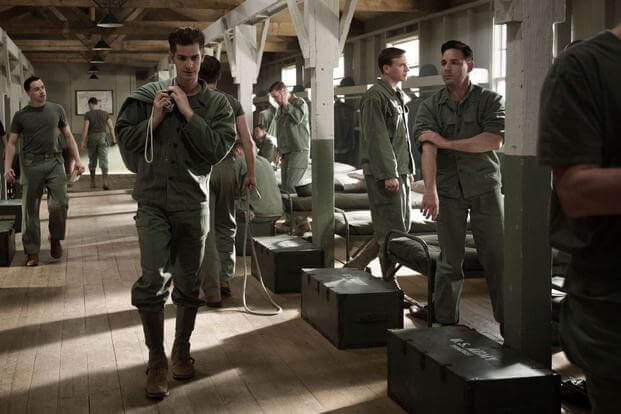 Of course, it's a problem. Desmond arrives at boot camp and the other men decide he's yellow. He won't engage in a fight with fellow recruit Smitty Ryker (Luke Bracey) and wears the bruises that prove his refusal to fight back. Both Sergeant Howell (Vince Vaughn) and Captain Glover (Sam Worthington) are prepared to have him booted from the Army after they arrange a negative psych evaluation. Except the psychologist insists that Doss isn't mentally unstable. A compromise is reached: if Doss can finish boot camp, he can serve as a medic in the war.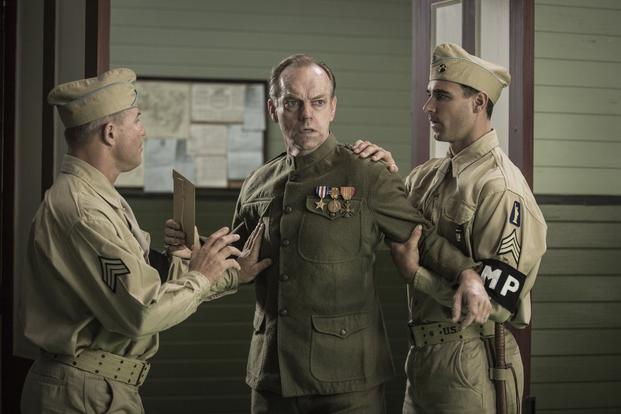 Twist again: right before graduation, the brass insists that he must pass his weapons evaluation to finish boot camp and, again, Doss won't touch a gun. There's a dramatic court martial that turns when Tom Doss appears with a letter from his WWI commanding officer that turns the tide in his son's favor. (In real life, the potential court martial was settled in far less dramatic fashion with no trial after some suspense about paperwork and this scene a bit forced.)
When his unit lands on Okinawa to replace men who've failed to take Hacksaw Ridge, Gibson pivots into a far more shocking film. Desmond's aversion to violence has been well-established and the battle footage once the men clear the top of the ridge is among the most brutal ever committed to film, even outstripping the terrifying moments from Gibson's own Mayan sacrifice drama "Apocalypto."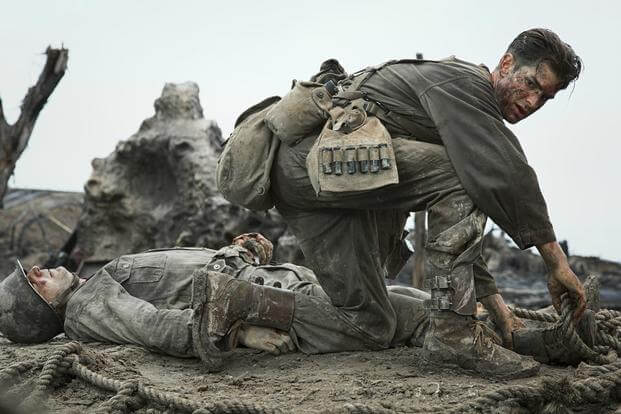 The battle scenes make Doss' decision to serve without a weapon look even more brave or even more foolish or maybe both at the same time. Gibson is fascinated by the story of a man who's willing to defend his principles no matter what the cost and the movie also wrestles with the nature of bravery in war. Is Doss a better man than his fellow soldiers? Or just a different one who's found a way to serve that doesn't conflict with his religious beliefs?
Desmond Doss, Jr. says his father preferred to call himself a "conscientious cooperator" instead of a conscientious objector. There aren't many stories of conscientious objectors serving on the front lines and there aren't any other Medal of Honor recipients who served without a weapon.
"Hacksaw Ridge" is the powerful tale of one man's unique heroism but it also honors the bravery of the men who fought alongside him in one of the bloodiest battles of the Pacific. Mel Gibson delivers his best movie as a director since "Braveheart" and Andrew Garfield gives a breakthrough adult performance as Desmond Doss.