On the U.S. Air Force's 69th birthday (September 18th), Metro-Goldwyn-Mayer Pictures and Columbia Pictures hosted a USO advance screening of The Magnificent Seven, director Antoine Fuqua's new version of the classic western starring Denzel Washington and Chris Pratt.
%embed1%
Fuqua, Pratt and costar Haley Bennett toured the flight line, participated in a series of USO meet & greets and held an intimate Q&A with military families in the base theater.
In Fuqua's new version of the story, the town of Rose Creek, under attack from a syndicate led by Peter Sarsgaard, hires seven outlaws (Denzel Washington, Chris Pratt, Ethan Hawke, Vincent D'Onofrio, Byung-hun Lee, Manuel Garcia-Rulfo and Martin Sensmeier) for protection. As the showdown approaches, the crew finds itself fighting for more than just a mercenary paycheck.
Check out some images from the day and find out what Fuqua, Pratt and Bennett said to the audience below. The Magnificent Seven is in theaters now.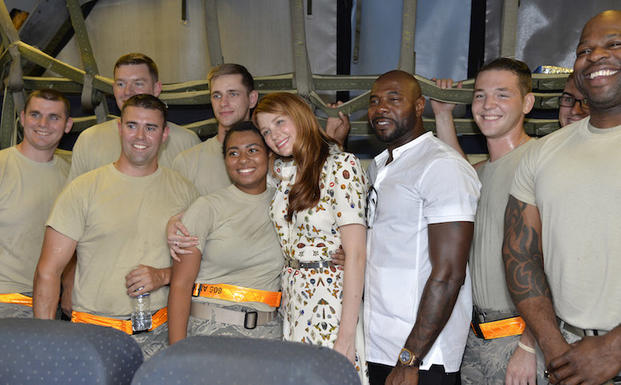 "The Magnificent 7" movie actress Haley Bennett (center) hugs a service member as she joins director Antoine Fuqua (right) aboard a USAF KC-10 tanker during a tour prior to a USO-sponsored film premiere at Joint Base McGuire-Dix-Lakehurst, New Jersey, September 18, 2016. The cast members and director toured the flightline, greeted service members and met with military families to extend their appreciation for their service. USO Photo by Mike Theiler
Antoine Fuqua: "It's a blessing to be here (Joint Base McGuire-Dix-Lakehurst) with them (the men and women who serve this country). I love them so much and I wish them all the best. We wouldn't be standing here without you. We wouldn't be able to do all the things we do without you. You represent our freedom. You represent the very best of us…"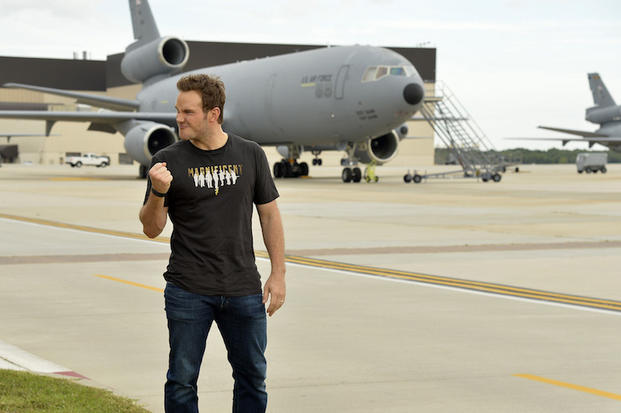 "The Magnificent 7" movie actor Chris Pratt gestures as he arrives on the flightline for a press interview prior to a USO-sponsored film premiere at Joint Base McGuire-Dix-Lakehurst, New Jersey, September 18, 2016. The cast members and director toured the flightline, greeted service members and met with military families to extend their appreciation for their service. USO Photo by Mike Theiler
Chris Pratt:"If I wasn't an actor, I'd be a waiter; so I'd have to tell you at Chili's how much I love the military. But instead I get to be an actor; so I get a platform. And I am going to use that platform to tell not only just the men and women in service… who give us this bubble of safety inside of which we get to live our dreams… but also the people who aren't in the service. They need to hear it from me. They need to hear it from us that listen…. we know who the good guys are…., we are appreciative of what you do and the turmoil you face… the sacrifices you make. Just know we feel it… We love you. We pray for you and we keep you in our hearts…"
"I have lots of friends and family who have served. I love my country. I also love the men and women who protect it, it is the way I grew up. This is my first USO tour and hopefully not my last."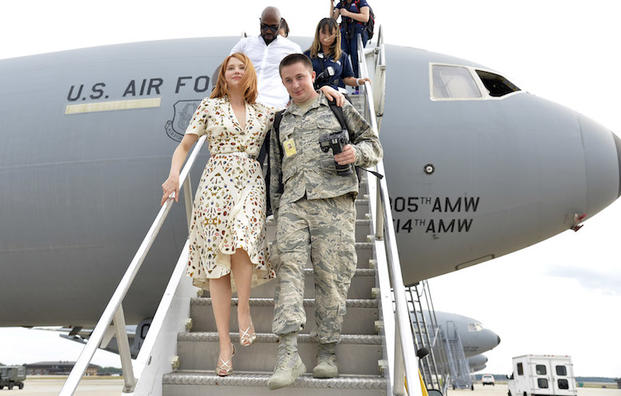 "The Magnificent 7" movie actress Haley Bennett, wearing high heels, is helped by airman Josuha King as they disembark from a visit to a USAF KC-10 tanker prior to a USO-sponsored film premiere at Joint Base McGuire-Dix-Lakehurst, New Jersey, September 18, 2016. The cast members and director toured the flightline, greeted service members and met with military families to extend their appreciation for their service. USO Photo by Mike Theiler
Haley Bennett: "My dad and my grandfather – they are both veterans; so to be here and share this day with you… it's like I wish my family could be here to see this. I just appreciate you guys so much and what you do for us… so thank you so much from the bottom of my heart."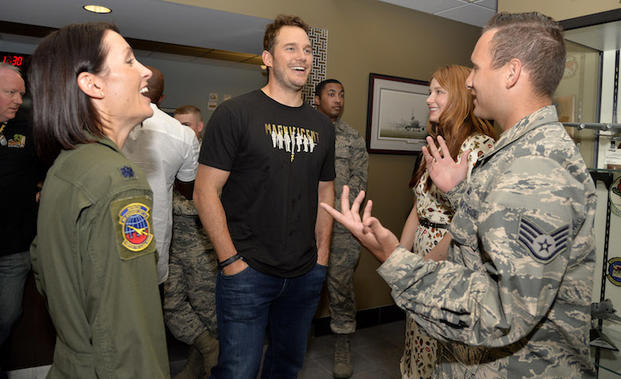 "The Magnificent 7" movie actors Chris Pratt (center) and Haley Bennett (2nd,right) share a laugh with USAF Lt. Col. Jannell Macaulay (left) and an airman prior to a USO-sponsored film premiere at Joint Base McGuire-Dix-Lakehurst, New Jersey, September 18, 2016. The cast members and director toured the flightline, greeted service members and met with military families to extend their appreciation for their service. USO Photo by Mike Theiler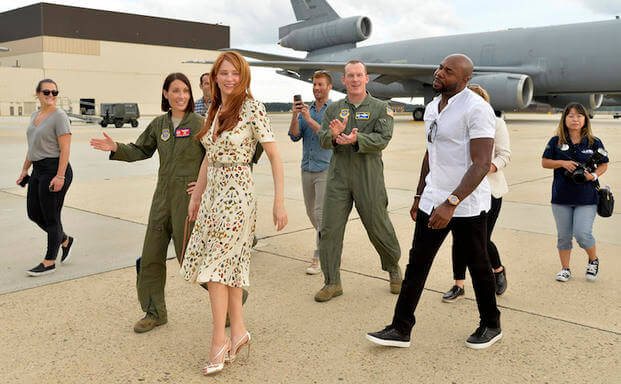 "The Magnificent 7" director Antoine Fuqua (right) walks with movie actress Haley Bennett (2nd,left) as they are escorted by USAF Col. Darren R. Cole (center,background) and USAF Lt. Col. Jannell Macaulay (left) during a visit to a KC-10 tanker prior to a USO-sponsored film premiere at Joint Base McGuire-Dix-Lakehurst, New Jersey, September 18, 2016. The cast members and director toured the flightline, greeted service members and met with military families to extend their appreciation for their service. USO Photo by Mike Theiler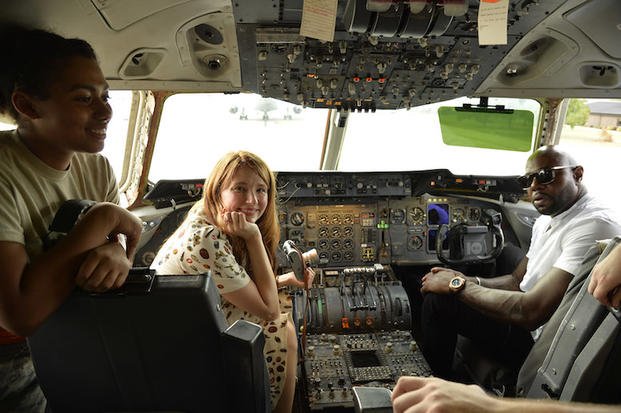 "The Magnificent 7" director Antoine Fuqua (right) and movie actress Haley Bennett visit the cockpit of a USAF KC-10 tanker prior to a USO-sponsored film premiere at Joint Base McGuire-Dix-Lakehurst, New Jersey, September 18, 2016. The cast members and director toured the flightline, greeted service members and met with military families to extend their appreciation for their service. USO Photo by Mike Theiler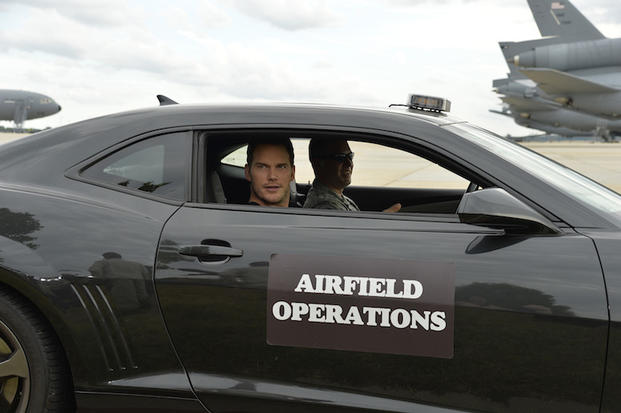 "The Magnificent 7" movie actor Chris Pratt arrives on the flightline in a Camaro prior to a USO-sponsored film premiere at Joint Base McGuire-Dix-Lakehurst, New Jersey, September 18, 2016. The cast members and director toured the flightline, greeted service members and met with military families to extend their appreciation for their service. USO Photo by Mike Theiler