UPDATE to previous post: Veterans Training Fund (VTF) lead ambassador and Machine Guns Vegas Range Safety Officer Jacqueline Carrizosa was in a critical accident over the weekend while training for her 640-mile Vegas to Reno ironman motorcycle race. She broke her back in two places and lost a kidney.
The race is now off and an official VTF-approved GoFundMe account has been set up to assist with her medical bills and rehabilitation. 100% of the proceeds will go directly to Jacque. Obviously, her recovery will be long and difficult and it's worth noting that she was injured while working to raise funds to help her fellow veterans.
Original Post below:
Jacqueline Carrizosa served in the U.S. Navy as a Gunners Mate Second Class Petty Officer and Rescue Swimmer on the CVN 76 USS Ronald Reagan and DDG 101 USS Gridley (Active Duty 2007-2011, Reserves 2011-2015). Now she works as an instructor at Machine Guns Vegas, thanks in part to support from the Veterans Training Fund (VTF), a Las Vegas organization that aims to train veterans for the tourism, security, corporate team building and firearms safety industries and introduce them to the advantages of living in Las Vegas.
You can read more about the Veterans Training Fund on Military.com's Veteran Employment channel.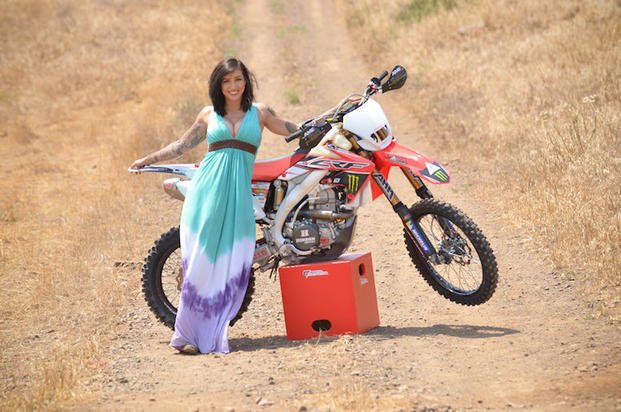 photo by Karissa Russ
During her military career, she was chosen to as a military advisor to the movie blockbuster Battleship, where she worked directly with Rihanna to develop her character. In addition to her gig at Machine Guns Vegas, she's available for gun training and motivational speaking (details on her website). She's also active on Instagram.
Carrizosa will race against 300 competitors in the 640-mile General Tires Vegas to Reno 2016, which takes place August 17-20. She'll be first military veteran female to race as an Ironwoman. It's the longest off-road race in America. She's aiming to raise $50,000 to donate to the VTF and she's set up a GoFundMe page for contributions. Supporters can pledge $5, $10 or $20 per 100 miles.
She's riding a well-prepped Honda 450x  and setting up a Spot Tracker so that you'll be able to follow her progress during the race. Details will follow on her GoFundMe page.