BY RICHARD SISK
The makers of the controversial movie 13 Hours: The Secret Soldiers of Benghazi went on another uphill climb last week in claiming that the Michael Bay-directed film was not "political," but now there's the Trump factor.
Oh, and Hillary Clinton's name was never mentioned in the movie's 144 minutes. Nope, not once.
Still, the politics surrounding the deaths in Benghazi of Ambassador J. Christopher Stevens and three other Americans have been kept alive by seemingly endless investigations at one level or another and the back-and-forth of talk radio and cable TV.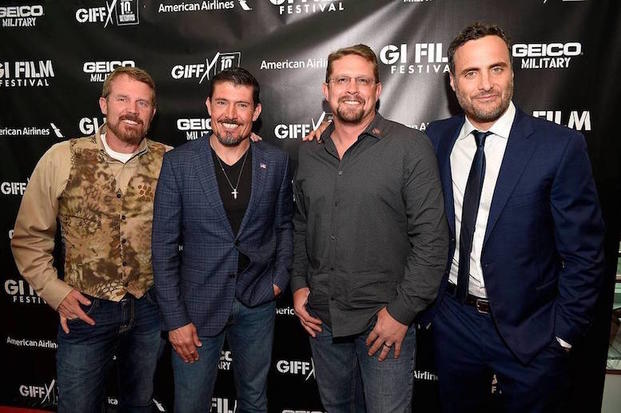 Mark "Oz" Geist, Kris "Tanto" Paronto, John "Tig" Tiegen, & Dominic Fumosa photographed on the red carpet at the G.I. Film Festival screening of "13 Hours: The Secret Soldiers of Benghazi" on May 29, 2016.
In his own low-key way, Donald Trump addressed the issue last week: "If you look at Libya, which is a total catastrophe, and by the way, with Benghazi and with our ambassador -- remember? That's all Hillary Clinton, folks."
And John Tiegen and Mark Geist, two former Marines who tried to fight off the Benghazi attack, have since blown their apolitical cover by saying what a great president Trump, the presumptive Republican nominee, would make. They didn't much like Marco Rubio. Or Hillary, but what the heck.
The movie was released in January. Ahead of its June 7 release on Blu-ray Combo Pack, DVD and On Demand from Paramount Home Distribution, Tiegen, Geist and actor Dominic Fumusa, who plays Tiegen in the movie, sat for a brief interview on the terrorist attack on the U.S. Consulate and a CIA annex in Benghazi, on Sept. 11, 2012.
When asked what they were trying to achieve with the movie, and with the book 13 Hours: The Inside Account of What Really Happened in Benghazi by Mitchell Zuckoff,  Geist and Tiegen said they both simply wanted an unvarnished version of what happened on that chaotic night to be portrayed.
"The biggest angle was what wasn't being told," Geist said. "You had four Americans who were killed."
That fact was getting lost in the rhetorical fireworks from others "who wanted to talk about how that affected the left and the right. And that's not what this is about. It's not about politics. It's about what four Americans did and how they sacrificed their lives for the good of this country," Geist said.
"The families weren't being told the truth about what happened that night," Tiegen said. "The public was being lied to. We just needed to set it straight."
The main thing they wanted to get straight was their contention that they were given a "stand-down order" while they were trying to organize a rescue attempt from the CIA annex to the consulate, although Tiegen appeared to leave the slightest bit of wiggle room for "Bob," the CIA chief at the annex.
The annex was about a mile from the consulate, where Stevens and U.S. Foreign Service Information Management Officer Sean Smith died, reportedly from smoke inhalation from the fires set by the attackers.
Geist said he was out on a "dinner date" in town when he got calls to come back to the annex, where the security contractors were assembling their team. They had M4 carbines, handguns, body armor, night vision gear "and that's about it," Tiegen said. "Jeans and button-down shirts," said Geist.
"We got geared up and ready to go -- got the vehicles all lined up," Tiegen said. "Bob said, 'You know you gotta wait.' We're like, 'Hey, we're ready to go.' "
Tiegen said of Bob's initial caution -- "that's understandable" --  possibly meaning that Bob was trying first to get Libyan militias lined up to bolster the rescue team, but "we didn't leave for 25 minutes. We got told to stand down."
Finally, one of the State Department personnel at the consulate came up on the radio and said "Hey, you guys don't get here, I'm gonna die," Tiegen said. "We left."
"Bob was the chief of base at the annex," Geist said. "I guess he was the highest of the agency that was there. Just a career agent, about 30 years, I believe."
Bob told a different story in breaking his silence to The Washington Post. "There never was a stand-down order," Bob said. "At no time did I ever second-guess that the team would depart."
Later, Tiegen, Geist and other security contractors ended up back at the annex fending off more attacks. It was there that security contractors Tyrone Woods and Glen Doherty were killed.
Fumusa said all those involved in making "13 Hours," beginning with director Bay, wanted to avoid the typical Hollywood war movie treatment where a point of view dominates the story development.
"We all prepared on many different levels," Fumusa said. There was physical training with Navy SEALs and learning how to handle the weapons. The SEALs were also with the production team in Malta to consult on the set.
"The most important thing I did -- I got to know John [Tiegen]," Fumusa said, and the other actors got to know those they portrayed. "We needed to get inside their heads. It was a privilege and an honor and an experience I will never forget," he said.
As for the debate over what happened in Benghazi and the ensuing political fallout, "We didn't really think about it," Fumusa said. "We didn't talk about it on the set. Michael Bay didn't talk a lot about it."
"We were interested in telling the story as told by these men in their book with the journalist Mitchell Zuckoff -- full stop," Fumusa said. "All of the politics that has surrounded this thing and the way Benghazi has become a four-letter word -- that's unfortunate."
"But that wasn't our focus. Our focus was to tell the story truthfully so that we could honor those who gave their lives for their country," Fumusa said. "That was our focus, and it's unfortunate that it's gotten caught up in this firestorm of politics."
%embed1%
Military.com also interviewed these guys on video back in January.
The reviews of 13 Hours were mixed. Some found it "engrossing" (Soren Andersen, Seattle Times) or "powerful" (Kyle Smith, New York Post). Steve Hayes of Weekly Standard called it a "riveting and exhilarating true story."
Then there was Peter Bradshaw of the Guardian, who said that the movie played on "the 'Rambo' narrative of betrayal," and that "watching it is like playing Call of Duty for 72 hours straight -- only without the subtlety and insight."
The investigation of Benghazi by a special House committee led by Rep. Trey Gowdy, a South Carolina Republican, drags on, although Gowdy said recently that he hoped to have it wrapped up before the Republican and Democratic nominating conventions in July.
Several other investigations have concluded that security was lacking before the attacks, but there wasn't a stand-down order and the U.S. military could not have gotten to the scene in time to affect the outcome.
One of those investigations was led by Sen. Dianne Feinstein, a California Democrat and then the chairwoman of the Senate Select Committee of Intelligence.
The headline over the unclassified version of the committee's report said: "Attacks were preventable based on known security shortfalls at State Department Mission in Benghazi."
"I hope this report will put to rest many of the conspiracy theories and political accusations about what happened in Benghazi," Feinstein said in releasing the report.
Fat chance.
-- Richard Sisk can be reached at Richard.Sisk@Military.com.