BY DAVID NYE — WEARETHEMIGHTY​.COM
America's troops have cool gear coming their way in 2016. Here's a look at some of it:
Photo: US Navy Mass Communication Specialist Second Class Aidan P. Campbell
The PCU Ford will join the fleet in 2016. It will be the largest and most expensive warship to ever float and features a number of technological improvements over its predecessors. Electromagnetic catapults allow it to more quickly launch aircraft and it has better generators for powering sensors, weapons, and other necessary systems.
2. Soldiers will get an app for calling in artillery strikes
Photo: Network Integration Evaluation Katie Cain
Nett Warrior, a tablet-based computer system to allow soldiers to keep track of one another on the battlefield, will be getting an app that will allow soldiers to more quickly and accurately call for artillery strikes.
3. Black Hornet drones will reach Army units
Photo: Richard Watt/MOD via Wikipedia
These mini-drones weigh about 18 grams but pack both standard and thermal cameras for reconnoitering enemy positions. U.S. Special Forces tested the drones in 2015 and the British have used them since 2013. PEO-Soldier, the Army office that acquires this kind of gear, is looking to field an unknown number of the drones in 2016.
4. The Navy is getting two new attack submarines
Photo: US Navy Mass Communication Specialist Seaman Casey Hopkins
The submarine fleet will welcome two new Virginia-class fast attack subs, the USS Colorado (SSN 788) and the USS Washington (SSN 787). While new Virginia-class subs typically feature the latest and greatest tech in submarine warfare, everything from improved sensors to better acoustic camouflage, the specifics are classified for obvious reasons.
5. New night-vision goggles will let troops see thermal signatures better
Photo by: US Army Spc. William Lockwood
The Army's newest night-vision goggles will be fielded to soldiers in 2016. They provide improved thermal detection over a wider area and will be able to communicate with future weapon sights so soldiers can always see the impact point of their weapon, even when firing from the hip or through smoke.
Unfortunately, the weapon sights they work with won't be ready until at least 2019.
6. New machetes will help prepare the Army for a war in the Pacific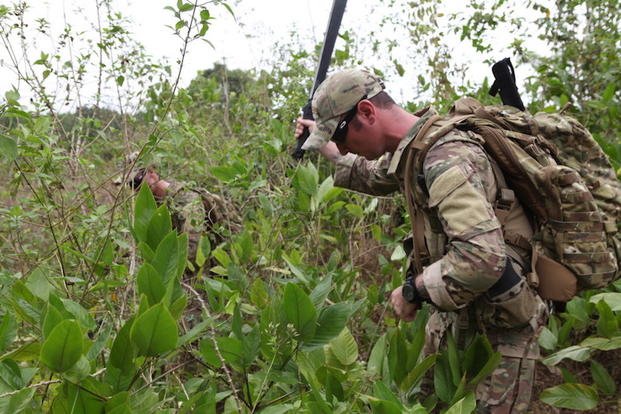 U.S. Army Staff Sgt. Michael Quinn (Right) and Sgt. Steven Ondrejech (Left) assigned to the Pathfinders from the 560th Battlefield Surviellance Brigade are using macheties to cut a path to plot points for an air drop in Douala, Littorall Region, Cameroon, Feb. 23, 2013. These Soldiers are apart of Central Accord to build a realtionship with the Cameroon Military and its partner nations. (U.S. Army photo by Sgt. Austin Berner/Not Released)
Photo: US Army Sgt. Austin Berner
While new machetes may not be as sexy as drones and submarines, the U.S. Army is part of the pivot to the Pacific and that means preparing for jungle warfare. The Army PEO-Soldier is looking for new machetes with a double-edged blade. One side would be for chopping through vines and the other for sawing through branches.
The Army will also be looking at new materials for uniform items, especially boots, in the coming years for operations in the Pacific.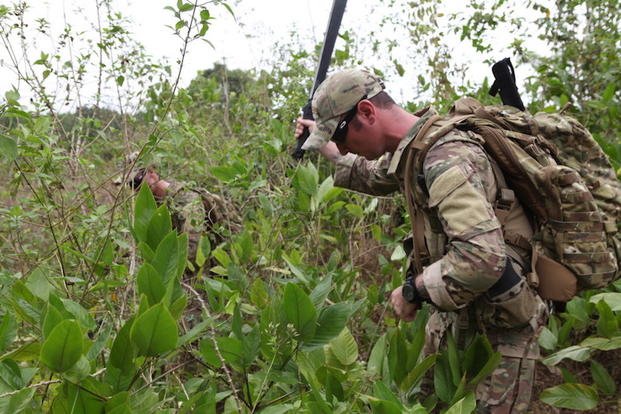 David Nye
 - Staff Writer at
We Are The Mighty
David is a former Fort Bragg paratrooper who deployed with the 82nd Airborne Division's 4th Brigade Combat Team.
---
MORE POSTS FROM WE ARE THE MIGHTY:
Navy to deploy first underwater drones from submarines
Check Out The 'Iron Man' Suit That Special Operations Forces Want By 2018
The 11 Best Military Movie Quotes
We Are The Mighty (WATM) celebrates service with stories that inspire. WATM is made in Hollywood by veterans. It's military life presented like never before. Check it out at We Are the Mighty.