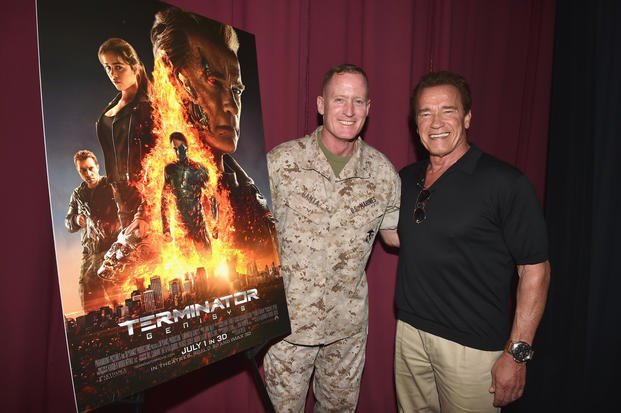 OCEANSIDE, CA - JUNE 14: Brigadier General Edward D. Banta welcomes former CA Governor Arnold Schwarzenegger to a screening of TERMINATOR GENISYS at Camp Pendleton on June 14, 2015 in Oceanside, California. (Photo by Kevin Winter/Getty Images for Paramount Pictures')
Arnold Schwarzenegger visited Camp Pendleton on June 14th for an early screening of Termintaor Genisys, an ambitious relaunch of the series that features the actor in his signature role. The movie hits theaters on July 1st, so a few lucky Marines and their families got a 2 1/2 week head start on the rest of us.
"This is the great country in the world because of you," Schwarzenegger told the crowd. ""A military that defended this country and made this possible to make this the land of opportunity and the greatest country in the world."
%embed1%
Terminator Genisys looks like the former governor's last, best chance to return to movie-star glory. There have been some entertaining movies (including Sabotage) since he relaunched his career, but Schwarzenegger has yet to repeat the box office success he enjoyed in the '80s and '90s.
Jason Clarke (Dan the CIA interrogator in Zero Dark Thirty) plays John Connor and Emilia Clarke (Daenerys Targaryen on Game of Thrones) takes over as Sarah Connor.
Check out a slideshow of Schwarzenegger's visit to Camp Pendleton below.
[photoshow]